Get to Know: Surabhi Adesh, Musician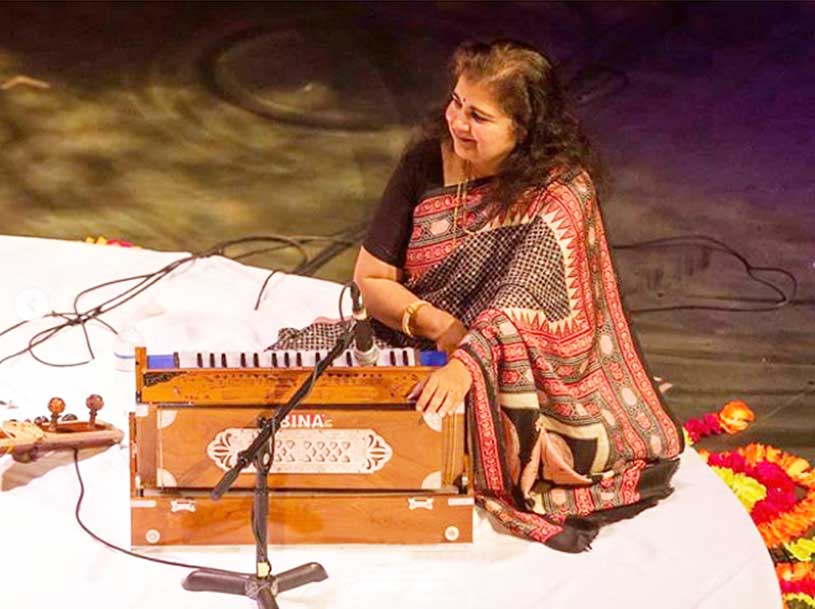 Born in India, Surabhi Adesh moved to Trinidad in the mid-1960s during her formative years. She grew up in Trinidad surrounded by music, art, literature, and culture. Given her parents were highly skilled educators in literature, languages, music, and philosophy, Adesh was surrounded by many aspects of the Indian culture. She learned early on to not only love her culture, but also preserve the Indian culture through the teaching of languages, prose and poetry, music, dance, and philosophy.
In 1981, Adesh moved with her family to Canada where she attended high school and college while continuing her journey in music through teaching, recording, and performing. Adesh's Guru is her father Prof. Hari Shanker Adesh who insisted she learn as many aspects of music as possible, including tabla.
Adesh's well-rounded education from universities in Canada and the United States include degrees in Biology, Indian Music (focus on Sitar and Vocals), and Education. Adesh's journey brought her to Orlando along with her husband and two sons, where she has continued her work as well as doing performances, demonstrations, and collaborations in the community. She most enjoys listening to and performing with her two sons, who are both also accomplished musicians.
Learn more about Surabhi Adesh in our interview with her.
How long was your training?
Learning and training is an ongoing process and the more I learn, the more I see there is to learn and experience. The curriculum I studied (in Music), first up to a bachelor's degree level, I actually completed the vocal at age 12 (and the sitar Bachelor's a few years later). The Master's degree study took longer, as my family moved to Canada in 1981. My training included the beginning of teaching at age 11, both Hindi and Music.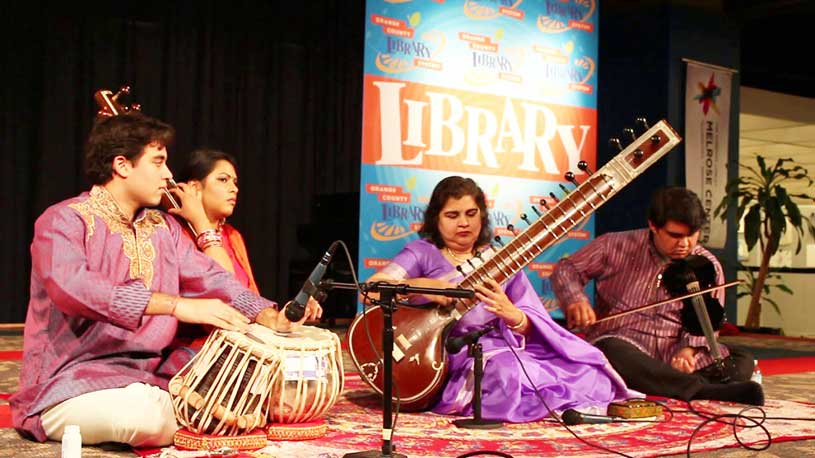 When was your first public performance?
My first public performance was when I was about four years old. Interestingly enough, it was a dance. I performed to the live presentation of one of the many songs composed by my father, a highly acclaimed Hindi poet and music composer. I have memories of having a fever, but still doing the dance. In fact, I also still remember my costume, made by my mother.
How many public performances have you done so far?
I have been performing since the age of four and have done many public performances in many different settings so to put a numeric value is quite difficult, maybe impossible. I have performed on radio, television, stage, private and corporate events, at Disneyworld, at weddings, conferences, as an accompanist for visiting artists. I have done many recordings of sitar, accordion, harmonium accompaniment as well as vocal tracks. I have done recitation of my father's poetry as well as my own. I have had the honor of performing in front of many dignitaries, religious icons and even Indian Royalty. Performances I have done have been solo, solo concerts as well as ensemble. I have done numerous lecture demonstrations in Toronto and Central Florida at UCF and other institutions in Florida. I have performed in the West Indies (Trinidad, Guyana, Suriname), India, Canada, USA, UK. I have performed Sitar, vocal and dance (up to a certain age). One of the most memorable experiences was a few years ago when my sons and I played at Disneyworld's Animal Kingdom for the Jungle Book Alive with Magic show that ran for an entire summer with two shows a night each with an audience of 5000.
Who do you consider to be a mentor and why?
My mentors are my parents. While I learned from my father, Prof. Hari Shanker Adesh, it was my mother Dr. Nirmala Adesh who nurtured and helped develop my performance and skills. In fact, she is my first teacher. They have both always guided me and advised me through their teachings and through how they live their lives and they continue to do so now.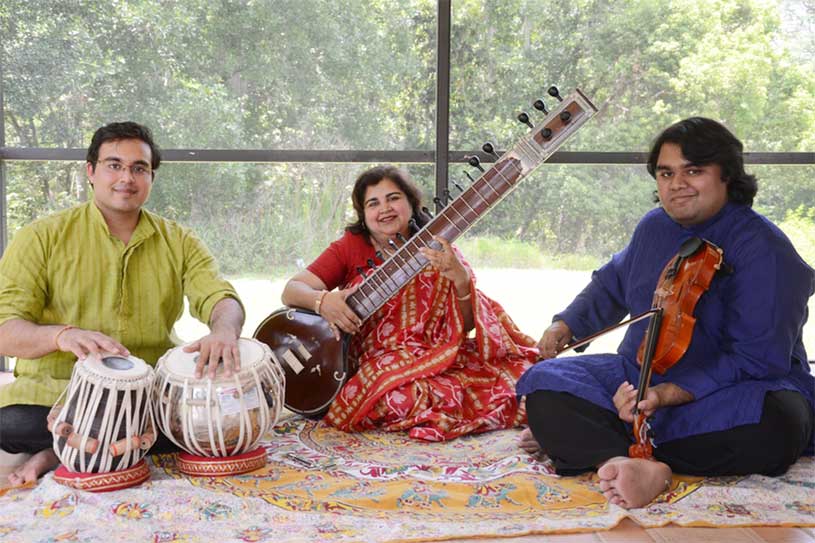 What advice do you have for young Indian Americans who wish to pursue a career in music or the performing arts?
Figure out where your passion lies, singing, instrumental or dancing. Then learn through proper teachers. Talent alone is not enough. Talent needs nurturing and guidance from a proper mentor/teacher. Learn to grow from correction and/or criticism. Be prepared through practice and understanding your strengths. Understand, love and live music knowledgeably. Your inner musical genius will then surface and lead you to success.Most importantly, be true to yourself and the art.
Success means different things to different people? What does it mean to you and how would you define it?
I would define success as the joy and contentment I get knowing that I have done what I set out to do with honesty, integrity and dignity.
Success in the work I do, means that I am able to help even one person be more aware and appreciative of Indian music, or any art form, and culture. Whether it is done through direct instruction, exposure through performances, lecture demonstrations, or activities encouraging the arts,it is all about education and it is a success if even one person is enlightened. I also do a class with special needs adults through the Asian Cultural Association. When these wonderful students respond to the music and feel happy, I am successful.
Success in my life means that I can properly fulfill whatever role I am given by Bhagwan (God) be it daughter, sister, wife, mother, student, teacher or any other role. And, I hope to make my little corner of the world a little bit better and joyful.
What do you think is the secret behind your success?
There are several factors. My parents have taught me to be honest in my intentions, and the satisfaction of helping others through education and teaching by example. They have instilled in me a great awe and wonder for life and the universe and Bhagwan (God) and this is a driving force in my life. I have also been blessed with a family that supports and helps me in my work. My two sons are outstanding musicians themselves, and they help teach and perform and have been a source of great inspiration to me. My husband is our rock. He is always supportive and encouraging, and manages the technical side of our productions and events. With such a support system, it is very easy to carry through tough times and persevere. So, there is no one secret to success, but like the village that raises the child, my 'village' has been behind my success.
An American colleague once asked me an interesting question: "Why are Indians in the US at the forefront of a variety of fields?" What do you think?
As Indians, we are taught several things early in life such as 'everything is temporary', this helps us deal with disappointments and helps us persevere. We are also taught that we must appreciate life and try to achieve as close to our potential as we can. I believe our cultural teachings of respect for others and for oneself, a great aural tradition, an emphasis on education are some aspects of that success. Also, the sense of identity with a rich cultural and spiritual heritage and the ability to balance eastern and western attitudes and lifestyles also help encourage progress for Indians to be at the forefront.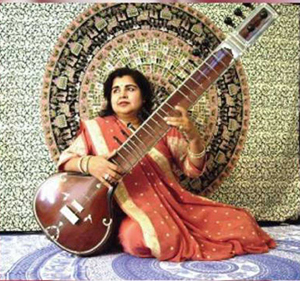 Who has played a crucial role in influencing the events of your life? How so?
It is difficult to choose any one person. I would have to say firstly, my parents who are also my Gurus, who have advised and supported me at every step. And, it is because of them I moved from place to place and also through them got many opportunities to develop and perform. Also, they arranged my marriage.
Secondly my husband who has encouraged me to always improve and become better at whatever I do. Then by extension my sons, as they grow in their musicianship inspire me to also grow and extend my work and experience and my understanding and perception of the world. All of them have been instrumental in guiding events of my life.
Favorite Quote:
From Harry Potter and the Chamber of Secrets when Dumbledore tells Harry "It is our choices that show what we truly are, far more than our abilities." I have seen so many people succeed by their choice to work harder than those who think talent/ability without effort will bring success.
Favorite Book:
Heidi is a childhood favorite that reminds me there is almost always a silver lining to any cloud and that pain and pleasure are in our minds, joy depends on our outlook.
The Harry Potter series as it was a rite of passage for me and my sons when they were young.
Almost anything by Dr. Deepak Chopra because our thoughts and direction change with age and so do our choices of reading material.
Favorite Indian Movie:
Zindagi Na Milegee Dobaaraa because it essentially reminds me to live and enjoy each day to the fullest.
Katyaar Kaalzaat Ghusli is a beautifully made movie of the Naatya Sangeetstage drama and it reminds aspirants of music that the music is above all else.
Favorite Non-Indian Movie:
The Sound of Music as I have always admired Julie Andrews.
India Surabhi Adesh
Trinidad surrounded
music art literature
literature languages music
highly skilled educators
Hari Shanker Adesh
possible including tabla
Music first
first public performance
accomplished musicians
live presentation
many public performances
radio television stage
weddings conferences
Performances
solo
institutions
Central Florida
many dignitaries religious icons
numerous lecture demonstrations
memorable experiences
Nirmala Adesh
inner musical genius
West Indies Trinidad Guyana Suriname India
Asian Cultural Association
reading material Favorite Indian
musicianship inspire
cultural teachings
wonderful students respond
identity
improve
life Favorite Quote
marriage Secondly
direct instruction exposure
music knowledgeably