Google's Doodle Marks India's 70th Republic Day
Search engine giant, Google, marked India's 70th Republic Day on Saturday, January 26, 2019, by depicting a very artistic and colorful doodle designed by Reshidev RK. Reshidev is a fine arts student from Kannur in Kerala who is inspired by geometry in traditional art forms. His signature style includes a lot of colors and patterns.
In the Doodle, Google has been depicted with various colors in front of Rashtrapati Bhavan. Each of its letters G-O-O-G-L-E represents India's history, environment, architecture, textiles, wildlife, monuments, and farming.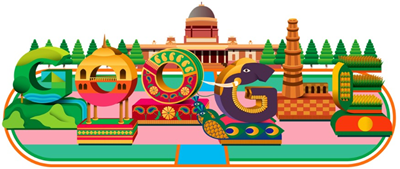 The first 'G' in doodle shown on the golf course represents India's rivers and nature.The first 'O' and 'L' reminds us India's rich history showcasing famous monuments including Delhi's Qutub Minar, a UNESCO World Heritage Site. Qutub Minar is standing on chess board, a game originated in India before the 6th century AD.
The second 'O' and 'E" show colorful Indian art design, the handicraft and heritage of India. The Second 'G" has the trunk of an elephant, a National Heritage Animal of India, with India's national bird, the peacock, sitting next to it.
In dedication of this unique doodle, the Google write-up notes:
The Constitution of India came into force on this day in 1950, an anniversary celebrated each year as Republic Day. Republic Day is one of only three national holidays celebrated all across India, the other two being Independence Day on August 15 and Mahatma Gandhi's birthday on October 2.
Although India's constitution was adopted in November 1949, the date January 26 was chosen for the document to take effect, because it commemorates Pūrna Swarāj Day, which took place exactly 20 years earlier. On January 26, 1930, the Indian National Congress issued a bold resolution declaring complete freedom from the British Raj. From that point, it was only a matter of time before Independence Day, followed by full sovereignty.
Celebrations take place all across the subcontinent, with the epicenter in the capital city of Delhi, where a parade runs along Rajpath near the President's Palace. Today's guest artist, Reshidev RK, recreated the colorful celebrations and depicted the famous parade floats that decorate the city, each representing a different component of India's history: environment, architecture, textiles, wildlife, monuments, and farming. Observances last for four days, coming to a conclusion on January 29th with the Beating Retreat ceremony, featuring the bands of the Indian Army, Navy, and Air Force.
Happy Republic Day, India!