Grumpy Kapil Longs for Butter Parathas
Kapil Sharma is on a diet. It is no joke. The famed comedian is all set to lose weight in readiness to film something new. So far he has lost 10 kilos and will lose some more if he keeps at it. He chose to highlight his plight by sharing a photo showing him dismally staring at a dish of morning salad proteins. He says he would much prefer to drive away morning blues by eating parathas with butter and we cannot argue with that! But you have to eat your morning greens if you want to become slim and trim.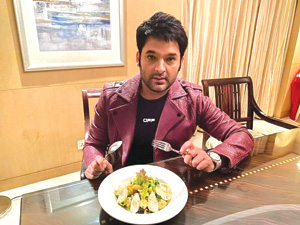 His workout videos certainly show a marked improvement. He did tell Archana Puran Singh that he was down to 81 kgs from 92 kgs. Weight reduction is a trend now. His TKSS costar Krushna Abhishek too is on a weight losing spree and has become slimmer and possibly more handsome. However, one man's poison can be another man's bread.  
To be more precise, another woman's bread and butter. Sumona Chakravarti, his costar, saw his tweet and found the morning salad yummy, and asked Kapil to get one for her pronto. Was her wish fulfilled? Balraj Sayal posted a reply to the tweet requesting Kapil to head over to his pad since he had gobi parathas ready. It is not known if Kapil accepted the offer. Kapil currently is on the Kapil Sharma show but he has been hinting at something new. Wait, watch and see. If not the new show, the new Kapil Sharma.
Click Here for More
Kapil Sharma
comedian
How to lose weight
morning salad protein
parathas
Archana Puran Singh
Krushna Abhishek
bread and butter
Sumona Chakravarti
Balraj Sayal
gobi parathas