Twists and Turns in Kumkum Bhagya 
Indian TV episodes meander along from one incident to another and you have twists and turns in the plot. In the latest episode of Kumkum Bhagya, we have something different but not entirely unexpected.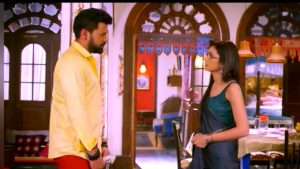 This time around Rhea reminisces about her mother and is all praise for her. However, Alia, to whom she is singing paeans of praise for her mother, plays the devil and instigator against Pragya and Prachi. Rhea is convinced that Pragya loves Prachi and does not love her. The actual situation is that Pragya and Abhi are glum in their respective houses. In a talk with Savitaji, Pragya reveals that she never expected that Abhi would decide to remarry.
Over at Abhi's place his grand mom prays and hopes that Pragya and Abhi will maintain good relations. She makes it a point to visit Pragya to check and see if she can do something. Abhi is feeling or may be wondering how to break it to Pragya that he intends to remarry and that all arrangements are finalized. This is where the story takes a twist. Abhi goes to visit Pragya. He takes along the wedding card. He tells her that nothing will ever be normal between them and hammers the nail by handing over his wedding card announcing his wedding with Mira.
Naturally, Pragya is shocked and hurt that Abhi has forgotten their marriage and relations so soon and has decided to remarry. Prachi overhears them. What happens next? You will have to wait for the next episode to find out.
Click Here for More
Indian TV Episodes
Kumkum Bhagya
Rhea
Alia
Abhi
Pragya
Prachi
wedding card
Mira