Hindi Film Awards 2012
There is no denying that Bollywood is a sensation. Although we all look to Hollywood for inspiration – whether for its style, story or even technique – there are just as many heads turning towards Bollywood. Movies, actors and Indian appeal to everyone, and it is no wonder that the Indian film industry is only growing from strength to strength.
When there is so much talent and class displayed in Hindi films, it is only fitting that they be recognized. Recognition is not just about making money at the box office, which is what films intend to do, but also about getting the much-awaited pat on the shoulder. The simplest, and perhaps oldest,form of appreciation has been through awards.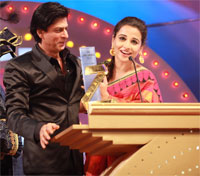 The first awards for Hindi films began with Filmfare, along with the National Film Awards. While stars and other film personalities received national and state awards for their work, Filmfare was the first to dedicate itself to awarding those connected with film in any capacity. It was akin to the Oscars – the most anticipated, prestigious awards everyone had their eyes set on. The evening itself was glamorous and star studded. Everyone who was worth a mention attended, and thousands of others did all they could to manage an invitation. Marked by live performances, touching speeches and awards galore, it is an evening that cannot be easily forgotten.
Things have changed over the years. Filmfare is not the only Bollywood award we know of today. Several others, including Zee Cine Awards, Screen Awards and IIFA Awards,have also come into existence. What is more, a simple auditorium is no longer enough to accommodate growing crowds and performers. Large sets and open grounds make for ideal venues, and opulence and enormity are the scope of operations. Interestingly, while the awards themselves are completely Indian, the locations of the awards are often overseas. This is not just to add to the appeal, but also to enable Indians overseas a chance to be amidst their favorite stars and share their moment of glory.
The awards ceremony have also changed dramatically. From large orchestras that enhance the mood and give a platform to mellifluous voices, the accent today is on performances, which is why lip sync and recordings are favored. Dances highlight the preference for the bigger picture, which is why accompanying artists outnumber stars. Comic acts and enactments are awaited moments of the day, giving hosts and Emcees ample scope to improvise.
With television broadcasts, the common man can continue to savor every moment of film awards from the confines of home. Although delayed, the telecasts bring you every moment of the glitz, magic, and entertainment.
Filmfare 2012 brought together the biggest stars and the greatest potential that we have today as well as a significant number of stars who have defined the history of film over the years. There were some clear winners –films that garnered numerous awards. Zindagi Na Milegi Dobara was loved not just by the public, but also by the jury. Earning seven awards, which included popular categories and critics' awards, the film ensured that it was worth all the money it earned. Director Zoya Akhtar, supporting actor and dialogue writer Farhan Akhtar, choreographer Bosco Ceaser and cinematographer Carlos Catalan also had a chance to take home the gorgeous black lady. The Dirty Picture ensured that it deserved all its hype, and Vidya Balan won the award for Best Actress.
Rockstar was an iconic movie for several reasons apart from its story. Revolutionary music got A. R. Rahman a Filmfare for Best Music, and Ranbir Kapoor walked away with the Best Actor award in both the popular and critics' choice categories. Rani Mukkherjee received the Best supporting Actor award for No One Killed Jessica, while the Critics' Award for Best Actress went to Priyanka Chopra for Saat Khoon Maaf.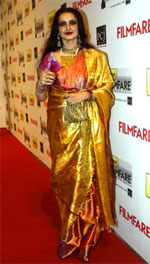 Music is an integral part of Hindi films, and Mohit Chauhan,Usha Uthup and Rekha Baharadwaj won great appreciation for their renditions. Irshad Kamil was adjudged the Best Lyricist for Nadaan Parindey. Vidyut Jamwaland, Parineeti Chopra are faces to watch out for, winning Best Debutants in the male and female category respectively.
The Zee Cine Awards chose Macau as its destination, which was exotic in every sense of the word. The stars made every moment memorable, and Shahrukh and Priyanka made for affable hosts. With a clear focus on the awards and their winners, some films and stars were way ahead of the rest. The Dirty Picture,Rockstar and Zindagi Na MilegiDobara were, once again, names featured frequently, while Bodyguard, Singham, Don 2 and Ladies vs Ricky Bahl also found mention.
Ranbir Kapoor and Shak Rukh Khan were awarded best actors in the popular and critics category, while Vidya Balan was the unanimous choice in both. Rockstar was the film of the year in the popular category, while the critics chose The Dirty Picture. Zoya and brother Farhan won for story and supporting actor, while Prakash Raj was the winner for his negative role in Singham.
Ishq Sufiyana was the song that won several hearts and the award for best song, while Mohit Chauhan and Shreya Ghoshal were the best singers, male and female. A. R.Rahman is the best musician we have today, and his award for Rockstar offered more proof.
There were scores of other awards, recognizing and lauding cinematography, costume, sound, marketing and editing. What stood out in both awards shows was the award for Lifetime Achievement. While it may be somewhat easier to land a hit film or give one memorable performance, it really takes talent, perseverance and nerve to stay in the industry for decades and continuously make contributions.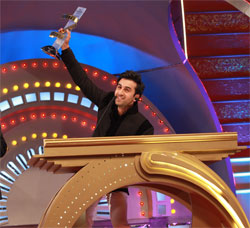 Filmfare 2012 awarded actor Aruna Irani with the Lifetime Achievement Award. She may not have been a conventional heroine, or even played first lead in many movies, but her performances even in supporting roles never failed to get noticed. She hassiblings associated with film, but it is sheer talent that enabled Aruna to act in over 300 films and display her versatility. A trained dancer and actor par excellence, Aruna is someone we hope to see for in film for a long time.
The Zee Cine Lifetime Achievement Award went to Jitendra. He needs no introduction. Dashing looks and charm makeJitendranot just a heartthrob, but also the most popular film hero. In the five decades that he has been associated with Hindi films, Jeetendra has acted with the biggest female actors, and brought characters to life. For his energy and dance, he was fondly called Jumping Jack. While he is not as active as in his prime, his legacy continues through his daughter Ekta who produces serials and films, and his actor son Tushshar. Whether as a film star, on television shows, or as contestant judge, we hope Jitendra stays close to his audience forever.
The curtains may have been drawn on the Filmfare and Zee Cine Awards for this year, but the moments captured will linger on until the next year brings more fun and stars and even greater memories.