Solace for the Soul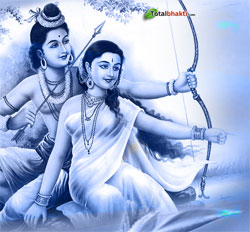 There are various ways in which we look for a chance to relax and escape the realities of life. When on vacation, we try and arrive at a change in location, mood and mindset. When we go to the movies, we look to leave behind our own lives and troubles and immerse ourselves in a world we know may not exist. When we indulge ourselves, we attempt to give ourselves a pick-me-up. However, all of these are transient, and with time, we must sink back into the cesspool that sometimes we make of our life. The only way to find the right solution to life and its troubles is to find a route that leads us toward self-realization and actualization as well as a way to make life an eternal holiday through spirituality.
It is not often that we can find a spiritual connection or find a calling towards spirituality. On most occasions, it takes a sudden wakeup call or a savior to drag us into its grasp. In every religion, there are those who can elucidate the true meaning of that religion, and determine important take-aways. They also show us the way that life must really be led, and how we can maximize what we have been given. Finding that ray of light is where destiny has the biggest role to play.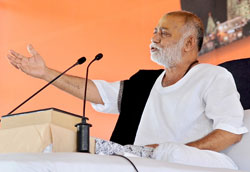 Morari Bapu is a preacher or expounder of Hindu mythology and scriptures. At first glance he may seem almost too ordinary, with little fuss or glamour surrounding him. Rather unassuming in both appearance and demeanor, Morari Bapu is today among the most sought after preachers, and his discourses always attract full houses and scores of ardent followers.
Morari Bapu and spirituality go back to his early childhood. Moraridas Prabhudas Hariyani was born to a large family with several siblings. Hailing from an inconspicuous village in Gujarat, Morari das was inducted into Hindu scriptures and teachings through his paternal grandfather who acquainted him with the Ramcharitmanas, and his maternal grandfather who helped him gain proficiency in the Vedas and Gita. Although Moraridas was a primary school teacher by profession, he also conducted Ram Kathas simultaneously. This earned him the name Morari Bapu, which is what people call him even today.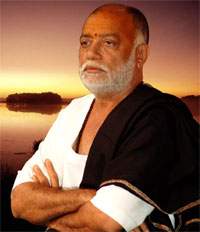 With time, Morari Bapu soon learned that there were many more people who needed his help, and that he could no longer remain confined to his village or even to Gujarat. He soon began traveling through the length and breadth of the country, where he would extol verses of Hindu scriptures and captivate with his stories. He also worked hard to ensure he was well-equipped to share knowledge by attending talks by prominent leaders and speakers.
Morari Bapu excels at Ram Kathas and stories of Krishna and his leelas. On most occasions, Morari Bapu holds nine day-long sessions. He conducts sessions in both Gujarati, his native tongue, as well as Hindi. It is not just his command over the scriptures that ensures Morari Bapu's popularity. He is also an accomplished orator, and Morari Bapu has what it takes to keep his listener's yearning for more. His tales of mythological characters are often laced with anecdotes and references to modern life that are relevant to most listeners and enable them to relate to their own lives and problems.
Morari Bapu has found acclaim all over the world. He has traveled to and conducted lectures in the United States, Europe, Africa and South Africa. Interestingly, Morari Bapu has also given sermons on a Mediterranean Cruise, and mid-air, on an airplane.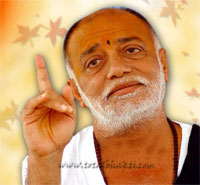 Untouched by name and fame, Morari Bapu is the epitome of simplicity and humility. Clad in a modest dhoti and cotton shirt, his infinite wisdom and compassion are his only armaments. Although well over 60 years old, he exudes radiance that even youth does not offer. He is energetic, enthused and untiring.
In an age when people fight for greater fame, wealth and status, Morari Bapu shows us the way to lasting happiness. He brings renewed faith, and allows us to believe that there is indeed hope for us all. Teaching us basic values like respect, love and truth, he lets us reflect on the human within us all. While we crave higher degrees and academic excellence, it is people like Morari Bapu who let us relearn the basics of education over again.
The aim of our life is to be happy, accomplished and secure. We look to make a success story of ourselves and make our family proud. In such an individualistic society, a gracious soul stands out as one who looks to make others happy, and find victory in the goodness of humanity. That is Morari Bapu.
Param Pujya Morari Bapu in Tampa, Florida
ICC Tampa Executive committee has organized Ram Katha to be narrated by Param Pujya Morari Bapu. This is a 10 day event that starts on Saturday, June 2nd. This event is going to be held at State Fair Grounds, Tampa, FL.Time and Date: June 2-10-2012
Venue: State Fair Grounds, Tampa, FLRam Katha Schedule
Saturday June 2nd, 4:00 PM – 7:30 PM
Sunday June 3rd / June 10th at 9:30 AM – 1:30 PMFor Schedule, Hotel/Accommodation, Weekly Ramayan Quiz and information
Name
Position
Email
Dr. Kiran C. Patel
Chairman
drkirancpatel@yahoo.com
Dr. Mahesh Amin
President
mamin1@aol.com
Mr. Vasant Patel
Lodging
vasantbpatel@verizon.net
Mr. John Adhia
Transportation
johnjrcpa@adhiafunds.com
Mr. Dinesh Gandhi
Marketting
gandhidineshp@gmail.com
Mr. P. D. Patel
Food
pdpatel1@aol.com
Mr. Manish G. Kharod
IT/Website
manish.kharod@gmail.com
Dr. Deepak Shah
Operations
mondip@aol.com
Mr. Chetan Shah
Hall Management
Iafteru@gmail.com
Dr. C. J. Patel
Food
cjpatel@msn.com