How Gita transformed my life By Jyotsna Narayanswamy
My mother introduced me to the Gita during my childhood. In the nights, when we had power cuts, she would teach us the 'sthita pragnya' verses from chapter 2. I even remember participating in a Gita competition in my school which coincidentally was on the same set of shlokas. During my high school summer holidays, I first tried to read and understand the meaning of these verses from Swami Chidbhavananda's book which was at home.  I particularly liked the simple short stories at the end of the commentary on some of the verses by Ramakrishna Paramahamsa. One of the verses 'aapurya-manam' appealed to me so much that I ended up memorizing its meaning. When I started college, I began an attempt to learn to recite more chapters of the Gita with my mother and starting with Gita Dhyanam.  We almost finished the first chapter when I got into engineering college and due to time constraints, I stopped learning the Gita. I would just continue to sing the verses that I had learned once in a while and joined some group singing whenever I would get an opportunity.
When I came to America to further my education, I bought a copy of Bhagavad Gita with me and would recite slokas occasionally. More than 10 years later, after I settled in Florida on a casual visit to one of our friend's house. I got to know about a Gita chanting competition at a local temple on the same 'sthita pragnya' verses which I had learned as a child. Our friend provided me with the details and motivated me to participate.  With a little practice, I could recollect the verses and enjoyed participating in the competition. I introduced my son also to the Gita Dhyanam slokas and trained him to participate in the competition for his category.  This re-kindled my Gita study. 
I then heard about a Gita chanting competition in the Chinmaya mission. A group of friends and their children who were interested decide to meet in the park on Sundays and practice Chapter 3 competition related shlokas. All our children are now in college but we all remember the wonderful memories of our study of the Gita at the park. A speaker at one of the competitions spoke very eloquently about the essence of the 18 chapters of the Gita and how Arjuna's doubts and confusion were cleared by the end of eighteenth chapter where Arjuna said "nashto moha smratir labdha".  This along with how Gita had influenced a lot of people including Gandhiji who would refer to the Gita to find the solution to any problem, motivated me enough to restart my Gita learning process with greater enthusiasm. At about the same time, one of our family friends was visiting Florida and she shared Swami Brahmananda's audio cassettes of the Gita.  I was motivated to wake up early and learn the Gita verses and would listen to the cassettes many times to get the correct pronunciations. This project took several months at the end of which I could recite all the slokas without pausing. I felt the urge to record my recitation of the Gita. A Couple of re-recordings to correct pronunciations took a few more months to complete.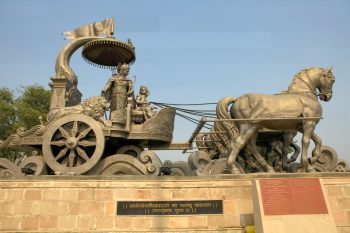 Now came the next thought of wanting to recite the Gita with my family every day.  Reading Swami Sivananda 's Bhagavad Gita book which I had borrowed from the local library intensified this desire. I discussed this with my husband who readily encouraged me to start a10-15 minute session at home to teach 1-2 shlokas every day. I initially started teaching the fifteenth chapter (Purushottama yoga), since it is considered as one of the best chapters and also because it had only 20 verses. It took a couple of months to learn to recite it from memory and since we enjoyed the time together, we continued learning the other chapters. My son was about 10 year old at that time and learned to recite the shlokas very quickly. Till today, which is about 9 years from the time we started, we as a family continue to recite the fifteenth chapter every day in the evening. Even if we are visiting friends or family we have tried to recite it in their houses also and on one of our India trips, family from Punjab to Bangalore enjoyed joining us in reciting Gita with us and thanked us for the Satsanga.
Around the same time that we started reciting at home, I volunteered to teach Gita recitation in the Sunday temple classes and taught middle school kids to recite Chapter 12. I also helped train kids for the Gita chanting competition in local temples.  Our temple presented me with a plaque to acknowledge my teaching Gita to the local children.
I have enjoyed listening to commentaries on the Gita by a number of sages and knowledgeable people at local events and online.  On one of my visits to India, I had the good fortune to meet Swami Brahmananda whose style of recitation I have followed and also visit Swami Sivananda's ashram in Rishikesh. 
Here are two incidents as to how the Gita guided me to overcome one of the difficult situations in my life. A few months back, I was in a family dilemma and needed help in resolving it.  I remembered that in one of Dr Krishnamurthy's talks about the Gita Regimen on Advaita academy, he had mentioned about the 7th shloka from Chapter 2. " karpanya dosho ..".  He said that when he was confused and in a dilemma, he would always repeat this shloka in front of God and mysteriously in a few days, he would get some solution. I did the same and repeated this verse for a few days with sincerity. I too experienced more clarity in handling the situation and ended by finding a solution.  One more incident happened about 2 years back when I was looking for a new job. Initially I had some interviews but nothing materialized in an offer. As days passed by it was getting more and more frustrating. I doubted my own strength.  Two verses from the Gita really helped me stay focused in that period of time.  The first was from chapter 6 verse 5 "uddhared ātmanātmānaṁ.." where Krishna teaches us not to degrade ourselves and tells us that the mind can be the friend and also the enemy of the self. The second verse was from chapter 3 verse 47 "karmanye vadhikaraste.." which emphasizes that our right is only to work and not to expect the fruits and also not to choose inaction.  I am happy that the teachings of Gita have helped me in a number of difficult periods in my life.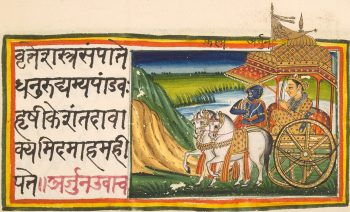 For the past one year, I have been teaching Gita at home to local children 5 years and older along with some of their parents on Sundays. My family locally and my parents in India encouraged me to continue to teach even after I accepted a full time job 50 miles away from home. Currently we are studying chapter 6.  Earlier this year, I thought of taking the kids to Swami Jyothirmayananda's (swami Sivanada's disciple) ashram locally in Miami.  I sent an email to Swamiji and he promptly replied that he would be willing to meet all the families and the kids.  Parents and kids were excited and we went to the ashram and all of us recited the sthitha prajna shlokas and Swamiji was very happy to hear all of us sing. We were blessed to hear a very enjoyable lecture by Swamiji highlighting the salient verses of chapter 2. It was a memorable Satsanga evening for all of us.  One of our family friends who is 90 years old and who is very knowledgeable about the Gita also joined us on the ashram visit.  She visits us on many Sundays and enjoys being a part of our Sunday classes and I feel blessed to have her guidance in my classes.
I feel very happy to hear the responses that I receive from my students and their families. Most of the grandparents back in India of these kids are very happy to hear their grandchildren recite.  One of the grandparents visited Florida and blessed and encouraged me to continue this Jnana Yagna. One of my student's mothers told me that her daughter desires fewer items now and they think of the reference in 2nd chapter of the tortoise which restrains its limbs. One of the other mothers brought a packet of sweets to the class and when asked about the reason for the sweets, she replied that it was because her highly active son who is 8 years old enthusiastically takes bath early in the morning and is looking forward to my Sunday class. When I started teaching the class, since I had very young children, I thought of only teaching them to recite the shlokas.  My son, a college student, suggested there is more value if I could impart the meaning in a simple way that they can understand.  So now I try to read and listen to a lot of commentaries on the verses that I teach so I can understand it better and explain it in a simpler language.  A couple of months back, I thought I should acknowledge my thanks to online gurus and I sent an email to some of the teachers at Advaita academy.  One of them encouraged me to continue my personal quest to understand the scriptures and to impart it to the community and he shared his book on the Gita which has been a valuable reference material too. 
So in effect, Gita has transformed my life and given me more satisfaction, peace and happiness and I am continuing to learn to follow the principles outlined by Krishna in the Gita.
About the Author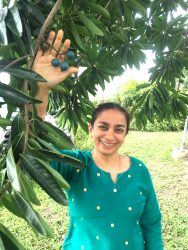 I am a software engineer. I enjoy my day job as well as other hobbies including traveling, spending time with family, socializing, listening to spiritual discourses, cooking, music, and enjoying nature. Above all I like to help and make a small difference in the lives of people that I come in contact with. I am grateful to have met and spent a lot of time with wonderful people in my life who have taught me to live in the present.
Bhagwad Gita
sthita pragnya
Swami Chidbhavananda's book
Gita Dhyanam slokas
Gandhiji
Swami Brahmananda
Dr Krishnamurthy
Krishna in the Gita