Kristi Biswas from Jacksonville Florida wins – 1st place Florida State Science Fair, and 3rd place International Science and Engineering Fair.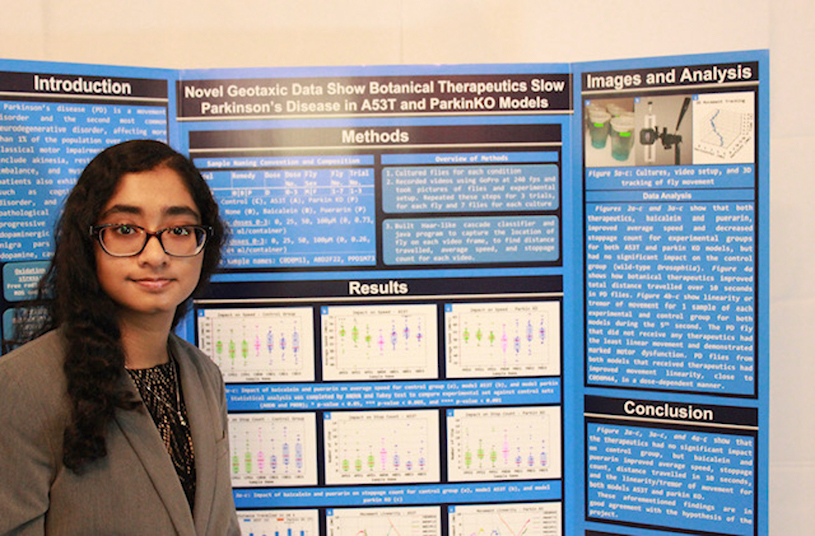 Name : Kristi Biswas
Parents Name: Dhiman Biswas and Suchitra Biswas
Name of the School: Paxon School of Advanced Studies
Grade: 11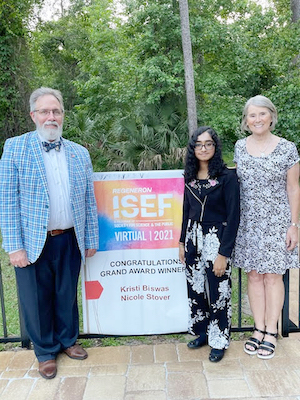 Please tell us in brief about the competition you just won:
I participated in the Florida State Science and Engineering fair and got first place in my category and the grand award. I was chosen to represent the state of Florida at the Regeneron International Science and Engineering Fair (ISEF). ISEF  is a research-based, high school competition that exists in all 50 states, the District of Columbia, and more than 75 countries, regions, and territories. I won the third-place grand award in my category.
    How did you prepare for the competition?
To prepare for the competition, I spent several months first coming up with an original project idea of my own that would be interesting to work on. Once I came up with the idea of using face detection technology to locate Parkinson model fruit flies on videos to determine its speed, movement linearity, etc., I designed the experimental setup, built the Java software, and spent countless hours every day to record more than 500 videos and analyze more than 1.6 million data points. I spent a lot of time reading enough journals and research papers to help support my background in this research and prepare for presentations at competitions. 
    Who do you consider to be a mentor and why?
I consider my parents and my brother as my mentors. They all are the ones who continue to give me advice and guide me to the right direction when I make decisions. I wouldn't be where I am today if it weren't for them.
What are your favorite activities outside of school?
Outside of school, I enjoy listening to music a lot, dancing, piano, and I personally love watching videos on animals. 
Has religion played a role in your success or your life? If so, how?
Religion has played a big role in my life and success. Every-time I am about to do something important, I always pray to God before-hand. I always make sure to put my faith and trust in God and do my best in everything I do.
Many people feel that a young achiever is made of a sheer spark and plenty of luck. How much of a role did hard work make in your pursuit? Is there a mantra that you would like to share with other young aspirants?
Hard work and passion carried all of the success I've received so far. I think it's very important to pursue what drives you the most in life and work as best as possible in it. Even if it may seem endless at times, it's all worth it in the end. 
Before I do anything important, I always chant 
Hare Krishna Hare Krishna, Krishna Krishna Hare Hare, three times.
International fame at an early age when most cannot taste it all their life. What does it mean to you?
It means the world to me that so many people are interested in the work and research I did. I'm always grateful for the support I get from the people around me and use it as a drive to continue working hard to meet my dreams.
The final moments (Competition), can you recount them for us?
It was very nerve-wracking. I was constantly telling myself that no matter what happens, I would be proud of myself for working very hard, and I'm grateful for all the support I got on that day.
After this, there must be larger goals and greater heights to be scaled. What can we expect next?
I am currently working on my next project on Alzheimer's disease at Mayo Clinic. I hope to see if I can find possible genetic variants associated with Alzheimer's disease. I am focusing on my current work in my hands and only god knows what the outcome will be.  
Which field you are planning to major in college and why
I am planning on going into the medical field and I plan on majoring in biology because I've always been interested in biology. I find it a very interesting part of the scientific field and I've always loved the genetics unit.
What relevance does being Indian American have to you? Has it given you an edge?
Being Indian American hasn't given me an edge, actually it was the other way around. I felt like I had to work extra hard to break certain barriers in America. 
Beneath all of this, who is the real you ?
I'm just a little girl from Florida pursuing her passion in science, but that's not all of who I am. In my free-time, if I have any, I love listening to music, dancing, playing the
piano, and volunteering at the Humane Society to comfort and take care of abandoned animals.
You cannot deny that fame comes with this achievement. You are now being searched on 
Google, being interviewed, and have become a role model. Has it changed who you are?
It hasn't changed who I am as a person, but it has driven me to work even harder. Other people have higher expectations from me, but I still am and always will be a music and animal lover.
If you could have breakfast with anyone, who would it be and why?
If I could have breakfast with anyone, it would be with my favorite music group, BTS. They continue to inspire me to work harder everyday and I listen to their music constantly when I have time. I think they would be fun people to eat breakfast with!
What is your favorite quote? 
My favorite quote is from Namjoon from BTS: "No one is born ugly; we're just born in a judgmental society."
Which issue (global or local) is close to your heart, and why? 
Right now, the CoronaVirus pandemic is very close to my heart. It breaks my heart to see the heartbreaking numbers on the news every day and I wish I could do more to help. My heart goes out to everyone during these difficult times.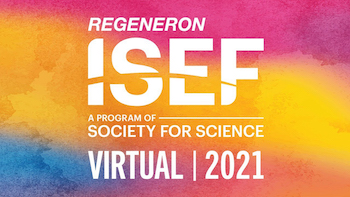 Favorite Indian Leader: Mahatma Gandhi
Favorite Non- Indian Leader: Martin Luther King Jr.
Favorite Indian Book: Devdas by Sarat Chatterjee
Favorite Non-Indian Book: Wonder by R.J Palacio
Favorite Indian Movie: Lagaan
Favorite Non-Indian Movie: Lion King
Favorite Sports Team: US Women's Soccer Team
Kristi Biswas
Paxon School of Advanced Studies
Florida State Science and Engineering fair
high school competition
Alzheimer's disease at Mayo Clinic
majoring in biology
Favorite Indian Leader
Mahatma Gandhi
Favorite Non- Indian Leader
Martin Luther King Jr.
Favorite Indian Book
Devdas by Sarat Chatterjee
Favorite Non-Indian Book
Wonder by R.J Palacio
Favorite Indian Movie
Lagaan
Favorite Non-Indian Movie
Lion King
Favorite Sports Team US Women's Soccer Team