How to Raise Spiritual Family
President George W. Bush, once the owner of a baseball team, the Texas Rangers, tries his hand at cricket during his stopover in Pakistan in March. Many of America's Founding Fathers played cricket, and America's first President, George Washington, was among many cricket fans in the fledgling country in the 1700s and 1800s. In fact, the first international cricket match was played in the United States in 1844 at Bloomingdale Park in New York City, against a Canadian team, which won by 23 runs. As baseball gained popularity from the early 1900s, cricket faded, until an immigrant-driven resurgence in the 1970s. Cricket is now played in all 50 states.
Readers are invited to send in questions regarding the practice of meditation and Eknath Easwaran will try to answer them in this column. The reader's name and address will not be used in this column, but should be included with the question.

QUESTION: Is it possible for a householder to lead the spiritual life and attain Self-Realization?
ANSWER: Of course. While it is true that there are some men and women who feel called upon to join the monastic order, for the vast majority of us the family context is the best for leading the spiritual life. According to the Sacred Scriptures, there is only one barrier between us and the Lord, our self-will, called ahamkara in Sanskrit. It is the utter extinction of this self-will or separateness that enables us to enter nirvana. As may be seen from the etymology of the word (nir-out, vana-to blow) nirvana means the blowing out or extinguishing of our tana or fierce thirst for selfish satisfaction as the Buddha calls it. The best way in which you and I can bring about the gradual extinction of our self-will is by putting the welfare of our parents, our partners, our children, our friends first, and our own last. This endeavor is as exhilarating as it is exacting and enables us to make our greatest contribution to our family and community. The more we forget ourselves the more secure, happy and loving we grow; and when we have dissolved our little I, we shall be able to sing with St. Paul: Not I, not I, but Christ liveth in me.
QUESTION: Does putting the other person first mean that we must always say "yes" to what everyone around us wants us to do?
ANSWER: Not at all. There are a few occasions in our family life when we may have to differ from our parents, partners or children. What is important on such occasions is that we say "no" lovingly and respectfully. Most of us, unfortunately, cannot disagree without being disagreeable, and this is perhaps what upsets others more than our disagreement. I would recommend the repetition of the mantram as a valuable preparation to enable us to say "no" sweetly and tenderly.
QUESTION: How can we bridge the generation gap in the family as well as in the community?
ANSWER: As long as we believe that we are our opinions, it is very difficult to bridge the generation gap between the older and the younger People. But the gap narrows down gradually with our progress in meditation and disappears completely when we discover that we are not our opinions, not our body, not our mind, but the immortal, infinite Atman.
QUESTION: Would you give a few helpful hints to enable husband and wife to lead the spiritual life?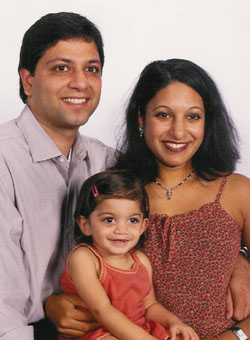 ANSWER: The marriage is indeed blessed where the husband and wife try to lead the spiritual life together. Let them put each other first all the time, and the glorious day will dawn when they will realize that they are one and not two. In the language of THE UPANISHADS, when the husband loves the wife more than he does himself, he is loving the Lord in her. When the wife loves the husband more than she does herself, she is loving the Lord in him.
This is not an easy path and may take many years of untiring effort to traverse. But as long as they are walking hand-in-hand, even if one stumbles, the other can always give loving support. This is the special prerogative of the woman who, through her loving support, can thus strengthen her partner in times of temptation and turmoil.
On the other hand, there is little progress possible where the wife, for instance, competes with the husband instead of completing him. They should turn their back on whatever separates them, and focus their attention on whatever tends to make them one. To give one or two examples, I don't think it is very helpful for husband and wife to have separate bank accounts, separate vacations, or private correspondence.
QUESTION: How can one person succeed in getting the rest of the family to meditate?
ANSWER: I am never tired of repeating that there is only one way in which we can transform our family, and that is by transforming ourselves. I would even go to the extent of adding that when we are transforming ourselves, everyone around us must participate in it in some measure.
Recently a young man came to talk to me after coming to our class for the first time. "Two of us studying at the University live together in an apartment. My friend has been meditating with you at the B.M.C.M. for more than a year, I have been watching him change under my very eyes into a more relaxed, more considerate, more secure person, and I came here to find out how he is doing it. I too would like to learn this skill."
Lauderhill is unique among U.S. cities. Responding to resi dents' desires, the city authorities used some funds from a parks bond to build a state-of-the-art cricket stadium in a new regional sports park in Broward County, in south Florida. Lauderhill was hoping its stadium, to be completed by 2007, would be chosen as a World Cup venue. Although that didn't happen, cricket madness is growing: there are free, 20-overs night matches in the local Lauderhill Sports Park; the: fourth annual Mayor's International Cricket Cup has just finished; and teams from the Bahamas and Sri Lanka are expected soon. "This year's semifinal game, where India played Jamaica, was a heart stopper, down to the last ball," Leslie Tropepe, Lauderhill's public relations manager, says of the Mayor's Cup. Mandeep Dhillon, one of two "India" team captains, made the most runs and took the most wickets during the three-and-a-half-month tournament, The matches are free as the city is trying to promote cricket. During a match at the city sports park, soccer and netball teams are also competing. "Spectators can enjoy all three sports, listen to music; hear play-by-play commentaries, all while eating flying fish or jerk chicken," says Tropepe. "There is nothing like it in United States.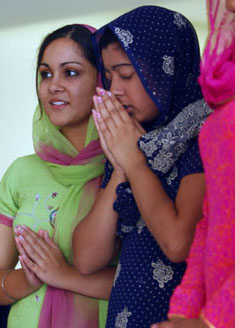 "South Florida is a melting pot," she adds, "When you have a diverse community such as ours we get to experience all the best of what other cultures enjoy, in food, music, sports, etc. Cricket has been played here for years on softball fields, soccer fields and other patches of open space."
Nearly a quarter of Lauderhill's 70,000 residents were born in the West Indies, according to the 2000 U.S. Census, and some 40 languages are spoken within its 23 square kilometers. Mayor Richard J. Kaplan, a batsman who has been playing cricket for several years, joined with the city commissioners to establish the Mayor's Cup. The 10 teams are members of two Florida leagues affiliated with The United States of America. Cricket Association, "The players proudly play in the tournament to represent the country of their heritage or birth," says Tropepe, "It's highly competitive."