Huma Qureshi praised for her portrayal of Rani Bharti in Maharani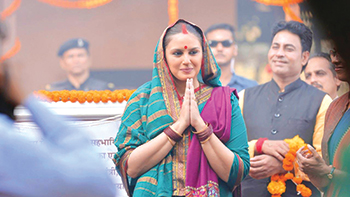 Ever since the streaming of the web series 'Maharani' on the OTT Platform on 28 May, critics and viewers have been showering praise on the performance of Huma Qureshi. Huma has played the role of Rani Bharti, a village homemaker of Bihar who is also the wife of the chief minister of the state Bheema Bharti. After the failed assassination attempt on Bheema and his severe injury, Rani has to become the Chief Minister of the state overnight. Unaware of the game of politics Rani took the chair at the order of her husband however with full reluctance.
The story depicts the evolution of Rani as an honest politician to remove corruption. Along with that, she also becomes aware of the empowerment of women. The backdrop of this series is Bihar in the 90s, which was dominated by caste-based politics, which has also been reflected properly.
Huma Qureshi made the character lively and the transformation of Rani from an ignorant woman to an empowered Chief Minister has been extremely well portrayed by her. Sohum Shah in the role of his husband Bheema Bharti also acted very well. The series is directed by Karan Sharma. The show has some wonderful dialogues both in Hindi and Bhojpuri to give the true essence of Bihar.
Huma's Bollywood colleagues have also praised her performance as Rani Bharti. The leading among them is Shatrughan Sinha and Twinkle Khanna. Shatrughan Sinha even termed her 'Magic Queen' in his tweets. Huma also thanked everyone including her fans telling them that they are her strength.
Huma Qureshi
Maharani
political drama
Sohum Shah
Bihar
Karan Sharma
women empowerment