The Family Man 2 gets a good review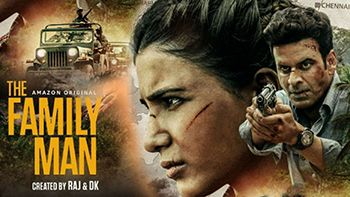 Viewers have been waiting for the secret agent Shrikant Tiwari and his team to come up with a new story of struggle and success. And he came and stole the show. The second season of The Family Man was released on the OTT Platform on June 4 2021 and ever since the streaming it has crossed a few million views. Manoj Bajpayee with his unquestionable acting prowess played the role of Shrikant Tiwari brilliantly. Samantha Akkineni as a member of the suicide squad of militants wonderfully portrayed the role with beautiful expressions.
The story of The Family Man 2 is about Shrikant's mission against the assassination conspiracy of the Prime Minister. It also has some details about his family life along with his relationship with his wife Suchitra and the kidnap of his daughter. The story is intense and gripping with the excellent direction of Raj & DK and the good performance of the supporting cast especially Priyamani as Shrikant's wife Suchitra, Sharib Hashmi as his assistant J K Talpade and Ashlesha Thakur in the role of his daughter Dhriti.
Apart from the praise and applause of the viewers and critics at the national level, The family Man 2 also received international acclaim. IMDb or Internet Movie Database has put the series in fourth place in its ranking of the world's most popular TV Shows. This ranking is based on the reviews of the viewers.  The majority of the viewers have given a full 10 or 9 score to the series. After the success of this season, the viewers have already started waiting for the next season of The Family Man.
The Family Man 2
Manoj Bajpayee
Priyamani
Samantha Akkineni
Raj & DK
IMDB Rating