Immigration Q & A March 2014
I received my 2 year green card through marriage to my husband who is a US citizen. It is time to renew it, but my husband and I are now separated. Do I need to write that we live together, or can I put down that we are separated?
First, never provide false information on an immigration form. That is considered fraud and it will get you into big immigration trouble. However, you need to make a decision about how to file to remove the condition on your residence. If you file it jointly with your husband (that means your husband must sign the form), you will need to prove that you married your husband in good faith. You will also need to show that the separation is temporary, and that you and your husband are working things out. If the separation is not temporary and things are not working out, then your better options are to file the removal of condition by yourself, without your husband's signature. If you do that, you have to ask for a waiver. A waiver is basically a request to give special consideration for you situation. You may be excused from filing jointly with your husband, if you can show that you divorced (you will need to do that first) and that you actually planned on living together when you married, but things fell apart. You may also be excused from filing jointly with your husband if he abused you or your child. The last exception is if you can prove you will suffer extreme hardship if you have to leave the United States.
I am a US citizen. I want to file for my parents and my brother and sister, who are 13 and 16. Can I do that?
Yes, you can file for your parents and your brother and sister, BUT they will not be able to immigrate to the United State at the same time. You will need to file 4 separate petitions. Your parents will be able to come to the United States within about a year of processing time, because they are what is called immediate relatives and are not subject to any quotas. Therefore, their immigrant visas will be immediately available to the as soon as USCIS and the National Visa Center complete their processing. Your brother and sister are in a different category. They are considered 4th preference immigrants and only 65,000 of them are permitted to get green cards every year. This makes for a backlog of about 12 years at the moment, although the wait times change depending on the number of people who apply for that category. The wait is even longer if you are from Mexico or the Philippines – it is 17 to 23 years, respectively. This is because each country is limited to 7% of the worldwide quota.
I became a U.S. citizen this year. My daughter is 15 years old. She has had her green card for seven years. Does she need to wait until she is 18 to file her citizenship application or can I file form N-600, Application for Certificate of Citizenship, for her?
If your daughter is a permanent resident (green card-holder), she is already a U.S. citizen. She derived U.S. citizenship automatically from you. The Certificate of Citizenship provides her proof, but she is a U.S. citizen even without the certificate. It could take more than a year before your daughter gets her certificate. USCIS in New York is just now working on N-600 applications filed on November 30, 2012. If your daughter needs proof of citizenship more quickly, she can get a U.S. passport. Just take her birth certificate, green card, photos and proof that you are a U.S. citizen to any passport acceptance facility. She can get the passport in just a couple of weeks or more quickly if she has an emergency need. If they tell you that your daughter needs a Certificate of Citizenship, ask to see a supervisor. Some clerks at U.S. post offices think that a Certificate is required. That's just not true.
I came to this country legally with a P-3 visa three years ago, but stayed longer than permit ted. I recently married a U.S. citizen. Will I need to apply for a waiver in order to get my green card?
No. USCIS will not punish you for having overstayed. A person who entered legally (with the exception of those entering with crew member visas), who marry U.S. citizens, can apply and receive their green card in the U.S. even if they have overstayed. No waiver is required. However, if you leave the U.S before you receive your green card, you will need a waiver if you overstayed 6 months or more. For those of you not familiar with the P-3 visa, it is available to artists or entertainers coming to the U.S. as part of a culturally unique program. Unlike some other visas for artists and entertainers, the person need not be outstanding in their field, if the program meets the "culturally unique" definition.
Can I be deported for a DUI?

No. A simple conviction for driving under the influence of alcohol is not a deportable offense. If the incident involved damage to persons or property, the situation may be different. If you have multiple DUIs, you may have trouble getting your citizenship. However, in some cases of people without a legal status in the United States, a DUI arrest, which usually lands one in jail, puts the person on the radar of immigration enforcement, not so much for the DUI , but for the illegal immigration status.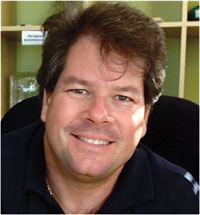 The advice in this column may not apply to your specific situation, even if it seems similar in nature. The only way to obtain legal advice is by speaking with a qualified attorney and reviewing your specific circumstances. If you have any questions, please call me at (954) 522-4115.
Edward Boreth is an immigration attorney who has practiced law for 18 years. He is a partner at Shapovalov & Boreth and a director of the Citizenship Clinic. He is also an avid cricket fan.