immigration Q and A
Q. Is there a new immigration law allowing undocumented immigrants to get green cards?
A. No. While there is a lot of excitement around immigration reform, the truth is that no new law has been passed yet. Do not believe "consultants" who say there is a new law in order to steal your money. Wait until real reform is enacted, hopefully later this year. The wrong help can harm your chances of becoming a lawful resident or citizen.
Talk to a qualified immigration attorney and ask questions. Do not let unqualified scam artists take advantage of you or your family.
Q. What is the immigration reform proposal?
A. A bipartisan group of eight Senators has proposed a bill that would represent the most sweeping overhaul of the nation's immigration laws in nearly three decades. Here is a look at the key provisions:
Path to Citizenship
Most of the 11 million people who are in the country illegally could apply first for a probationary temporary status, called Registered Provisional Immigrant (RPI), then for a green card (after about 10 years) and citizenship three years after that.
Applicants must pay several fines throughout the process, totaling $2,000, pay back taxes, learn English, remain employed and pass a criminal background check. Immigrants must have arrived in the United States before Jan. 1, 2012, to be eligible.
So-called Dreamer youth (those who entered the United States as children) can obtain green cards in five years and citizenship immediately thereafter.
Border Control
The Department of Homeland Security will receive billions to improve border security through surveillance drones and additional customs agents and fencing. Within five years, DHS must achieve 100 percent surveillance of the southwest border with Mexico and apprehend 90 percent of people trying to cross the border.
Employment verification
U.S. companies must implement the "E-verify" computer tracking system. All non-citizens will be required to show "biometric work authorization card" or "biometric green card".
The government must implement an exit/entry tracking system at ports of entry to determine whether foreign visitors or workers overstay their visas.
H1-B visas for highly skilled engineers and computer programs would double from 65,000 to 110,000. In future years, the cap could rise to as much as 180,000.Employers with large numbers of H-1B visas will be required to pay higher salaries and fees.
The bill proposes a guest worker "W-visa" program: A new visa for 20,000 foreigners in low-skilled jobs starting in 2015. The number of visas would increase to 75,000 in 2019.The bill envisions a new federal bureau to analyze employment data to make recommendations for annual guest-worker visas caps beginning in 2020, to exceed no more than 200,000 annually. Construction companies would be limited to no more than 15,000 visas per year. The bill provides for a farm worker program, as well.
The bill also envisions changes to family immigration. It would allow unlimited number of visas per year for spouses and children of U.S. citizens and permanent legal residents and parents of U.S. citizens.
Eighteen months after the law takes effect, it would eliminate visas reserved for brothers and sisters of U.S. citizens, and married children over 30 years of age.
The bill would also change the manner processing of some employment based green cards to eliminate or cut down the backlog.
It is important to remember that this is just a proposal. It may lose or gain provisions as it is debated in Congress, and of course it must pass both the Senate and the House of Representatives and get signed by the President before it becomes law.
Q. I came to the United States on a work visa, but was not able to renew it and overstayed. My daughter is 25 and has just become a US citizen. Can she file for me and do I have to leave the US to get my green card?
A. Yes, you daughter can petition for you and you can adjust status here in the U.S. A parent of a US Citizen is not barred from adjusting status due to an overstay or unauthorized employment. In fact, you should NOT leave the US until you have received your green card. If you leave, you will have a bar to reentry of 3 to 10 years, depending on the length of your overstay, even if your daughter's petition for you is approved.
Q. My wife is a US citizen and she is filing for my green card. However, she does not work. Can she still sponsor me?
A. Your wife can petition for you, but if she has no income, you will probably need a co-sponsor to sign the affidavit of support before you can get your green card. Even though your wife has no income, she will still need to sign the affidavit of support and provide tax returns or a letter stating that she is exempt from the filing requirement. If your wife has assets, such as money in the bank, stocks or real estate with equity, you may not need a co-sponsor. The value of her assets must be 3 times the minimum income required on the affidavit of support under the poverty guidelines. Otherwise, you will need a co-sponsor, who must be a US citizen or permanent resident. The co-sponsor must provide their income tax returns, W-2 form, and three recent pay stubs or a job letter. The co-sponsor must also provide proof that he or she is a US citizen or permanent resident. Of course the co-sponsor must have sufficient income to qualify as a co-sponsor under the poverty guidelines.
The advice in this column may not apply to your specific situation, even if it seems similar in nature. The only way to obtain legal advice is by speaking with a qualified attorney and reviewing your specific circumstances. If you have any questions, please call me at (954) 522-4115.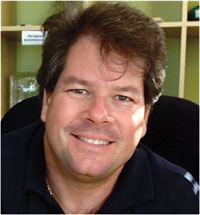 Edward Boreth is an immigration attorney who has practiced law for 18 years. He is a partner at Shapovalov & Boreth and a director of the Citizenship Clinic. He is also an avid cricket fan.