Inauguration of ASEAN India Business and Investment and Expo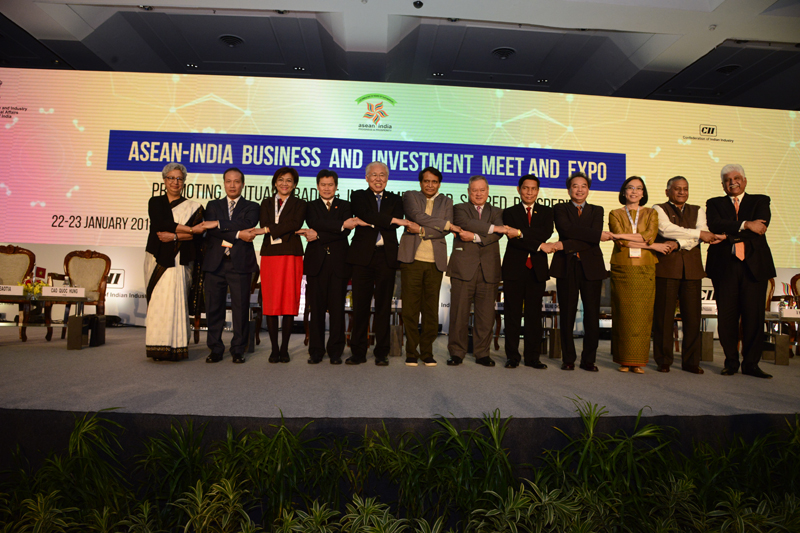 The ASEAN – India Business and Investment Meet and Expo was jointly inaugurated by Mr Suresh Prabhu, Hon'ble Minister of Commerce and Industry, India with the ASEAN Ministers and Gen. (Dr.) (Retd.) V K Singh, Hon'ble Minister of State for External Affairs, India.
The Ministers from ASEAN countries included H.E. Mr Lim Jock Seng, Hon'ble Minister at the Prime Minister's office and Second Minister of Foreign Affairs and Trade, Brunei, H.E. Mr Enggartiasto Lukita, Hon'ble Minister of Trade, Indonesia, H.E. U Khin Maung Cho, Hon'ble Union Minister of Industry, Myanmar, H.E. Mr Chhuon Dara, Hon'ble Secretary of State, Ministry of Commerce, Cambodia, H.E. Ms Nora Kakilala Terado, Under Secretary, Department of Trade and Industry, Philippines, H.E.
Ms Chutima Bunyapraphasara, Hon'ble Deputy Minister of Commerce, Thailand, H.E. Mr Cao Quoc Hung, Hon'ble Vice Minister of Industry and Trade, Vietnam. H.E. Mr Lim Jock Hoi, Secretary General of ASEAN had also attended the event.
The inaugural plenary, on the theme of 'Promoting Mutual Trade and Investment for Shared Prosperity' covered discussions on strengthening India's economic relations with the countries in the East with both sides aiming to scale up bilateral trade and investment in the region.
The session focused on trade facilitation measures taken to promote trade between India and ASEAN countries in manufacturing sector, promoting SME ecosystem to enhance entrepreneurship quotient in the region and startup culture to create new pipeline of ideas.
Mr Suresh Prabhu, Hon'ble Minister of Commerce and Industry, thanked the ASEAN ministers for their presence stating that India and ASEAN share deep and strong relations. He stressed that India is looking forward to further deepening our engagement with ASEAN, with all the special commemorative events lined up for the next few days, celebrating our Shared Values and Common Destiny. He further stated that this event will help to envision the next 25 years of India-ASEAN relations, highlighting our various sectoral collaborations.
ASEAN India Expo showcases the best in trade and services in India and ASEAN region. Buyers and exhibitors across the sectors such as Infrastructure, manufacturing, manufacturing & engineering, ICT, healthcare, Tourism, Environment, Agriculture, Science & technology, Finance and Banking, Logistics and Retail are participating in the Expo.
The Expo has participation from businesses and CEOs across ASEAN countries, ASEAN country Pavilions, Pavilions of Indian States and Export Promotion Councils.
The sessions and discussions to be held on 23rd January 2018, the second day of the event will focus on sectors of mutual interest particularly namely Services, Regional Value Chains and Connectivity, Agriculture, Trade and Investment. The technical sessions will be presided by Mr Ravi Shankar Prasad, Minister for Electronics and Information Technology and Law and Justice, Smt. Harsimrat Kaur, Minister for Food Processing Industries and the Valedictory Session by Sh. Arun Jaitley, Minister for Finance and Corporate Affairs.