Incredible South Asians
Women defy odds to tell stories of success
Discrimination at work places and prejudice on the home front may be common complaints but successful women have a different story to tell. Take risks, evaluate oneself, do not hesitate to brag about yourself, have courage and hope and be ambitious to succeed are some of the helpful hints that women gave each other at a Women's Conference organized by the Confederation of Indian Industry yesterday to mark International Women's Day (Mar 8).
Speakers, including 18-year-old tennis star Sania Mirza, spoke of their determination and hard work but what touched a hallful of about 300 women was Dr Kalpana Kharade. A senior lecturer at K J Somaya College, Kharade said, "I have traveled a journey of tears when my vision was taken away at a young age. But my father Ranganathan Kharade gave me wings to dream and always said, "Dare to dream." "Forget about glass ceiling, we are still struggling to open a door. A disabled woman has lesser opportunities compared to a disabled man for even he prefers an able woman as a wife."

Reema Nanavaty, General Secretary Sewa, chose to work with the poorest of the poor rather than use her credentials as an Indian Administrative Service officer and take up the collector's powerful job."My inspiration comes from the 780,000 women workers, artisans, vendors, hawkers, garbage collectors, manual workers in agriculture land, salt pan and construction industry who organised themselves and now have an annual turnover of Rs. 150 million (US$ 3.5m)." Working with them in Patan and Banaskantha, she talked of her first exposure to poverty and yet "they were full of hope and always waiting to take over new challenges."
Sania is no less a champion of women's rights. "The corporate world must come forward to financially support talented young kids playing all kinds of sports," she said. "I was lucky since industrialist G.V.K. Reddy sponsored me when I was just 13 and a non-entity. Many are now coming forward because they are getting mileage out of it.". Another woman who has been successful in an unusual field is Jaya Row who spoke about how she gave up her career in microbiology to give talks on Vedanta philosophy.
Mahatma Gandhi's Dandi march re-enacted on 75th anniversary. The famous 1930 "salt march" by Mahatma Gandhi to defy British colonial rule is being re-enacted on its 75th anniversary. The march of several hundred is led by Gandhi's great-grandson Tushar Gandhi. Mahatma Gandhi undertook the 24-day walk from Ahmedabad to the coastal village of Dandi to manufacture salt. It sparked India's civil disobedience movement as thousands joined him on the beach to pick up salt, the production of which was under government control.
The Italian-born president of India's governing Congress Party, Sonia Gandhi, launched the march in a ceremony at Sabarmati Ashram, once Mahatma Gandhi's commune in Ahmedabad, Gujarat. The ceremony was solemn, almost subdued, and was interspersed with the independence leader's favorite prayers. Mrs. Gandhi (no relative) urged those carrying out the 380km (240 miles) to take forward Mahatma Gandhi's message of "peace and non-violence". Mahatma Gandhi's aim at the end of the Dandi walk was to manufacture salt and defy the monopoly on salt production by the British colonial rulers.
The unique, non-violent protest forced the British to take note of the growing civil disobedience movement in the country. Mahatma's great grandson Tushar and several hundred fellow marchers will follow the same route and take a similar length of time to walk it. But there the similarities with the 1930 march end, says our correspondent. The values that Mahatma Gandhi lived and died for – such as non-violence, religious tolerance and honesty in public life – are as alien to today's India as the days of the Raj, says our correspondent. Gandhi was known for his simple ways, but the sequel march was something of an extravaganza. The March 12 march was attended by nearly half of the Indian cabinet, many of whom walked for a few kilometers before returning to their hotels.
Tushar Gandhi acknowledged there was little to compare his march to his great-grandfather's, although he said they carried the same message of religious harmony, brotherhood and peace. "The comparison is that all the Dandi walkers who have come from all over the world are volunteers. They came… because they identified with this battle and I think that is the spirit."
Shahrukh, Rani bag Filmfare awards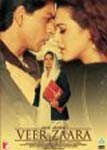 Shahrukh Khan and Rani Mukherjee bagged the best actor and best actress award for their role in Swades and Hum Tum respectively in the 50th Filmfare awards presented in Mumbai on Feb 26.Rani also bagged the best actress in a supporting role for the film Veer Zara. Veer Zara, the film exploring the theme of love across borders, was adjudged the best film of the year while Kunal Kohli was conferred the best director award for Hum Tum.
Ramesh Sippy's blockbuster of 70s Sholay was adjudged as best film in 50 years. Veteran poet and lyricist Javed Akhtar created a distinction of sorts by being nominated for five films in the best lyricist category. However, it was his lines Tere Liye from the film Veer Zara that clinched the coveted gold trophy.
Evergreen Star Dev Anand won the viewers award for being best actor in five decades while Rekha was adjudged the most beautiful and talented actress in the past 50 years through an opinion poll.
Saif Ali Khan walked away with the award for best actor in a comic role for Hum Tum but the nail-biting finish in the best actor in the supporting role kept audience spellbound. Abhishek Bachchan beat his superstar father Amitabh in this category to bag the award for his role in Yuva.
The highlight of the occasion was the legendary trio of Dilip Kumar, Lata Mangeshkar and Naushad (recipient of the first Filmfare award) were honored at the golden jubilee celebration by Maharashtra Chief Minister Vilasrao Deshmukh.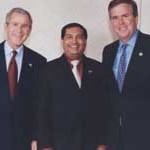 Dr. Akshay Desai Appointed to Florida Board of Governors ST. PETERSBURG, Fla. – Florida Governor Jeb Bush appointed Dr. Akshay M. Desai, a physician based in St. Petersburg, to the Florida Board of Governors last week. Dr. Desai is one of six appointed to the apex body that sets policy and oversees the management of Florida state universities. Prominent among the other appointees are J. Stanley Marshall, well-known Florida educationist, and Bill McCollum, former Congressman and co-chair of the Congressional Caucus on India and Indian Americans. "Governor Bush has acknowledged the importance of the Indian American community if Florida by appointing such a highly qualified individual as Dr. Akshay Desai," said Indian American Republican Council Chairman R. Vijayanagar. "I have known Akshay personally now for quite sometime and I know he will as a great Ambassador for the community in his new capacity."
The appointed members of the Board, who will have to be confirmed by the state Senate, will serve for staggered terms of 7 years, during which they will "operate, regulate, control and be fully responsible for the management of the whole university system" that includes 10 universities with a combined budget of $4.2 billion.
Dr. Desai's appointment is another manifestation of the influence of Indian Americans under the Republican governor of Florida. Dr. Desai, an active member of the Florida Republican Party and a formidable fund-raiser, was an alternate delegate to the party's 2004 national convention. He was an elected delegate to the party's 2000 convention. He currently serves on the influential 'Committee of 100' of the state GOP.
Last year, in recognition of his abilities, both professional and political, President George W. Bush appointed Dr. Desai to the President's Advisory Commission on Asian Americans and Pacific Islanders, thus giving him the rare distinction of being appointed to distinguished positions by both the Bush brothers. For Dr. Desai, the appointment to the Board of Governors is a logical step up after having served as chairman of the Council for Education Policy, Research and Improvement for the state of Florida and as member of the state's Postsecondary Education Planning Commission – both gubernatorial appointments.
As with most Indian Americans, education is a field that has a particular resonance for Dr. Desai. As a self-made man who owes his success to education and hard work, Dr. Desai feels only a good education can help non-privileged Americans, particularly minorities like the African Americans and Hispanics, realize their American Dream. A strong advocate of Republican beliefs, he feels only a good education can help minorities overcome the "bigotry of low expectations" of those who see a 'welfare' state as a salvation.
Dr. Desai earned his medical degree in India and acquired a master's degree in administrative medicine from George Washington University in Washington, D.C. He is the founder, president and CEO of Universal Health Care Inc. and has been president of American Family & Geriatric Care for over 15 years.
"I wish Akshay the very best in his new service to the residents of Florida on this very important Commission," said Dr. Vijayanagar.Dr. Desai lives in St. Petersburg with his wife Seema, and their three children, Priyanka, Parth and Crystal.