Dilip Barot
Building Bridge between Indian and USA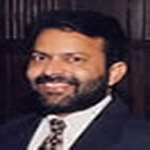 Recently, Desh-Videsh sat down with Dilip Barot. A successful businessman, Mr. Barot's latest venture is an oceanfront resort, and he resides in Palm Beach, FL. He has extensive hands-on experience in development, investment and management of over 7,000 residences over the past 12 years. His success has been published in national and international publications such as Forbes magazine, "Imported Entrepreneurs", Reader's Digest, "Keepers of the Dream." The U.S. Chamber of Commerce chose him as a Finalist for the 2004 Corporate Stewardship Small Business. Mr. Barot also has an ongoing ambitious infrastructure technology project known as "Info City" which is a world class "Mixed Use Development" located in India with 10 million square feet under development. His vision of quality has helped to create a luxury oceanfront high-rise condominium "Amrit Resort and Residences" of which he has and continues to be an integral part of every phase of this project.
Tell us about where you were born and your early education.
I was born in District Mehsana, State Gujarat, India and studied in Mehsana High School and attended a 4-year degree course in Pharmacy from L.M. College of Pharmacy, Ahmedabad, India in 1981.
Why did you decide to come to America?
I arrived in America in 1983. It was the adventure to learn and explore new things and to find myself in US.
How would you compare the US with when you first came here in 1983, as per opportunities, culture or any other aspects?
As per my view in terms of opportunities, now more resources are available including team, knowledge and money. I could see more opportunities today as compared to the time of my arrival in the US. I have been able to appreciate both the cultures (East & West) and recognize the effect to changes occurring in both of them. In global politics, in economic development, India and US have a better choice in creating mutual beneficial relationships.
One question which most American colleagues ask me, I would like to ask you too: why do you think India is at the forefront in providing maximum number of IT Professionals to this world?
It's basically the culture of Bangalore where ISRO came first and the first break came from there. When IT era boomed, the cost of living in India was much more affordable as compared to US and the number of IT professionals required, were easily available in a large population of India.
Success has different definitions for different people. How would you define success?
On a macro level, success is a progressive realization of a worthy goal.Goals can be in a broad spectrum, achieving something you desire. In day-to-day life, success is to assure that everything I am involved in is winning.
Speaking about success, what in your view, does it take for an individual to be a successful entrepreneur apart from a good product or good service?
In my view, one should have the ability to recognize opportunity, to provide better service or product, and generally make it available at any given time. One should have willingness to take risk (get out of the comfort zone).One should be goal oriented and not task oriented. Be creative.
Everyone has certain skills or talents, what tips would you give our readers on how to better use their skills better?
Recognize your skills and talents by putting them on paper and identify what product or services it will best fit.
Find opportunity that best fits you and use that talent.
Establish goals and remain focused, day in and day out to achieve your goals.
Learn effective management including time management and people skills.
What guidance will you give to the new arrivals here, who have similar dreams, in achieving their goals?
My message to the new arrivals is to learn American culture, system and practices including good work ethics and a goal-oriented attitude. Keep the good part of Indian culture such as patience, respect, and appreciation for small things and give up preset notions (prejudice) i.e.; gossiping, comparing cultures in a non-constructive way. Know your talents and skills then establish the goal accordingly to grow. Find a person or company who will give you an opportunity to achieve your goals. Practice the best of both to achieve peace and prosperity in every aspect.
What does it take to be at a level where you are today?
It is basically the self-discipline and prioritizing the short term and long term goals, which took me to this level. I think the secret behind my success is the ability to practice the value individually and collectively.
How do you create work-life balance being so active?
I look at life in totality and prioritize the aspects whether it is business or personal. Self discipline and wisdom has also helped me to find the optimum balance.
Do you feel the concept of success has changed in the last few years?
Yes, of course the concept of success has changed in the last few years, as life evolved; one's horizon expands as well as the goal.
Has your personal success changed your attitude, lifestyle or work style?
Yes, in terms of attitude, I have become more appreciative of everyone and everything. In terms of lifestyle, it is in more harmonious and now I realize duty is joy.
What does it take in terms of spirit, to be successful?
In terms of spirit, one has to have success in two terms i.e.; faith in godly values and product or services you are offering; including yourself and team members.
What are your personal aspirations?
My aspiration will be to help others to achieve their goals while achieving my goals of making the best out of my god given talents and skills.
Your current venture is an oceanfront resort and residences in Palm Beach what kind of difficulties did you find in starting this venture and how did you overcome them?
The major difficulties I faced at the time of starting this venture were the very limited knowledge about the American system, culture and language. I overcame all the hurdles or difficulties by learning and practicing, which I am still continuing today.
How did you manage to achieve so much in such little time?
I believe this is my beginning and I have so much more to achieve in the future.
What qualities/values of life would you like your fellow citizens to adhere to?
Values are dynamic; however, fundamental values known as godly values in the great religious book include truth, non-violence (as lived by Mahatma Gandhi), fearless (courage) and respect for everyone and everything.
What financial advice would you like to give to your fellow Indians?
My foremost advice to my fellow Indians is to learn more about their skills and talents, find the opportunities, develop good working ethics, remain goal oriented; thereby achieving them.
How do you deal with failure?
Failure is a temporary set back to your goal and sometimes it guides you in the right direction. It can act as your traffic sign, provided you look at it in a constructive way.
How do you deal with envy?
I believe in truth and non-violence (as lived by Mahatma Gandhi), do sole searching and receive everything in a constructive way.
Is it possible to be successful while keeping your principles and ethics intact?
It is impossible to be successful without keeping your principles and ethics intact.
Who has played the most important role for you to achieve success: your parents, spouse, teacher or mentor?
It's basically all of them; however others have also contributed in a different manner including team members, children and friends.
Who is your mentor?
At a young age, my parents, elders and Swami Vivekananda and now Mahatma Gandhi have been my mentor's.
How has religion played a role in your success?
Religion to me is the godly value and has played a vital role in my life which is still continuing and has contributed to my success.
How has education played a role in your success?
The word "Educ" means 'learn from'. It means I am still gaining knowledge and has helped me in every aspect of my success.
What is the most exciting thing about success?
Success helps you to find yourself in a constructive way (who you are and what you are).
Have you missed out on anything in life?
I have not missed much in my life. My past has been good, present is wonderful and future will be fantastic.
What message will you give our young children for them to be successful?
The message to the younger generation should be to learn from everyone and everything; care and share, talk to walk, be confident and humble at the same time. Being caring and sharing human beings; will bring more fulfillment, inner happiness and peace
Dilip Barot