India Receives its first Rafale Fighter Jet from France
Indian Defence Minister Rajnath Singh took home the first of the 36 Rafale fighter jets, which was a part of the $8.78 billion deal signed in 2016. Rajnath Singh was in France for a three-day visit and received the first Rafale aircraft at Dassault Aviation's facility in Merignac.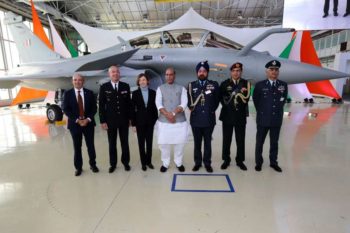 The Defence Minister also got first-hand experience of the aircraft as he donned a pilot suit and a helmet and got into the jet's cockpit for a test flight with a French pilot. The first aircraft that has been delivered bears the tail number 'RB 01'. RB in the number stands for Air Chief Marshal R.K.S. Bhadauria, who played an important role in negotiations for procuring the 36 Rafale jets. As per the deal, out of the 36 aircraft, four will be delivered to India by May 2020. The first batch of aircraft will be stationed at Ambala Air Force Station with Vintage 17 Squadron. The second squadron of the aircrafts will be stationed at Hasimara base in West Bengal.
Known as air-dominance aircraft, the addition of Rafale in the Indian Air Force will only add to India's immense air power. This also makes India one of the four countries possessing the next-gen fighter jet, besides France, Egypt and Qatar. Rafale is a versatile aircraft that can carry out all types of combat aviation missions. It had twin engine and delta wing, which makes it an extremely stable aircraft that flies at a supersonic speed. Apart from providing air defense, in-depth strikes and anti-ship strikes, Rafale can also jam enemy radars and can detect targets anywhere in air, ground and sea. In fact, earlier this year after Indian Air Force's airstrike at a Jaish-e-Mohammed camp in Balakot, Pakistan, Prime Minister Narendra Modi had said, "Rafale fighters could have delivered even better results."
Dassault Aviation's facility
Balakot airstrike
Ambala Air Force Station
Rafale Jet in india
Rajnath Singh
RB 01
Indian defence minister
Indian Air Force