Chinese President Xi Jinping Visits India to Meet Narendra Modi
Chinese President Xi Jinping is in India for the second India-China informal Summit with Indian Prime Minister Narendra Modi. He landed in the coastal town of Mamallapuram in Tamil Nadu. Both the countries are looking forward to chart a new course for bilateral ties over the next few years.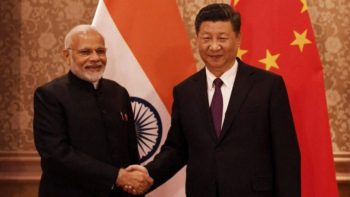 The picturesque historic seaside town of Mamallapuram has been turned into a fortress with unprecedented security arrangements. The town has undergone a series of beautification and other preparations ahead for the summit. Apart from holding various discussion and talks related to the bilateral ties, Modi will also be taking Xi, to visit some of the most iconic monuments in Mamallapuram. The three monuments on the two-day itinerary are – Arjuna's Penance, Panch Rathas and the Shore temple. President Xi will also be attending cultural programmes.
This is the third meeting between President Xi Jinping and Prime Minister Modi, since the latter's re-election to the office in May earlier this year. And, it is their sixth meeting since their first informal summit in Wuhan last year. The first informal summit that took place last year was held in Wuhan, China. The summit helped both the countries to normalize their relations on all fronts after a 73-day standoff between the militaries on both sides at Doklam in 2017. The standoff started when Chinese military planned to build a road close to the narrow Siliguri corridor, also known as Chicken Neck corridor, connecting the Northeastern states. And it ended when the Chinese military called off its plans and both sides withdrew from the standoff point.
The bilateral talks this time will include increasing concerns over the issues of terrorism and radicalization. And, of course, trade-related issues, such as how to enhance bilateral trade volume. A statement issued by India's Foreign Ministry related to President Xi's visit said that the meeting will provide the leaders of both the countries "to exchange views on deepening" the bilateral partnership.
Doklam
India-China informal Summit
Mamallapuram
Narendra Modi
Indian Prime Minister
Xi Jinping
Chinese President