India sets new record in space mission-Successfully Launches 20 Satellites in a Single Flight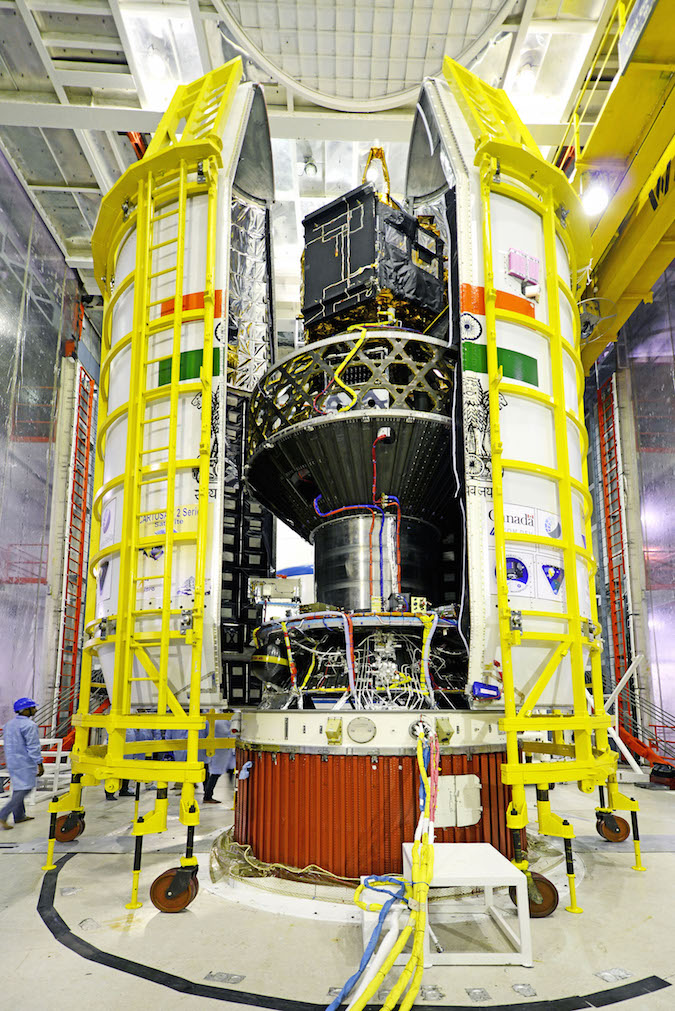 The Indian Space Research Organization (ISRO) just sent 20 satellites into orbit with one launch, marking the largest satellite launch in the space agency's history.
Their previous record was 10 satellites delivered with one mission, and this latest accomplishment takes them a lot closer to the delivery rates of NASA and the Russian Federal Space Agency, solidifying India's place in the global space market.
Out of the 20 satellites, 17 were commercial, so used by companies to help us do things like get better TV signals or weather forecasts. The main cargo, though, was the ISRO's 725.5-kilogram (1,599-pound) Cartosat-2 – a satellite used for earth observation much like NASA's Landsat program.
"Each of these small objects that you are putting into space will carry out their own activity, which is independent of the other, and each of them will live a wonderful life for a finite period," ISRO chairman A. S. Kiran Kumar.
Pulling off such a launch is no easy task. The satellites, which were launched from the island of Sriharikota, have to be 'injected' into orbit at the correct distance from one another to ensure they don't eventually smash together.
"After each satellite is injected into orbit, the vehicle will be re-oriented if required and the next satellite will be put into orbit with a varying velocity so that the distance between the satellites grows monotonically," said Vikram Sarabhai Space Centre director, K. Sivan .
He added, "Then, after a huge gap of 3,000 seconds, PS-4 [the fourth stage] will be re-ignited for 5 seconds," Sivan continued. "Then, it will be switched off for another 3,000 seconds. It will be re-ignited for another 5 seconds."
This is really big news for the ISRO for two reasons: it represents both the largest satellite launch in the agency's history – putting them closer to NASA's 2013 record of 29 and Russia's 2014 record of 33 – and it shows that foreign companies are ready to pay the ISRO to launch satellites for them.
"India is attracting key foreign players, most importantly the US, in the space market thanks to its cost-effectiveness and credibility," said expert Ajay Lele, a senior fellow at New Delhi's Institute for Defense Studies and Analyses, who was not a part of the launch team.
Most of those 'key foreign players' are from the US. In fact, 13 of the 20 satellites sent to orbit in this latest round were from US-based companies and organizations with a Google-owned company, Terra Bella, being one of them.
Of the 19 co-passenger satellites carried by PSLV-C34, two – SATHYABAMASAT weighing 1.5 kg and SWAYAM weighing 1 kg – are University/Academic institute satellites and were built with the involvement of students from Sathyabama University, Chennai and College Of Engineering, Pune, respectively.
The remaining 17 co-passenger satellites were international customer satellites from Canada (2), Germany (1), Indonesia (1) and the United States (13).
In total, the mission – called PSLV-C34 – sent roughly 1,288 kilograms (2,863 pounds) worth of satellites into Earth's orbit, and, if history is anything to go off of, they probably did it for way less money than other agencies, but an exact number hasn't been reported just yet.
The imagery sent by the Cartosat-2 series satellite will be useful for cartographic applications, urban and rural applications, coastal land use and regulation, utility management like road network monitoring, water distribution, creation of land use maps, precision study, change detection to bring out geographical and manmade features and various other Land Information System (LIS) and Geographical Information System (GIS) applications.
Over the past few years, the ISRO has gained a reputation for frugality, especially since many of their missions are successful despite the cost-cutting. For example, in 2014, the ISRO sent an unmanned rocket to Mars that cost onlyUS$73 million in total. Meanwhile, NASA's Maven mission – the closest comparison to India's rocket mission – cost over US$671 million.
Launching rockets on the cheap isn't the only concern for the ISRO. Just last month, the agency tested an early version of a shuttle that they hope will offer a reusable way for astronauts to get to and from space, just like NASA's Space Shuttle program used to.
With today's successful launch, the total number of satellites launched by India's workhorse launch vehicle PSLV has reached 113, of which 39 are Indian and the remaining
74 from abroad
The ISRO is becoming a major player on the space front, joining the ranks of NASA, SpaceX, and Blue Origin. And that's great, because if there's one thing that's guaranteed to get us off this big blue rock faster, it's a little healthy competition. It'll be exciting to see what happens next.