Indian-Americans Dominate the 92nd Scripps National Spelling Bee
Do you know what the common link is for these individuals – Rohan Raja, Karthik Nemmani, Ananya Vinay, Jairam Hathwar, Gokul Venkatachalam, and Sukanya Roy? All are names of Indian-origin, but there is an even greater commonality. Each of these are young students who have won the prestigious Scripps National Spelling Bee competition over the years.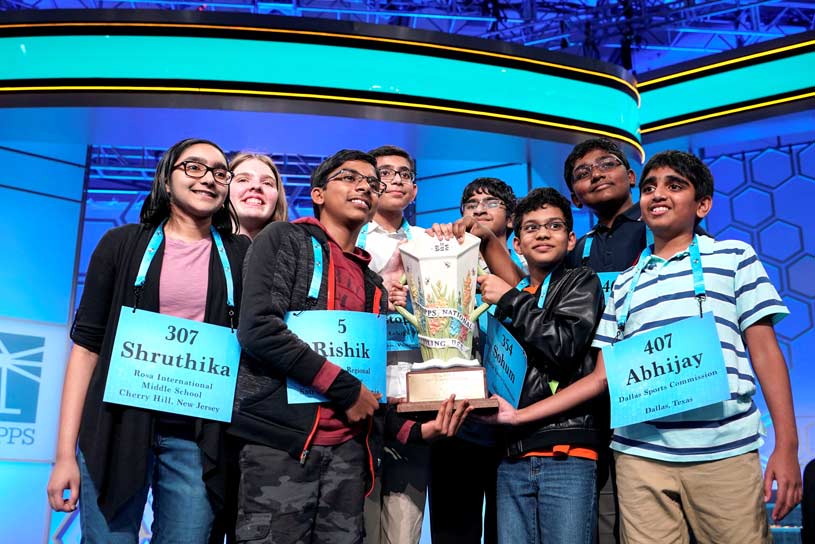 All Photos Credit to Mark Bowen/Scripps National Spelling Bee
Indian-American students have been dominating the grueling competition since 2008. This year, not one or two, but eight students were announced co-champions, seven of which are of Indian origin!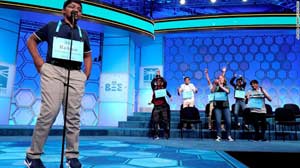 The 92nd Scripps National Spelling Bee began on May 26, 2019, with 565 contestants. The students came from across the United States, Ghana, Jamaica, and Canada. The final round of the competition consisted of 16 spellers. After over three hours and 20 rounds, eight students stood so strong that the competition's pronouncer Jacques Bailly said, "We're throwing the dictionary at you, and, so far, you are showing the dictionary who's boss!"
In the end, Rohan Raja, Rishik Gandhasri, Shruthika Padhy, Saketh Sundar, Sohum Sukhatankar, Abhijay Kodali, Christopher Serrao, and Erin Howard took home the honor of being Bee champions. The winners also took home a cash prize of $50,000, along with $2,500 in savings bond and reference books.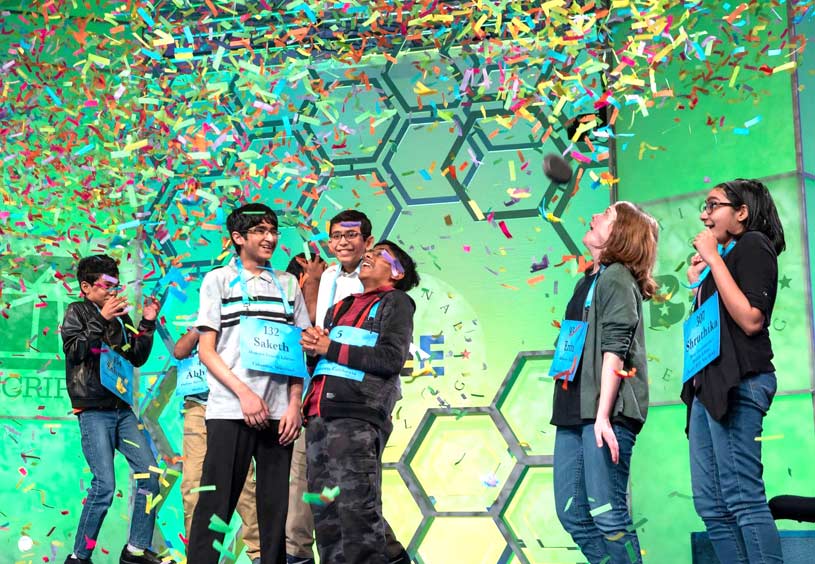 There have been co-champions before, but an eight-way tie is a first in the competition's 94-year history. The organizers themselves agreed that they were in uncharted territory and were running out words that were challenging enough for the remaining spellers.


It is a special moment for the Indian-American community as seven of the eight winners are of Indian descent. Furthermore, this is the 12th year in a row that this high-profile, high-pressure competition has been won by children of Indian-origin.
In 2018, Karthik Nemmani, a 14-year-old from Texas won the National Spelling Bee. He was the 14th Indian-American champion of the competition. The year before that, Ananya Vinay of California won the title by beating another Indian-American Rohan Rajeev. In 2019, 25 of the 50 finalists were Indian-American.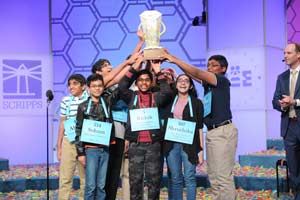 This streak of Indian-origin students winning the Spelling Bee competition has been much talked about and analyzed over the years, especially in documentaries such as Spellbound (2002) and Breaking The Bee (2018). In an interview, Sam Rega, the filmmaker behind Breaking the Bee said, "We were wondering if there was more to this trend than just numbers. And what we found was, it was from 1965 when there was a change in immigration laws and that allowed highly educated individuals to come into this country. So we brought in a big wave of Indian-Americans and that really set the foundation. Then the rest of the timeline is, the 1985 winner was the first Indian-American winner, so as soon as people saw that he could do it, that told everyone else, 'If he can succeed, I can succeed.'"
This domination of Indian-Americans over the Bee is certainly impressive. It is something that the community should be proud of and continue to encourage.
Indian-origin
Scripps National Spelling Bee competition
Indian-American students
Erin Howard
Indian-American community
throwing the dictionary
National Spelling Bee
Spellbound
Breaking The Bee
Scripps Spelling Competition
92nd Scripps National Spelling Bee
Rohan Raja
Karthik Nemmani
Ananya Vinay
Jairam Hathwar
Sukanya Roy
Gokul Venkatachalam