Indian Americans Shine in Spheres other than IT and Spelling Bees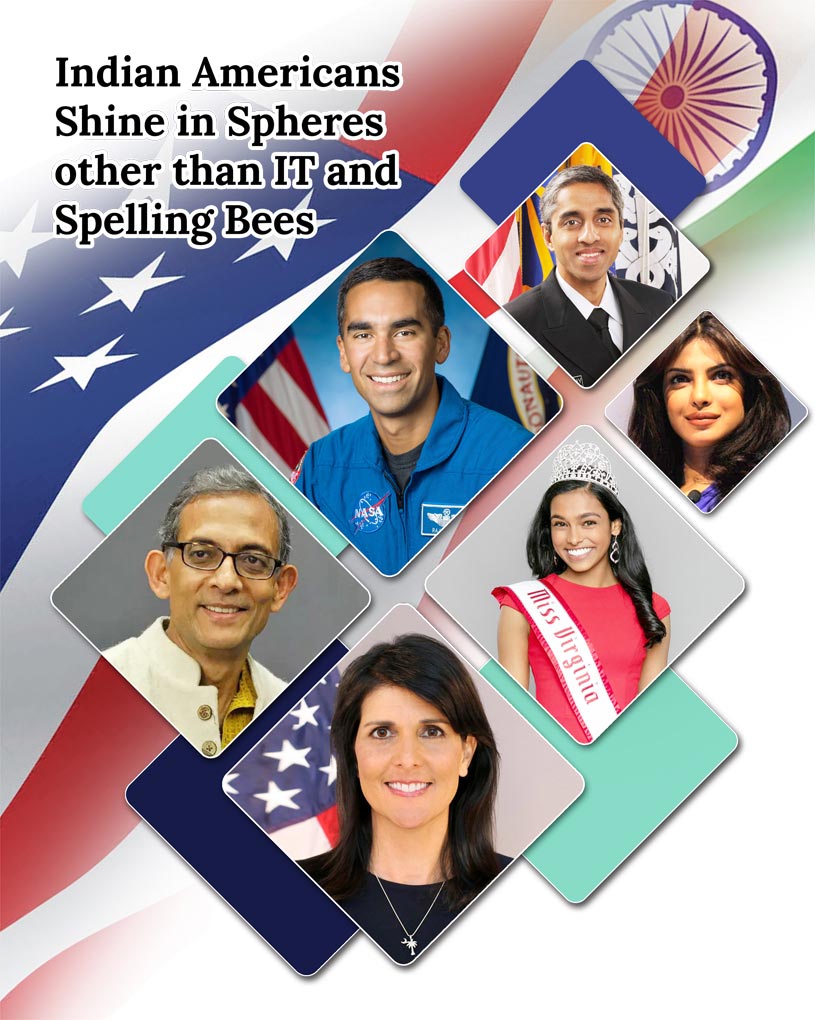 There was a time when the world was obsessed with how Indian Americans reigned in spelling bee contests and across the IT sector. Some of the best minds running IT giants are Indian American business people. Names such as Satya Nadella, CEO of Microsoft; Sundar Pichai, CEO of Alphabet Inc, parent company of Google Inc.; Shantanu Narayana, CEO of Adobe, and Indra Nooyi, former CEO of PepsiCo are widely recognized and celebrated as faces representing India on a global scale. From the year 1998 to 2008, Indians won the national spelling bee nine times, leaving the world perplexed. However, time has changed. Gone are the days when the only way to climb the ladder of success was through engineering, technology or possessing the knowledge of a vast thesaurus. Indian Americans are now in the news for making their presence felt in every field, thereby breaking the myth that Indians American are good only at technology and spelling.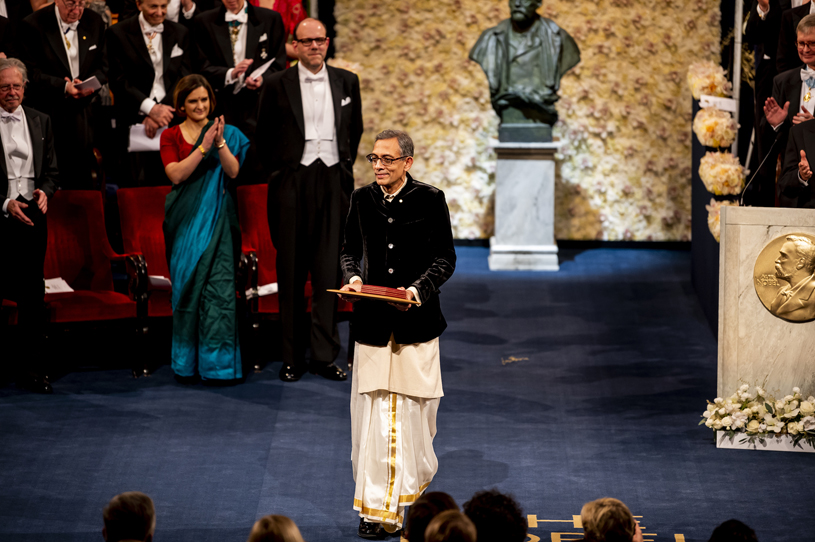 In today's time, the US media is buzzing with success stories of Indian Americans leading in the fields of business, politics, culinary arts, Hollywood films, Nobel prizes, beauty pageants and sports. The changing time has seen many of Indian origin excelling in a broad range of career spectrums across the globe. Be it Kunal Nayyar acting in the role of Rajesh Koothrapali, an astrophysicist, on the television show The Big Bang Theory to the real-life MIT economist Abhijit Banerjee winning the Nobel Memorial Prize in Economic Sciences. Abhijit Banerjee has joined an elite group of Indian Americans Nobel Laureates, which include Har Gobind Khorana, Subramanyan Chandrasekhar, Amartya Sen and Venkatraman Ramakrishnan.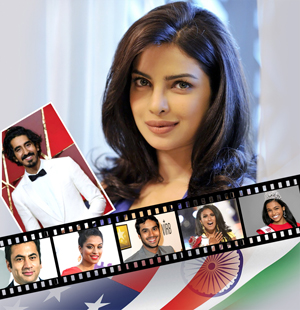 Abhijit Banerjee paid respect to his Indian roots when he accepted his Nobel prize in Sweden by wearing an authentic Begali dhoti. The Indian American economist looked resplendent as he accepted the Nobel with his French American wife. Their life's work is aimed to alleviate global poverty. The Mumbai-born economist asserts that it was his formative years first in Mumbai and then in New Delhi that informed his experiments in welfare economics.
Likewise, Dev Patel and Priyanka Chopra have become big-time Hollywood stars with recent acting roles. Lilly Singh, famously known as Superwoman, is a YouTuber, comedian, actor, and was ranked tenth on the Forbes list of the world's highest-paid YouTube stars.
If you are an Indian under 30 years old, then you have likely grown up idolizing astronauts Kalpana Chawla and Sunita Pandya Williams. Raja Chari, a Colonel in the US Air Force and an accomplished pilot, is the third Indian American astronaut to continue this proud tradition as he embarks on a mission to the Moon and Mars under NASA's Artemis program.
What Non-Indians say about Indian Americans
I want to express my profound gratitude to the nearly 4 million amazing Indian Americans all across the country, who are thriving, prospering, flourishing and hardworking. You enrich our culture. You uphold our values. You uplift our communities. You are truly proud to be Americans and we are proud to have you as Americans."
US President Donald Trump
No political issue is hotter than immigration. And no immigrant group has been more successful than Indians in the United States.
Larry Summers, former President, Harvard University; former US Treasury Secretary
In the last half-century, Americans of Indian descent epitomizes how new waves of immigrants have been renewing our communities and our economy.
Jon Huntsman, former Governor of Utah and United States Ambassador to China
Indian-Americans have recently become among the largest nationality group of new immigrants to the U.S. and are also the most successful by many measures, including education, income and entrepreneurship.
Doris Meissner, former commissioner of the US immigration and Naturalization service; senior fellow, Migration Policy Institute
With every opportunity emerges an Indian American as a leading figure. Recently, Anjali Nair was crowned the winner of American Miss Junior Teen 2019-2020, and it seems she is following in the footsteps of Nina Davuluri who won Miss America 2014. Even in sports, Indian American women are no longer behind. Five young Indian-origin women have moved to North American schools and colleges to target chances to play for the WNBA. Asmat Kaur (16), Sanjana Ramesh (17), Vaishnavi Yadav (17), Srishti Suren (18), and Khushi Dongre (18) haven't let linguistic and cultural barriers deter their way.
Kamala Devi Harris is an Indian descent American lawyer and politician who has been serving as the Junior United States Senator from California since 2017. In 2018, Harris entered the presidential race as a candidate.
Pramila Jayapal became the first Indian American to preside over the Chamber of Congress. She is one of four Indian-Americans serving in the United States Congress.
Vikas Khanna, a restaurateur has represented Indian cuisine on the International stage with his first restaurant Junoon and had the honor to cook for the former US President Barack Obama. And if you think this is it, then do know that Dr. Vivek Hallegree Murthy, South Florida's own was the youngest Surgeon General in the history of the United States.
The list is endless. Indian Americans continue to make an invaluable contribution to the world. Perseverance, value for education, and hard work are mainstays of our culture and this ensures we go for the silver lining.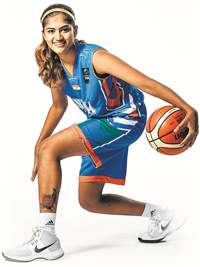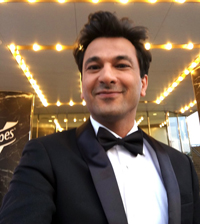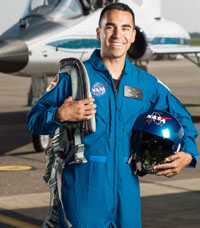 Indian Americans in spelling bee
Indian Americans in IT sector
Indian American business people
Satya Nadella CEO of Microsoft
Sundar Pichai CEO of Alphabet Inc
Shantanu Narayana CEO of Adobe
Indra Nooyi Former CEO of PepsiCo
national spelling bee
The Big Bang Theory
MIT economist Abhijit Banerjee
highest-paid YouTube stars
astronauts Kalpana Chawla and Sunita Pandya Williams
Indian American astronaut Raja Chari
Indian descent American lawyer and politician Kamala harris
Indian-Americans serving in the United States Congress