Indian Family
The face of the Indian family is changing. Families today represent a blend of their native and Western cultures. Hoping to embrace the best of both worlds, families are now challenged to maintain a desirable balance between the two worlds.
Perhaps you moved to the United States in the 60s or 70s hoping to build a better life for your family in the land of opportunity. You studied and worked hard, built a successful career, and provided everything your family desired. Along the way, you may have struggled to convey the same values you learned as a child to your own children.
Or you might be a first generation American carefully balancing Western ways with the values and traditions passed on to you by your parents. Your unique background has molded your life experience into one that is rich and satisfying while also challenging.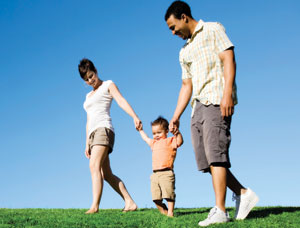 The bonds we share with our parents and spouses shape our life experience and allow us to explore the kinds of values we hope to live by and instill in our children. How we build and maintain relationships is based largely on our values and cultural norms.
In this issue, Desh-Videsh explores relationships and ways to deal with the stresses and challenges of finding and keeping a life partner, one who shares your values and ideals.