Indian Historical Drama, Porus, Airing in Japan

Indian Historical Drama, Porus, Airing in Japan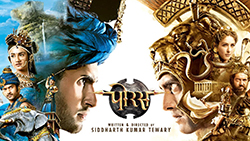 Porus has become the first Indian historical drama to be aired in Japan. It will be shown on Hulu Japan. Based on the life of the legendary King Porus, who halted Alexander the Great's advance into the India subcontinent, this promises to be an exciting, action drama series. The show's producers are hoping it will be a hit with Japanese audiences. Indian dramas are not very well-known in Japan and, for most Japanese, this will likely be their first introduction to Indian TV productions.
Indian TV producers have long desired to garner a wider, international audience for their shows and opportunities are now opening up. A good story travels well after all and can be equally appreciated by people from different cultures. Indian history is tumultuous and eventful, quite like Japanese history, and there is already that common ground to build a bridge upon.
Porus is written and directed by Siddharth Kumar Tewary and produced by his company Swastik Productions for Sony Entertainment Television. It is a mega epic with 260 episodes and the cost for each episode is well over $100,000.
Posted on: 11-2-2018 by: Deshvidesh