Ruslaan Sayed Plays Nakul in KarnSangini

Ruslaan Sayed Plays Nakul in KarnSangini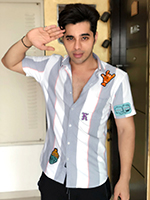 Ruslaan Sayed will be playing Nakul, one of the five Pandava brothers from the Mahabharata, in upcoming TV show KarnSangini. The actor previously appeared in Jana Na Dil Se Door, and he is looking forward to entertaining his fans in this new role. He claims it is a more taxing part than anything he has done so far and a definite step up in his acting career.
KarnSangini will show us scenes from the Mahabharata from the perspective of Karna, the half-brother of the Pandavas, who is aligned with their cousins/enemies the Kauravas. The show will feature his romance with his wife Urvi. Aashim Gulati is playing Karn and Tejaswi Prakash is appearing as Urvi. Actresses Sayanti Ghosh and Madirakshi Mundle respectively play Kunti, the mother of the Pandavas, and Draupadi, the wife of the Pandavas.
Period dramas can be fascinating if they are well-acted and without unnecessary histrionics, and the Mahabharata is a gift that never stops giving. There are so many brilliant stories that can be mined from this Hindu epic. It will be interesting to see how KarnSangini pans out.
Posted on: 11-2-2018 by: Deshvidesh