Indian-Origin YouTube Sensation Lilly Singh gets her own Late Night Show

Indian-Origin YouTube Sensation Lilly Singh gets her own Late Night Show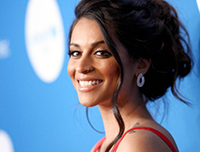 YouTube and Social Media star Lilly Singh will soon be seen hosting her own late night show. The show, A Little Late With Lilly Singh, will feature comedy sketches as well as guest interviews. She will take over late-night host Carson Daly's time slot on NBC.
The Indian-origin Canadian Lilly goes by the stage name of Superwoman and rose to fame with a YouTube Comedy Channel of the same name. Her YouTube channel has more than 14 million followers. She made the announcement while making a guest appearance on NBC's The Tonight Show Starring Jimmy Fallon. Talking about the opportunity of hosting her own show on NBC, Lilly said, "An Indian-Canadian woman with her own late night show? Now that is a dream come true. I'm thrilled to bring it to life on NBC, and I hope my parents consider this to be as exciting as a grandchild."
The half-hour show will begin airing September 2019. With this show, Lilly will be the first woman to host a late-night daily show on a major network.