Interview with Shaina Rashid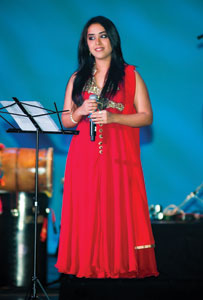 Recently, Desh-Videsh sat down with Shaina Rashid, a Bangladeshi-American who was born and raised in Fort Lauderdale, Florida. Currently, Shaina is a college sophomore. Her love for music was fostered at a young age, and Shaina has now been singing for over 10 years. Besides signing, Shaina studies, helps with the family business, and designs clothing.
Please tell us about your family. Do you have any brothers and/or sisters?
My mom and dad came to the United States many years ago to finish their education. They raised my older brother and me here in Florida, but kept us intact with our beautiful culture of back home. I'm the youngest in my family and they all support and love me so much. Many people know my family because of our family business, Ruby's Fashions, where we sell Indian clothing. My involvement there has had a big impact on my up bringing. Growing up and spending my days at the shop, I have become like family to Soham Uncle and Anuja aunty of ABC and Indu Aunty also. That's why when anyone asks me about family, I have so much to say because everyone treats me like family!
When and how did you first become interested in music?
Music was something I was always interested, especially Indian and Bangladeshi music. Growing up I preferred to listen to the songs my parents listened to rather than the Disney songs that kids my age listened to. Soon enough with my growing passion for singing one my aunty's, Ruby, decided it was time my parents enrolled me in singing lessons when I was 10 years old.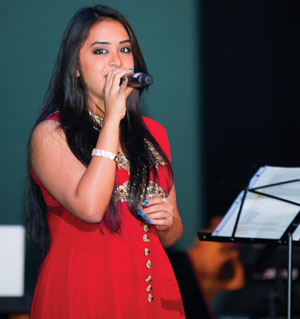 Who is your Guru (Teacher)?
My first and most cherished guru is Chitra Sultana. She continues to be my guru and mentor to this day. I must say over the years, many have taught me much of what I know today – Shanti Aunty, Shumon Bhai, Pradeep Uncle, Nawrin Faruk and of course Fayyaz Hoodbhoy. These special people in my life and taught me everything I know.
How did you feel sharing a stage with Shreya Ghoshal?
I feel as if a big dream of my life has been fulfilled! Shreya is an idol and role model, and never did I ever imagine that I would be sharing a stage with her. She is such an accomplished artist, and I was more than ecstatic when I learned that I had the opportunity to sing at her show.
Please tell us about your memorable performance.
The moment I saw the thousands of people, I instantly got chills. When I saw the huge stage where not only Shreya, but I was also going to perform on, I was a little nervous. Finally, when I was on stage about to sing, the crowd was so welcoming, and I realized how lucky I was to be standing where I was – in front of thousands of people, with all the lights and cameras, and knowing Shreya Goshal was backstage listening to me. After my performance, Shreya told me how much she liked my singing and how well I did for a difficult song. We chatted for a bit and then took pictures. She was so down to earth, now I look up to her even more.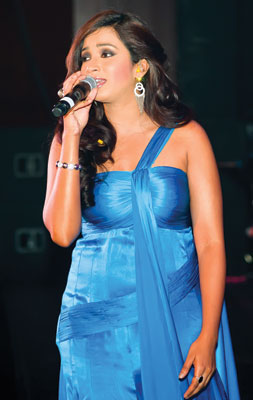 Who are your musical influences?
My musical influence is of course Shreya Goshal. From the time I heard her sing when she debuted in the film Devdas, I decided that she was someone that I wanted to shadow. I was just beginning to learn singing. She was also very young, so as years went by, I watched her grow and blossom into what she is today with hard work and dedication. I respect her a lot.
Who inspires you?
My inspiration is my family, friends, and my audience. The support and encouragement I get from them inspires me.
Who is your favorite singer and why?
My all time favorite is Lata Mangeshkar. She dedicated her life to music and has sung such beautiful songs for so many years.
What kind of songs do you like to sing?
I like to sing melodious songs. More specifically older songs sung by Lata Mangeshkar. To me, these songs are the most beautiful. I enjoy singing beautiful melodies, and the lyrics of older songs are so meaningful and original.
What is your music goal? Are you working on any albums at the moment?
Many people ask me that, I don't want to say that someday I want to be a "superstar", but through my singing, I hope to one day be in the hearts of many. No albums right now. For now, I am just concentrating on school, and taking whatever opportunities life brings me. So if I do get the chance to do that someday I would love to!
Success means different things to different people. What does it mean to you and how would you define it?
Success to me means getting to a point where I will have more respect and love. To me, it also means reaching a state of mind of happiness and satisfaction.
Our readers always like to learn personal tidbits about you. What is your:
Favorite Indian Movie:
Kabhi Khushi Khabhie Gham
Favorite American Movie: Sleepless in Seattle
Favorite non-American Food: Biryani
Favorite American Food: Pizza