Inventor of the Year Award for Enhancing AI Capabilities for IBM Indian-American Scientist
IIT Mumbai is a fertile ground for geniuses to blossom and one such genius is Dr Rajiv Joshi who currently works at the IBM Thomson Watson Research Center in New York. From IIT he went on to refine his education with an MS from the Massachusetts Institute of Technology and thereafter earned a PhD in mechanical/electrical engineering from Columbia University, New York. The New York Intellectual Property Law Association bestowed on him its prestigious annual Inventor of the Year Award during a virtual awards ceremony. The award is for advancing electronic industry and improving artificial intelligence capabilities.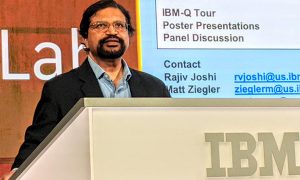 In his acceptance speech Dr Joshi said that today, quantum computing and artificial intelligence are the buzzwords and that their utility is growing tremendously. There are challenges too, he said but he is involved in improving memory structures with reference to their use in AI and quantum computing.
This is not surprising given that Dr. Joshi has to his credit about 250 patented inventions. He loves to dabble in artificial intelligence and quantum computing. The range of his inventions cover machine learning techniques for predictive failure analytics and high performance, low power high bandwidth integrated circuits and memories for artificial intelligence application among others. Many of his inventions have found their way into supercomputers, laptops, smart phones and other electronic gadgets. His inventions impact healthcare, medicine, communication and everyday life.
 His childhood background is responsible for shaping his thoughts. His parents would tell him inspirational stories about great inventors like James Watt, Alexander Bell, Thomas Edison, Madame Curie and others. This led to his interest in science and technology.
IIT Mumbai
Dr Rajiv Joshi
IBM Thomson Watson Research Center
Massachusetts Institute of Technology
Columbia University
New York Intellectual Property Law Association
Inventor of the Year Award, electronic industry
artificial intelligence
Dr Joshi
quantum computing
artificial intelligence application
electronic gadgets
James Watt
Alexander Bell
Thomas Edison
Madame Curie
science and technology