President Trump Honors Indo-American Girl Scout who showed kindness during Corona Times
USA president Donald Trump recently acknowledged and paid tribute to Sravya Annappareddy, an Indian American girl aged 10. This brave young girl had been sensing boxes full of cookies to nurses and writing warm messages to healthcare workers who were fighting the COVID 19 pandemic at the forefront. Incidentally, USA is amongst the worst hit nations in the Corona context.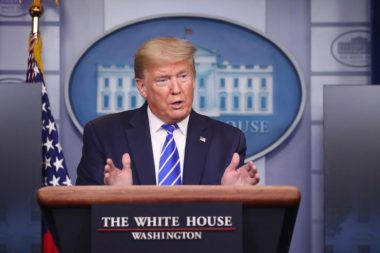 A member of the Girl Scouts Troops, Sravya studies in 4th grade at Maryland's Hanover Hills Elementary School. The president Donald Trump and the first lady Melania Trump felicitated many American heroes who were fighting the corona pandemic through selfless acts and Sravya was chosen from this category along with others. Trump said that these heroes remind us that strong bonds connect during hardships and these will take us to better times in future. Sravya's ancestry is from Andhra radish in India and her parents were first generation immigrants.
10 boy and girl scouts were honored by the first couple and Laila Khan along with Laurent Matney were other year olds who were felicitated. They all had written over 200 personalized greeting cards to health care workers had donated more than 100 cookie boxes to nurses, firefighters and doctors. Laila Khan, the spokesperson for this children's scout group said that she recognized the honor that her group was conferred with but also acknowledges that they are just a part of the huge community of people engaging in selfless acts during these times.
Amy Ford, an honoree from West Virginia, Williamson had specially travelled to Brooklyn in order to work in a hospital full of Corona affected patients. Trump said that any had been diligently working 12 hour shifts in ICU unit of the Brooklyn's King County Hospital Center. Amy has shown human spirit and kindness while holding the hands of an aged patient all night long so that the latter wouldn't feel depressed.
The Coronavirus emerged in Wuhan in December 2019 and has so far claimed 315,185 lives so far while affecting 4.7 million people over the globe.
USA president Donald Trump
Sravya Annappareddy
Indian American Girl
COVID-19 pandemic,
Girls scouts troops
Sravya, Hanover Hills Elementary School
Donald Trump
Melania Trump
first generation immigrants
Laila Khan
Laurent Matney
200 personalized greeting cards
100 cookie boxes
children's scout group
Amy Ford
King County Hospital Center
Coronavirus