Jaya Bachchan leaves her husband speechless on KBC 14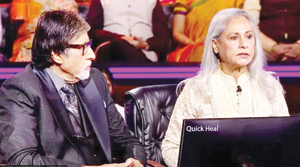 He is the megastar, an icon of inspiration to millions, and a matinee idol. However, even he was not spared by his wife. It was Amitabh Bachchan's 80th birthday on October 11, 2022. KBC 14 was adorned by the presence of his wife Jaya Bachchan and son Abhishek Bachchan. Jaya brought food for the megastar, and there was a cake-cutting ceremony. Amidst all the celebrations, she complained about her husband which left him speechless. Jaya said that she has heard about Amitabh sending handwritten letters or flowers to people as a token of appreciation for their work or influence on him. Still, she protested that has never received any letter or flower from her husband. This left the super-smart "Big B" speechless.
"Big B" tried to defend himself saying that this is a public show and this complaint is not right, but Jaya was not ready to listen. The audience burst out into laughter. This personal touch on his birthday episode was perfect. Abhishek mentioned his father's guidance and thanked him. Then he read aloud what he called his best script, titled Mere Paa in which he shared his emotional bonding with his father that left both his parents teary-eyed.