Juhi Parmar Shares Powerful Message on 'Single Parenting'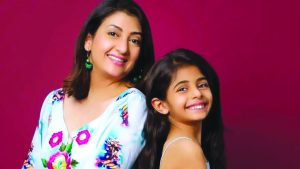 She is famous, she is talented, and above all, she is a mother who leaves no stone unturned for the welfare and proper upbringing of her daughter. She is Juhi Parmar, the face and lead actor of many TV serials like Kumkum- Pyaara Sa Ek Bandhan, Devi, Yeh Chanda Kanoon Hai, Hamariwali Good News to name a few. She is the single mother of nine-year-old daughter Samairra. Juhi and her former husband Sachin Shroff got divorced in 2018 when their daughter was only five. She maintained custody of her daughter and since then, has taken care of her as a single mom.
Recently, Juhi shared a video with her daughter where she was found having fun with Samairra in a reel. It wasn't just the video, but also a sensible and empowering message on single parenting, that gained attention. She said that single parenting has increased her responsibilities and instead of being on lesser hands, she is performing her responsibilities with multiple hands. Still, she leaves no stones unturned for the apple of her eyes. She also warned the judgmental people who often question single parenting to keep their judgments to themselves and accept the power of a single parent.
Juhi often shares pictures and videos of her daughter where both of them are found having fun on vacations or spending time with each other. She is a happy and strong mom trying to give her daughter all the good things in life.