Kahani Ghar Ghar Kii & Kahin Kisii Roz: 2nd Season? 
There's nothing like cashing in on success and if you're talking about Ekta Kapoor, you will automatically think of Kahani Ghar Ghar Kii and Kahin Kisii Roz. These two enjoyed tremendous popularity and Ekta may well revive them in season 2 with some new twists and turns. This can be seen in the revival of Kasauti Zindagii Kay that had new faces bringing freshness to a well-tried formula.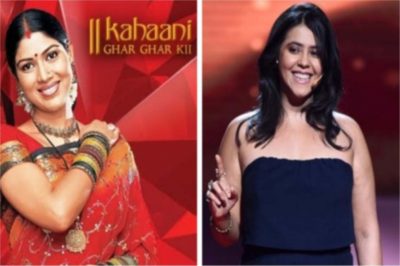 The serial garnered high TRPs, which probably prompted Ekta Kapoor to consider reviving Kahin Kisii Roz and Kahani Ghar Ghar Kii. The online publication TellyChakker reported that season 2 of these two extremely popular serials is in making. Sudha Chandran was the star attraction of Kahin Kisii Roz, and it will be interesting to see who will play the role of Ramola Sikand in the next avatar.
We eagerly wait to see who will fill the shoes of inimitable Kiran Karmakar as Om Agarwal and Sakshi Tanwar as Parvati in season 2 of Kahani Ghar Ghar Kii. The serial had an entire generation of women glued to the television screen. It will be interesting to see how season 2 plays out given the tastes of the present generation. However, nothing succeeds like success and if these two hits are anything to go by, then season 2 will see more viewers from the present and older generations. Kasauti Zindagii Kay is having a home run, slightly interrupted by COVID-19. It has a new twist and Erica Fernandes and Parth Samthaan act impressively in the roles of Prerna and Anurag.
Ekta Kapoor
Kahani Ghar Ghar Kii
Kahin Kisii Roz
Kasauti Zindagii Kay
high TRPs
Sudha Chandran
Ramola Sikand
Kiran Karmakar
Om Agarwal
Parvati COVID-19
Erica Fernandes
Parth Samthaan