Kangana Meets Israel Ambassador: Support in Israel-Palestine War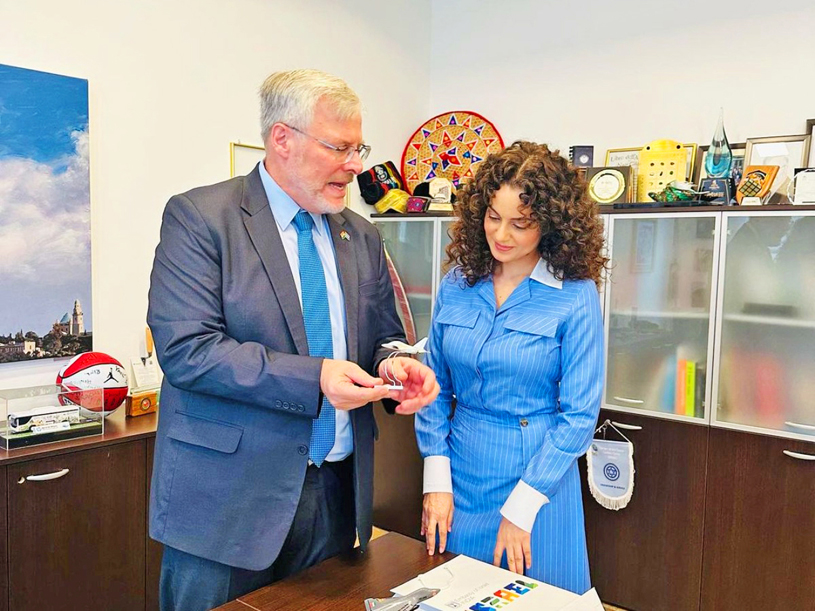 Kangana Ranaut is currently engaged in promoting her forthcoming movie, Tejas, where she portrays the role of an Air Force pilot. During her recent visit to Delhi, she met with Israel's ambassador, Naor Gilon, discussing the ongoing conflict between Israel and Hamas. Kangana expressed her support for Israel and referred to Hamas as the 'Ravan' of the present time. She shared these interactions on social media platforms, emphasizing her backing for Israel.
In her meeting with Naor Gilon, Kangana conveyed her empathy for Israel, stating, "My heart goes out to Israel. Our hearts are bleeding too." She reiterated her long-standing support for Israel and Jews, linking it to the historical experiences of Hindu genocides and the belief that both Jews and Hindus deserve their respective nations. Kangana affirmed her solidarity with Israel as a Hindu nation.
She also posted about her meeting with Naor Gilon in Hindi, describing it as "soulful." She shared images of herself and the ambassador with model fighter jets. Kangana expressed her belief that Israel will triumph in the battle against terrorism and discussed her upcoming film Tejas, which features her as an Air Force pilot. Tejas, directed by Sarvesh Mewara, is set to be released on Friday.
To summarize, Kangana Ranaut is actively promoting her film Tejas and, during a visit to Delhi, showed her support for Israel in its conflict with Hamas. She linked her support to her long-standing advocacy for Israel and her belief in the rights of both Jews and Hindus to have their respective nations.