Kangana not Kareena to Play Sita in Celluloid
So, it's Kangana Ranaut and not Kareena Kapoor Khan who is going to play the role of Sita. The four-time national award-winning actor is going to play an epic role of the all-time great epic character of Sita. Earlier, it had been reported that Kareena Kapoor Khan would play the role but that this had been cancelled due to her demand of Rs 12 Crores in fees.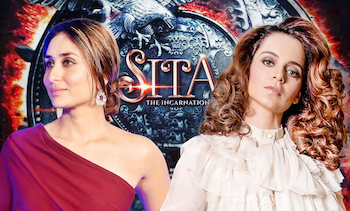 The film, titled Sita: The Incarnation, is directed by Alaukik Desai. It is based on the story of eminent screenwriter KV Vijayendra Prasad. SS Films is the producer of the film. Director Alaukik Desai confirmed, via his social media, the news that Kangana Ranaut would be playing the role of Sita. According to him, the film is a pious journey and a path-breaking effort in our perception of mythology. He also expressed his ecstasy over having Kangana in the role of Sita.
Kangana, too, is extremely delighted to get such an epic role. She thanked the director for allowing her to play such an important role. Saloni Sharma, on behalf of the SS Films producer, profusely expressed her gratitude in welcoming Kangana to be a part of this film. According to Saloni, Kangana is a symbol of the true spirit of fearless Indian women. She also stressed the need to prove and celebrate gender equality.
Keeping in mind the acting genius and versatility of Kangana, viewers' expectations are already high. They are eagerly waiting to watch the performance of this great actor take on the role of the ultimate symbol of Indian women: Sita!
Kangana Ranaut
Kareena Kapoor Khan
Sita: The Incarnation
Alaukik Desai
KV Vijayendra Prasad
SS Studio