Katrina Kaif-Badshah sets the stage on fire at a Wedding performance!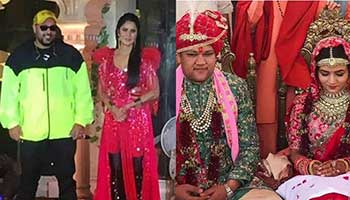 Uttarakhand was just transformed into a lavish wedding destination when two sons of South African business tycoons Ajay and Atul Gupta got married in a high-profile marriage ceremony. This double-packed NRI wedding was starred by sizzling performances of Bollywood biggies Katrina Kaif, Badshah & Kailash Kher.
The first marriage was of Suryakant, who is the son of elder brother Ajay Gupta. He was married to a Delhi-based diamond merchant's daughter. Following was the marriage of Shashank, the son of younger brother Atul Gupta, who got married to the daughter a Dubai-based businessman.
The marriage ceremony was graced with entertaining performances of Katrina Kaif on her hit dance number Sheila Ki Jawaani. Badshah's rapping was also a sight worth capture. Along with this, there were star performances by Kailash Kher, Abhijeet Sawant, and Javed Ali as well. The destination of Auli was turned into a star-studded gathering with the presence of some of the best individuals representing Bollywood.
Other big names also included Siddharth Malhotra, Urvashi Rautela, Mithoon, Kanika Kapoor along with 22 members of the band featuring artists like Shilpa Rao, Nakash Aziz, Naura Fatehi and many more. For a long time from now, the double NRI wedding was grabbing eye-balls of the audience. Auli was decorated to its best on the wedding day and an expected amount of 200 crores were spent at the wedding so far!
NRI wedding
lavish wedding destination
South African business tycoons Ajay and Atul Gupta
Bollywood biggies Katrina Kaif, Badshah & Kailash Kher
diamond merchant
Sheila Ki Jawaani
Badshah's rapping
Abhijeet Sawant
Javed Ali
Siddharth Malhotra
Urvashi Rautela
Mithoon
Kanika Kapoor
Shilpa Rao
Nakash Aziz
Naura Fatehi