Govind Nanda – The next generation Tennis Star!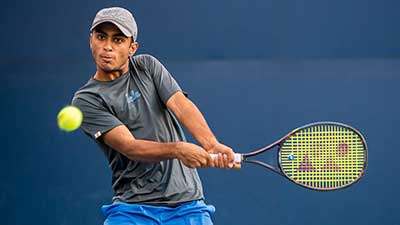 The coming years will surely see Govind Nanda as a shining star in the US Tennis as he continues to shine in the junior-level men's tennis. He has been one of the top players on the US junior circuit, straight from many years… Currently a senior in high school, Nanda is ranked in the top 10 in the country in his age group.
Govind Nanda has recently accepted an offer from UCLA (University of California: Los Angeles), a top tier Division 1 university in the US. Recently he was recognized as one of the top American prospects by USTA Player Development. He was also invited to be part of the US junior Davis Cup.
He had competed in the 2018 French Open and Wimbledon in the juniors section. In an interview with ITD, Govind tels, "I am 17 years old and I live in Cerritos, CA. I live with my mom, dad, and sister. My mom's name is Meena Nanda, my dad's name is Rajesh Nanda, and my sister's name is Shyamlee Nanda. I grew up in a city called Redlands and moved to Cerritos 3 years ago to be closer to where I train."
It won't be a surprise for Americans and Indians residing there to hear Govind Nanda's name for the topmost of tennis prizes in later years!
Govind Nanda
US Tennis
junior-level men's tennis
US junior circuit
University of California: Los Angeles
USTA Player Development
US junior Davis Cup
French Open
Wimbledon
Redlands
Cerritos