Key Points for a Great Immigration Reference Letter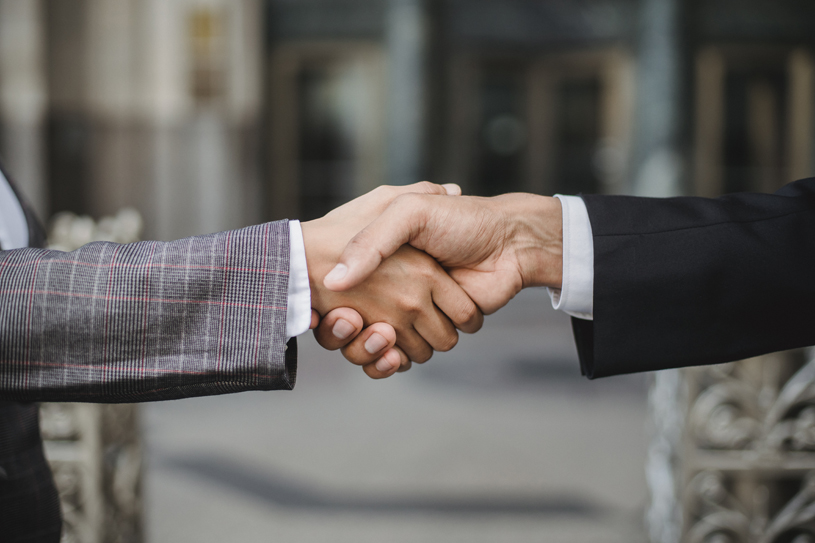 Question:  Do you have any suggestions to have a better reference letter for my visa or green card application?
I get these questions a lot from my employment-based immigration clients.  Many work visas or green card petitions either require or advise you to include letters of recommendation.  Such petitions include: 
1) applying for a Specialty Occupation with an H-1B, 
2) demonstrating Exceptional Ability with an EB-2, 
3) arguing for a National Interest Waiver with an EB-2 NIW, 
4) investing in a business with an E-2, or 
5) demonstrating Extraordinary Ability with an O-1 or EB-1  
Make sure you plan ahead so that you are not in a rush.   It is important to realize that your professional and character references need time to write or review an appropriate recommendation letter.  Here are some key points to obtaining a strong reference letter.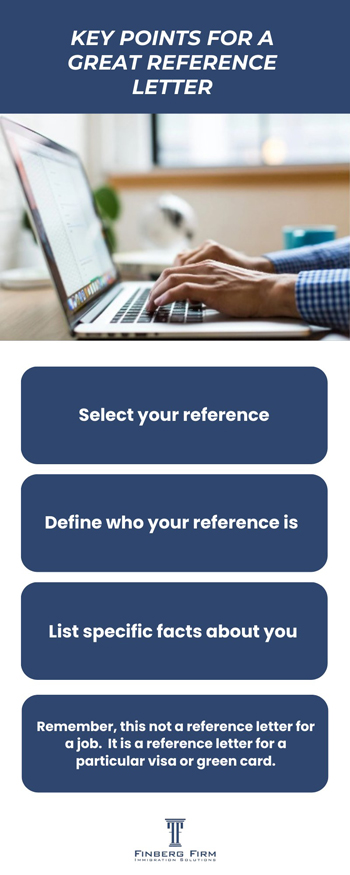 Select your reference
The first step in creating a great reference letter is to select who your reference will be. This could be a supervisor, a colleague, or even someone you supervised- as long as it's someone who knows the value of your work and can attest to the traits that make you an excellent candidate for your particular job. It is helpful if they're someone who has known you, can give specific examples as to why you are qualified for the position, and is able to relate specific scenarios where they've observed you using the skills required for the position.
Define who your reference is 
The next thing you should do is to define who your reference is: how they know you, how long they've known you, and in what capacity. If they know you from a previous or current job, they could include their position or title in connection to the relationship they have with you. To take things further, they could go into detail about your work relationship in order to strengthen their credibility in vouching for your skills and capabilities. 
List specific facts about you
The most important parts of a reference letter are the specific facts your reference is able to share about you. Remember, they should be able to shine a good light on the capabilities and personality traits that could undoubtedly show the reader how much of an ideal candidate you are for the particular visa or green card you're applying for.  Relaying information about times you demonstrated superb skills that contributed to the betterment of their organization is a good point to include.  Sharing positive attributes that they've personally seen you demonstrate within the workplace is also beneficial.  Essentially anything that adds to your value and standing as an excellent candidate is helpful in building a great reference letter.  
Remember, the focus of an immigration attorney is not to get you a job; their focus is to get you the visa or green card that allows you to legally work for your employer.  Generally, you must already have applied for the job and obtained a job offer before starting the visa or green process.  However, in rare cases certain applications allow you to self-petition and apply for the immigration benefits without a job offer.  These applications which allow for a self-petition are even more reliant on letters of reference.    Experienced immigration attorneys can give you valuable legal advice about both the quality and quantity of your letters along with which particular visas or green cards are a good fit for your skills, education, and experience.  
This article does not constitute a solicitation or provision of legal advice and does not establish an attorney-client relationship.  The answers provided should not be used as a substitute for obtaining legal advice from an attorney licensed or authorized to practice in your jurisdiction. You should always consult a suitably qualified attorney regarding any specific legal problem or matter on time.
About the Author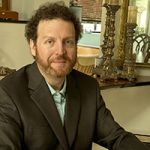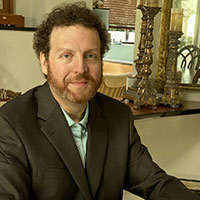 U.S. Immigration Attorney Seth Finberg is a 2005 graduate of the University of Georgia School of Law. Seth is a member of the Georgia Bar, the American Immigration Lawyers Association (AILA), and serves on the Business and Investment Committee for the South Florida chapter of AILA. Mr. Finberg is the owner and founder of South Florida based Finberg Firm PLLC and he represents clients nationwide and internationally in business, employment, and investment immigration. He can be reached by phone at (954)-843-3568 / (954) 249-6603 or by email at seth@finbergfirm.com or www.finbergfirm.com.