Lawful Permanent Residence through Marriage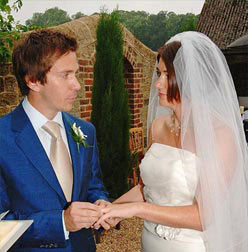 There is a common misconception that if an immigrant marries a United States citizen or a Lawful Permanent Resident their immigration worries are over. This is simply not true for many individuals who have entered the United States illegally, or who marry lawful permanent residents. Most significantly, there is a drastic difference between marrying a United States citizen and marrying a Lawful Permanent Resident.
In order to understand what the difference is between these two categories, we must first understand the general limits on Permanent Residence. There is a regulatory limit on the number of Immigrant Visas (i.e. green cards) that can be granted each year. This annual quota of green cards is divided among various categories. However, immigrant visas granted to those who marry United States Citizens are not counted among the annual quota. Each year there are more applicants than there are visas available, and as such, there has been a steadily growing backlog of applicants waiting for an immigrant visa to become available for them.
A family based immigrant petition (i.e. green card application based on a family relationship) consists of two steps for foreign nationals that are currently in the United States and wish to remain in the United States until they are granted permanent residence. The two steps of the process are allowed to be filed concurrently if the foreign beneficiary is married to a United States citizen or if an immigrant visa is immediately available for an applicant marrying a lawful permanent resident.
MARRYING A UNITED STATES CITIZEN
In order to successfully obtain permanent residence based on a petition by a United States citizen, the foreign beneficiary must have entered the United States being inspected and admitted using a valid visa. The main benefit of marrying a United States citizen is that a foreign beneficiary who enters the Unites States legally (with a visa and inspection by immigration), and even if the I-94 card has expired, they can be forgiven of the time they spent illegally in the United States.
The first step is for the United States citizen spouse to file an I-130 Immigrant visa petition. The I-130 can be processed and approved irregardless of how the foreign beneficiary spouse entered the United States. For someone who enters the U.S. legally, the person can simultaneously process their adjustment of status application, the Form I-485, and can expect to receive permanent residence in about six to ten months.
Generally, if an individual entered the United State illegally, or with out being inspected, they are not eligible to apply for their green card while remaining in the United States, even if they are married to a United States citizen. The exception to this general rule is found in § 245(i) of the Immigration and Nationality Act. Section 245(i) allows foreign nationals who entered illegally, who are married to a United States citizen, and had some type of immigration petition filed on their behalf prior to April 30, 2001, to be eligible to adjust their status to that of a permanent resident.
MARRYING A LAWFUL PERMANENT RESIDENT
Obtaining permanent residence through marriage to a Lawful permanent resident is not generally as easy as when the foreign national is married to a United States citizen. An immigrant visa based on marriage to a permanent resident is subject to the annual quota. The enormous number of backlogged applicants continues to grow, creating a long line of individuals waiting for an immigrant visa to become available. An individual's place in line is determined by the date on which the Permanent Resident spouse filed the I-130 petition on the foreign beneficiary's behalf. A Form I-485, adjustment of status application, cannot be filed until an immigrant visa is available. There is currently a seven to nine year wait for applications filed in this category.
Recently, the Immigration Service has emphasized that an individual is not in a legal status based on having a pending application for permanent residence. There have been rumors that the Immigration Service may begin to initiate removal proceedings against those who have no other legal status when their adjustment of status applications are pending. While we have yet to observe such actions by the Immigration Service, it is vital that foreign nationals consult qualified and experienced immigration attorneys before beginning the green card process. Make sure the attorney is a member of the American Immigration Lawyers Association before retaining them. Of course, contact us with any questions at ckuck@ immigration.net or jwardle@ immigration.net .