LIFE OF GURU DUTT
Guru Dutt Padukone was born in Mysore in South India on July 9, 1925. He had his early education in Calcutta before doing basic training with dance maestro Uday Shankar after which he joined Prabhat Studios.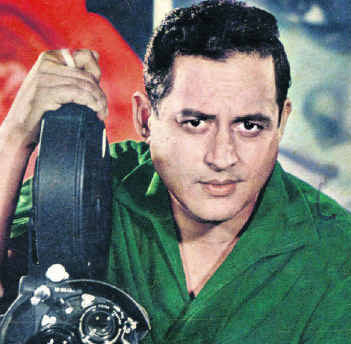 Guru Dutt Padukone was born in Mysore in South India on July 9, 1925. He had his early education in Calcutta before doing basic training with dance maestro Uday Shankar after which he joined Prabhat Studios. It was here that he got a break as a choreographer with the film Hum ek Hain (1946 ), the launching pad of friend and actor Dev Anand. Rumour has it they met at Prabhat when their shirts got mixed up by the dhobi! A friendship blossomed wherein Dev Anand promised him that if ever he produced a film, Guru Dutt would direct and should Guru direct, Dev would play the leading man! From Prabhat Guru Dutt moved on to Famous Studios and then on to Bombay Talkies. His close friend from Prabhat, Dev Anand (now a star), who had launched his own banner 'Navketan', invited him to direct a film for him thus keeping his share of the promise. 1951 saw the release of Baazi Guru Dutt's directorial debut. The film starring Dev Anand, Geeta Bali and Kalpana Kartik was a trend setter regarded as the forerunner of the spate of urban crime films that followed in Bollywood in the 1950s. Its songs, sung mainly by well known playback singer of the times Geeta Roy, were runaway hits. In fact Guru Dutt and Geeta Roy met during the song recording of Baazi and fell in love marrying on the 26th of May,1953. Baaz in1953 saw Guru Dutt make his debut as leading man and he went on to act as well as direct.
Aar Paar released in 1954 established Guru Dutt as a director to reckon with. Followed some of his best work Mr. and Mrs 55, Pyaasa and Kaagaz ke Phool but the last mentioned was adismal failure at the box office and a dejected Guru Dutt never directed a film again. He continued to produce films and act in both home and outside productions. But never did he ever give his name in the credits as director again. Sahib Bibi aur Ghulam though credited to writer Abrar Alvi bears his unmistakable stamp. The film won the President's silver medal as well as the film of the year award from the Bengal Film Journalists Association. However Guru Dutt's personal life was a shambles. He had separated from his wife allegedly due to his involvement with his discovery and leading actress Waheeda Rehman and on Oct. 10, 1964 he took an overdose of sleeping pills and committed suicide though doubts linger as to whether his death was accidental. Indian cinema had lost one of its greats. At the time of his death Guru Dutt was starring in Love and God and in Baharein Phir Bhi Aayengi, a home production. Both the films were ultimately completed by different actors, Sanjeev Kumar and Dharmendra respectively.
Sensitive, Poetic, Magical. These and more words have described the genius of Guru Dutt. But while enough has been written about the thematic content of his films and his sensitivity, what interests this author, himself a film-maker, are the technical achievements of Guru Dutt in his films. Guru Dutt had a unique knack of being able to integrate the film song into the story and make the story move forward even through the song. This is apparent right in his first film Baazi. The number 'Suno gajar kya gaaye' has the vamp warning the hero to be careful. He is going to be killed. Or even the song 'Aaj ki raat piya'where as the heroine croons to the hero, he reciprocates her feelings over the course of the song and we come to realize he loves her as well.This is because Guru Dutt stuck to the vocabulary of his characters even in the songs and picturised them in the locations the characters would normally inhabit. Also he began a lot of songs without the introductory music thus using it as an extension of the dialogue. Hence the songs never appear out of place. His strength lay in his sense of music as well as in the picturisation of songs, particularly his shot takings. Guru Dutt used the effect of light and shade to poetic in fact magical effect to create romance. There is no better use of light and shade in Indian cinema than the songs 'Saakiya aaj mujhe neend nahin aayegi' from Sahib Bibi aur Ghulam, 'Dekhizamaane ki yaari' and 'Waqtne kiya kya haseen situm' both from Kaagaz ke Phool, India's first ever film in cinemascope. To achieve the shaft of light in the studio for the picturisation of the latter song, the roof of the studio was opened and the shaft was created by reflecting the light from two giant mirrors. One mirror was kept on the terrace and from it the light was reflected to the second mirror kept on the catwalk. From the second mirror the light could then be diverted to the required angle. To make the beam visible, some dust and smoke was used. Or in the first mentioned song a mujra, where the lead dancer is always in the light and the dancers in the background lit up in a manner that no light falls on their faces. This when often there is both character movement and camera movements being co-ordinated in the course of the shot!
Guru Dutt revolutionalised the close up shot. He went into closer magnifications of characters than those seen till then almost as if probing for their internal feelings. He went beyond the standard 50mm lens used then, using lenses with higher focal length to get tighter close ups. He strongly felt that 80% of acting was done in the eyesand 20% the rest of the body. For the eyes are the most expressive part. And being an actor – director made it easy for Guru Dutt to get good performances from his artistes. But being a limited actor himself, his directorial ability knew how to utilize his strengths while covering his weaknesses. His thematic contents coupled with his technical innovations make his films the masterpieces they are. And if he wasn't completely satisfied with the results, he scrapped the film he was making irrespective of the amount of money and time gone into the project. This explains the large number of incomplete films that he left. According to his one time assistant and successful director in his own right, Raj Khosla.
Raj Khosla further felt that Guru Dutt had achieved too much too soon as far as his professional life was concerned. After Pyaasa and Kaagaz ke Phool, there was is the high society. People who have no need for poetry, love, brotherhood and humanity. People who are motivated by the pursuit of money alone.
It is the very same class that is indicted in Kagaz Ke Phool (1959) too. Here, instead of the poet, it is the film-maker, Suresh Sinha, who falls prey to the unbridled commercialisation of a society which once had place to creativity and art; which was driven by something more refined than the principle of accumulation. Like the poet of Pyaasa, the film-maker of Kagaz ke Phool, too, drifted into the shadows, unwanted, uncared, a social reject.
Nevertheless, his rebellion is limited to himself alone and is a purely individualised one. In Guru Dutt's screen personae, indictment soon gives way to self-negation. The poet in Pyaasa who merely threatened to spurn the world ('Tang aa chuke hain kash-ma-kashe-zindagi se hum', thukra na den jahan ko kahin be-dili se hum') now literally turns his back on it despite the fact that fame awaits him round the comer. After years of ignominy, when his verse was treated as waste, the world finally recognises his worth and is willing to give him his due. But the poet doesn't want it any more. "No, I do not want the world even if I can get this one full of palaces, platforms and crowns; this social set that is inimical to man; this crumbling nation where every soul is wounded; every heart depressed, ('har ek jism ghayal, bar ek rooh pyaasi, nigahon mein uljhan, dilon mein udasi, yeh duniya hai ya alam-e-badhawasi, yeh duniya agar mil bhi jaaye to kya hai…'), he intones and simply turns his back on such a world. He walks away announcing, "Burn it, annihilate it, take it away from my sight…."
Rebellion yes, but self-defeating. For in the face of this nihilism, there is only one person who is the actual loser. The poet himself. Guru Dutt then was essentially the prototypal character of a Greek tragedy. One who moved headlong towards doom due to his heightened sensitivity. He was the outsider who, unable to identify himself and keep pace with rapidly changing times, opted for self-abnegation and suicide. In Sahib Bibi aur Ghulam, he was the outsider again, albeit one who watched a similar fate befall the female protagonist (Meena Kumari), victimised as she was by hard-core feudal orthodoxy. Even when it came to love. Guru Dutt chose sacrifice rather than satiation. In Chaudhvin Ka Chand, he was even willing to forsake his lawfully wedded wife (Waheeda Rehman), when he learnt that his best friend (Rehman) was besotted by her. The fact that his wife was an unwilling partner in this masochistic deal did not deter him at all, for pain was always more eagerly sought than pleasure in the credo of the fifties' hero.
Guru Dutt is remembered in the history of Indian cinema as the brooding intense romantic who attempted to reflect the changing social situation in India in the fifties. Within his short life, he created some of India's most socially-conscious movies like Pyaasa (Thirsty, 1957), Kaagaz ke Phool (Paper Flowers, 1960) and Baazi (1951). He also introduced Waheeda Rehman in CID (1956) and propelled her to stardom through his films.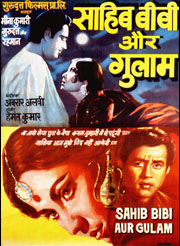 Born in Calcutta in 1925, Guru Dutt worked as a telephone operator before he embarked on his career as an actor and director in 1944. The fifties was the time when India, under Nehru's brand of state socialism, was embarking on massive industrialization. The conventional wisdom has it that rapid changes introduced by industralization were undermining 'traditional values'. What is certain is that industrialization, and the accompanying migration from rural to urban areas, was creating — as it still does in India — anomie, dislocation, and new social norms. In the urban enviornment, new social relations developed. It is, therefore, not surprising that a recurring theme in his films is the attraction, bound to be fatal, that develops between a middle class girl and a tough but likeable character from the lower class. His most memorable movie in this genre is probably Pyaasa. Inspired by Sarat Chandra's novel, Srikanta, it depicts the romance between a poet and a prostitute. The genuine poet cannot survive amidst philistines and publishers interested only in profiteering: the spectre of the big city is everywhere in Guru Dutt's films.
Guru Dutt's films are also said to be marked by a certain nostalgia, most evident in Sahib, Bibi aur Gulam (Master, Mistress, and Servant), a film that explores the decline of feudal landed family. An aristocratic demeanor, a flair for style, characterize this film. Yet in all of his films, Guru Dutt was to show mastery over cinematic elements, from lighting and camera-work to film composition; and every films bears the unmistakable imprint of his work. Though not known widely outside India, Guru Dutt's work compares with that of any director working at that time around the world. His brilliant career came to a premature end with his suicide, following a protracted struggle with alcoholism, in 1964.
Guru Dutt (1925 – 1964) was an Indian film director, producer, and actor. He is most famous for making lyrical and artistic films, including Pyaasa.
Early life
Guru Dutt was born to Shivsankar Rao Padukone and Vasanthi Padukone on July 9, 1925, in Bangalore. His parents were Saraswat Brahmins, originally settled at Panambur, a village in South Kanara [1]. His father was initially a headmaster, and then became a bank employee. His mother Vasanthi while initially a housewife later taught in a school, gave private tuition and also wrote short stories and translated Bengali novels into Kannada. Vasanthi was only 16 when Guru Dutt was born.
Guru Dutt had a tough childhood with financial difficulties, and a strained relationship between his parents. As a child he had some bad experiences; the hostility from his mother's brother's family, a frightening encounter with an insane uncle, and the infant death of his seven-month old brother.
He was initially named Vasanth Kumar at birth at the suggestion of his mother's elder brother, but after a childhood accident, he was renamed Gurudutt, which was felt to be a more auspicious name. He was joined by two younger brothers, Atmaram and Devidas, and a younger sister, Lalitha. The famed Indian film director, Kalpana Lajmi, is his sister's daughter.
Bengali connection
The father, who was initially a headmaster at Panambur and later a bank employee at Bangalore, was then transferred to Bhawanipore near Calcutta, where Guru Dutt finished his schooling. Hence, Guru Dutt spoke fluent Bengali, and carried a distinct stamp of Bengali culture in his work.
The Bengali name
Later, when he moved to Mumbai and Bollywood in the 1940s, he dropped the Shivsankar Padukone part of his name, and was known simply as Guru Dutt. Because Dutt is a common Bengali last name, many people assumed that he was a Bengali.
He spent a great deal of time with his mother's cousin, Balakrishna B. Benegal (known to the family as Bakutmama) who was a painter of cinema posters. The famed Indian film director, Shyam Benegal, is the son of Sridhar B. Benegal, Balakrishna's younger brother.
Early Inspirations
His sister recalls that at age 14 Guru Dutt would use his fingers to shape images on a wall lit up by the flickering light of their grandmother's diya as she performed the evening arti. Though untrained, he could produce inspired movements as he did when he persuaded his uncle, Benegal, to photograph him performing a snake dance, based on a painting by the latter. The snake dance was later performed at a gathering of Saraswat Brahmins at Calcutta for which Guru Dutt was even given a cash prize of 5 Rupees.
He was a good student, but never went to college, partly also due to financial troubles at home. Instead, he joined the performing arts troupe of Uday Shankar, the older brother of the better-known Ravi Shankar.
The Uday Shankar India Culture Center at Almora near Calcutta taught dance, drama, and music. It aimed at combining the best of the Gurukula system with a modern Arts University, and tried to turn out well-rounded students, at home in many disciplines. A young Guru Dutt joined the center at age 16 in 1941 on a five-year scholarship of Rs. 75 annually (a lot of money then), and studied at Almora until 1944, when the advancing World War II forced the closing of the center.
First job
Guru Dutt wired home to say he had got the job of a telephone operator at a Lever Brothers factory in Kolkata. But soon he disengaged himself from the job, and joined his parents in Mumbai in 1944.
However, his uncle found him a job under a three-year contract with the Prabhat Film Company in Poona in 1944. This once premier film producing centre had already seen the departure of its best talent, V Shantaram, who had by then launched his own Kala Mandir. It is here that Guru Dutt met two people who would remain his good friends – actors Rehman, and Dev Anand.
Guru Dutt acted in a small role as Sri Krishna in Chand in 1944. In 1945, he acted as well as assisted director Vishram Bedekar in Lakhrani, and in 1946 he worked as an assistant director and choreographed dances for P L Santoshi's film, Hum Ek Hain.
This contract ended in 1947, but his mother got him a job as a free lance assistant with Babu Rao Pai. However, after that for a period of ten months Guru Dutt was unemployed and staying with his family at Matunga, Mumbai. During this time, Guru Dutt developed a flair for writing in English, and used to write short stories for The Illustrated Weekly, a local magazine. It is during this time that he is supposed to have written the script for Pyaasa (Hindi: the thirsty one), which was almost autobiographical. Its original name was Kashmakash ( Hindi: struggle), which was changed later to Pyaasa.
It is in this phase of his life that Guru Dutt was almost married, twice! The first time he had eloped with a girl called Vijaya from Pune, and later his parents had him almost married to his maternal niece, Suvarna, from Hyderabad.
Guru Dutt as choreographer, actor, assistant director
While Guru Dutt was hired by Prabhat as a choreographer, he was soon pressed into service as an actor, and even as an assistant director. At Prabhat, he met Dev Anand and Rehman, who both became stars. These early friendships helped ease his way into the film world.
After Prabhat failed in 1947, Dutt moved to Bombay, now Mumbai, where he worked with directors Amiya Chakravarty, a leading director at the time in his film, Girl's School, and Gyan Mukherjee in Bombay Talkies film Sangram. Then, Dev Anand offered him a job as a director with his new company, Navketan's second movie after the first movie was a commercial flop. Thus, Guru Dutt's first film, Baazi, was released in 1951.
Dev & Guru's promise
There exists a very interesting anecdote behind this new job. Guru Dutt and Dev Anand used the services of the same laundry man when they were at Prabhat in Pune in 1945. One day Dev found one of his shirts missing, but replaced with a different one. On appearing at work as the hero of Hum Ek Hain, he found the film's young choreographer (Guru Dutt) wearing his shirt. On being questions, Guru Dutt admitted that it was not his shirt, but since he had no other he was wearing the replacement. This developed into a great friendship, since they were of the same age. They promised each other that, if Guru Dutt were to turn filmmaker, he would hire Dev as his hero, and if Dev were to produce a film then he would use Guru Dutt as its Director.
Dev Anand fulfilled his end of the bargain with Baazi, but still regrets that his friend Guru Dutt did not. Guru Dutt indirectly did fulfill his promise. His studio, Guru Dutt Films Pvt. Ltd, produced "C.I.D " which starred Dev, but was directed by Raj Khosla (previously an assistant director to Guru Dutt). So technically Guru Dutt never directed Dev Anand in his own movie.
They would make two super-hit films together, Baazi, and Jaal. Creative differences between Guru Dutt, and Chetan Anand (Dev's elder brother) who was also a director, made future collaborations difficult.
Baazi's Other Contributions
Baazi also highlights two early key technical developments in Indian movie-making that are attributed to Guru Dutt. The use of close-up shots with a 100mm lens – there are over 14 in the movie – which became known in Indian movie making as the "Guru Dutt shot", and the use of songs to further the narrative in the movie. Guru Dutt also introduced Zohra Sehgal (whom he met at Almora) as the choreographer in the movie, and he also met his future wife, Geeta Dutt during the making of the movie.
Guru Dutt as director
Baazi was an immediate success. Guru Dutt followed it with Jaal and Baaz. Neither film did well at the box office, but they did allow Dutt to start forming the crew that performed so brilliantly in subsequent films. He discovered, and mentored, Johnny Walker (comedian), V.K. Murthy(cinematography), and Abrar Alvi (writing and directing), among others. Baaz was notable in that Guru Dutt both directed and starred, not having found an actor to take the main role.
Fortune smiled on Dutt's next film, the 1954 Aar Paar. He followed up with the 1955 hit, Mr. and Mrs. 55, then CID, Sailaab , and in 1957, Pyaasa – the story of a poet rejected by an uncaring world who achieves success only after his apparent death. Having starred in three of these films, Dutt was flying high both as actor and director.
His 1959 Kaagaz ke Phool was thus an intense disappointment. He had invested a great deal of love, money, and energy in this film, which was a self-absorbed tale of a famous director (played by Guru Dutt) who falls in love with an actress (played by Waheeda Rehman, Dutt's real-life love interest). Kaagaz ke Phool failed at the box office and Dutt was devastated. All subsequent films from his studio were officially helmed by other directors. Guru Dutt felt that his name would be box office poison.
Guru Dutt's last productions
However, he was persuaded to star in the 1960 Chaudhvin ka Chand, which was an enormous hit and saved his studio from ruin. He also starred in the 1962 Sahib Bibi Aur Ghulam, which was officially directed by his protege Abrar Alvi. Many critics feel that Guru Dutt was the behind-the-scenes director, for all that his name did not appear in the credits as such. Sahib Bibi Aur Ghulam is still regarded as one of Dutt's most tragic and artistic films. He starred in several less-remembered films after "Sahib Bibi ….
Death
On October 10, 1964, Guru Dutt was found dead on his bed. He is said to have been mixing alcohol and sleeping pills. His death may have been suicide, or just an accidental overdose.
Guru Dutt's son, Arun Dutt views this as an accident in an interview with India Abroad in October 2004 on the 40th anniversary of his father's death. Guru Dutt had scheduled appointments the next day with actress Mala Sinha for the movie, Baharen Phir Bhi Aayengi, and Raj Kapoor to discuss making colour films. According to him, "my father had sleeping disorders and popped sleeping pills like any other person. That day he was drunk and had taken an overdose of pills, which culminated in his death. It was a lethal combination of excessive liquor and sleeping pills."
Guru Dutt's family life
In 1953, Dutt married Geeta Roy, a well-known playback singer. They had been engaged for three years and had to overcome a great deal of family opposition to marry. They had three children, Tarun, Arun, and Nina.
Unfortunately, the marriage was unhappy. According to his brother Atmaram, Guru Dutt was "a strict disciplinarian as far as work was concerned, but totally undisciplined in his personal life" (Kabir, 1997, p. 124). He smoked heavily, he drank heavily, he kept odd hours, and he was unfaithful to Geeta. At the time of his death, he had just separated from Geeta and was living alone in a Bombay flat.
Guru Dutt's Legacy
Guru Dutt was at first mourned as a matinee idol but as the years passed, it became ever clearer that it was as a director that he would be remembered. Starting in 1973, his films were shown at film festivals throughout India and the rest of the world. Despite being a commercial director, he appealed to the same intelligentsia who made Satyajit Ray an international favorite. He also has a place in the hearts of many ordinary Indians for his brilliant song "picturizations" and the many vivid characters sketched in his films.
Selected filmography
Actor
Picnic (1964)
Sanjh Aur Savera (1964)
Suhagan (1964)
Bahurani (1963)
Bharosa (1963)
Sahib Bibi Aur Ghulam (1962)
Sautela Bhai (1962)
Chaudhvin Ka Chand (1960)
Kaagaz Ke Phool (1959)
12 O'Clock (1958)
Pyaasa (1957)
Mr. & Mrs. '55 (1955)
Aar Paar (1954)
Suhagan (1954)
Baaz (1953)
Hum Ek Hain (1946)
Director
Kaagaz Ke Phool (1959)
Pyaasa (1957)
Sailaab (1956)
Mr. & Mrs. '55 (1955)
Aar Paar (1954)
Baaz (1953)
Jaal (1952)
Baazi (1951)
LIFE OF GURU DUTT