Madhuri and Sriram Nene celebrate their 21st Anniversary!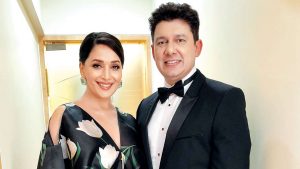 Bollywood actress Madhuri Dixit married NRI surgeon Sriram Nene on October 17, 1999, and theirs is a marriage that has been always under the radar. The happenstance of Bollywood's leading diva marrying a talented but reticent doctor who was far removed from the film world caused a stir. Yet the duo seems in love and always declares their affection for each other on social media.
Their 21st marriage anniversary was also an occasion for heartfelt demonstrations of love. The beautiful actress decided to use her Instagram account to write a lovely note to her husband Sriram along with some loving pictures of the couple from their early years. In most of the pictures Sriram and Madhuri are seen wearing traditional outfits, while in some pictures the couple are seen cavorting in an outdoor location in picturesque surroundings.
Madhuri wrote that their anniversary marked the commencement of another year of love and adventure with her treasured companion. She also wrote that though she and Sriram had very different personalities they were alike in many ways and she felt gratified to have Sriram in her life. She went on to address her husband by his special nickname "Ram." Sriram responded by an equally heartfelt message where he referred to Madhuri as his soulmate and shared a loving picture of the couple. He said that their marriage began 21 years ago and since then every day has been happiness and adventure. He went to say that he looks forward to the plethora of adventures about to unfold in their lives in the coming days and how their anniversary was very special to him.
The couple was wished by thousands of fans and celebrities. Madhuri was last seen in the 2019 movie Kalank that also starred Sanjay Dutta, Aditya Kapur, Aliya Bhatt and Sonakshi Sinha. The actress debuted as a singer recently with an English number "Candle." The actress said that her kids are her favorite critics and always give honest opinions on her work.
Bollywood actress
Madhuri Dixit
Sriram Nene
NRI Surgeon
Marriage anniversary
Ram
21st Anniversary
Kalank
Sanjay Dutta
Aditya Kapur
Aliya Bhatt
Sonakshi Sinha
Candle