Neha Dhupia and Angad Bedi Vacation in Maldives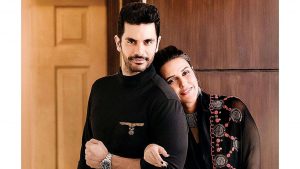 Whether her cinematic career fires on all four cylinders or not, Neha Dhupia is not one to worry or miss out on the joys of life, especially now that she is married to Angad Bedi. At the moment, her podcast #NoFilterNeha is doing well and her last film was a role in Devi by Priyanka Bannerjee. Angad was featured in The Kargil Girl alongside Janhvi Kapoor.
The couple was on a vacation to Maldives and is truly living it up given that it is a location where you can let down your hair and be comfortable in beachwear. Angad dressed for the occasion in snappy shorts, while the woman beside him sported a black bikini set and floppy hat. Neha tweeted the pic with a remark "@angadbedi spotted in Maldives with a woman in black bikini and face covered..should I be worried???" Well Neha, that is up to you and Angad, but the rest of the world would probably tell you to have a good time and make the most of it. Not to be left behind, Angad too found time to tweet a pic with a caption"#Maldives state of mind! With the Mrs. @nehadhupia#vacation #holiday."
Neha and Angad are not honeymooners though their Maldives vacation could be a recreation. The two were happily married in 2018 and have a daughter. Neha said she saw Angad at the gym when she was 20 years, and he supposedly told his friends that "I'm going to get to know her 1 day." The couple then met at a friend's party in Mumbai, where Neha discovered Angad's sensitive nature. The two soon became close friends since both were outsiders living alone in Mumbai. One thing led to another and the story of this prince and princess ended happily.
Neha Dhupia
Angad Bedi
chat show
NofilterNeha
Devi
Priyanka Bannerjee
The Kargil Girl
Janhvi Kapoor
Maldives
black bikini
holiday
Mumbai