Mahabharata and Ramayanacommand record viewership on Doordarshan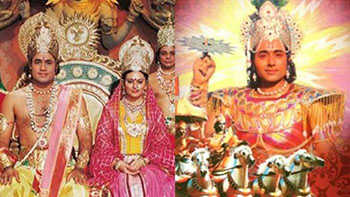 With the lockdown forcing everyone to sit inside, epics like Ramayana and Mahabharata continue to garner record viewership over the last three weeks. According to stats, Ramayana saw a large viewership surge in its third week.
Information released by BARC India says that DD National registered 2.68 billion impressions from April 11-17 all over India. The third week DD National recorded 1.9 million impressions. BARC data showed that the leading five channels in India are DD Bharati, Dangal, Big Magic and Sony SAB. The best five Hindi GEC shows are Ramayana (DD Bharati) and Mahabharata (DD Bharati). Dangal has three top grossing shows now – Baba Aisa Var Dhundo, Bandini and Mahima Shanidev Ki. Ramayana earned 67.4 million impressions while Mahabharata got 18.2 million impressions in its third week of rerun.
DD National has many popular shows on deck now. All of its popular shows are now back including The Jungle Book, Shaktiman, Chanakya, Byomkesh Bakshi, Buniyaad and Chanakya. The COVID-19 crisis has proved to be very beneficial for DD Bharati and the channel has witnessed a drastic rise in viewership. The national channel is now the best ranking Hindi Channel of India.
lockdown
Ramayana
Mahabharata
BARC India
DD National
BARC data
DD Bharati
Dangal
Big Magic
Sony SAB
Hindi GEC
Baba Aisa Var Dhundo
Bandini
Mahima Shanidev Ki
The Jungle Book
Shaktiman
Chanakya
Byomkesh Bakshi
Buniyaad and Chanakya
Hindi Channel of India