Mandaps, Marriage, and Mexico: Planning a Cultural Destination Wedding
Author by Rina Shah The Arpan Group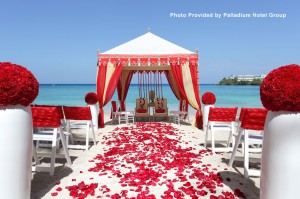 Crystal blue waters crashing down on a pristine white beach, while a gentle breeze ruffles through the palm trees. An elegantly draped mandap glistens in the sunshine, while an intimate crowd eagerly watches two people embark on the journey of a lifetime. Sounds like a wedding in paradise, doesn't it?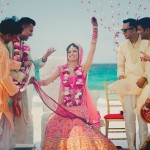 Destination weddings and cruise weddings hold a certain appeal, and while not feasible for some couples, might be the perfect option for others. Whether a couple wants to share a favorite vacation spot with family and friends, or host a unique and memorable event, destination weddings also offer couples the chance to bring families together for a (relatively) stress-free occasion. Many resorts offer all inclusive service packages, which can ease the burden of wedding planning and infuse the event with the chance to truly celebrate and enjoy the company of family and friends. Planning hikes, kayaking, or canopy tours in addition to wedding events gives the couple and guests a chance to truly embrace the spirit of the local area. Couples are also increasingly choosing to host cruise weddings as the ultimate way to combine vacation with celebrations.
Hosting a traditional Indian wedding at an exotic, beachside location or on a cruise ship is no longer a far-fetched ideal, but rather a manageable reality for some couples. Cultural destination weddings are on the rise as hotels and resorts in the Caribbean and Mexico, among other locations, increasingly recognize and understand the requirements of Indian weddings. Though couples may choose to get married somewhere other than their hometown, they still do not want to forgo important religious and family traditions. Marilyn Cairo, Corporate Romance Manager at Paradisus Resorts, ensures couples that her team keeps their needs and desires front and center. She shares, "Our entire team gets to know the couple, understands the specific needs of the client and the overall event and are open to allowing the couples to customize their entire experience."
Factors to Consider
With South Asian weddings specialists now on staff at several resorts, South Asian couples looking to fuse elements of a traditional wedding with the fun and excitement of a destination wedding, now have an easier time with the task of planning. So while many hotels and resorts specialize in destination weddings and are well-versed in the décor needed for mandaps and specific ceremonies, couples should still make note of all their requirements.
With décor, catering, photographers, among other vendors, all available through in-house services or a resort's preferred vendor list, destination weddings can be significantly less stressful than planning a traditional wedding. Keeping this in mind, couples should be prepared to ask lots of questions and be mindful of several factors.
Budget: Regardless of the type of wedding planned, budget always plays a role. Be sure to consider your budget when looking into possible locations and venues. Destination weddings can be more cost-effective due to a smaller guest count and fewer vendors; however, don't forget to consider non-traditional items, such as travel expenses, shipping or extra luggage costs, resort fees, travel taxes, etc.
Venue: Narrowing the list of potential venues can be difficult, especially when choosing from places such as a Punta Cana, Cancun, or Vallarta! As you research the possibilities, think of all the services the venue offers. Is a wedding planner available? Do they have a backup indoor ceremony location? Can they provide all inclusive vendor services, such as a photographer, decorator, mandap, hair and makeup? Can they meet dietary restrictions and/or is Indian food available? Is a shuttle available for guest transportation?
Experience: As with any wedding vendor, experience matters. When a hotel wedding planner anticipates all your needs, you can be sure all the details have been considered. Knowing that your chosen venue comes staffed with experienced planners and coordinators will be comforting especially as you plan from a far. Karen Bussen, Palladium Hotels & Resorts, assures clients that " [Palladium Hotels & Resorts will help with additional ceremonies, special menu requests, and other needs. We will stop at nothing to delight our brides and grooms and their guests, and we strive to provide authenticity, great value, and excellent service throughout the whole experience."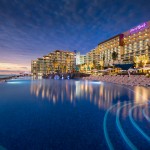 Timing: Be sure to consider the time of year, as the weather might be a factor. Planning a wedding in Mexico during hurricane season is probably not a good idea, so be sure to consult weather forecasts prior to setting a date.
Guests: As you narrow your list of choices, be considerate of your guests. From where will they be traveling? Will it require three stopovers and a bus ride to get to your chosen location? Guests choose to be a part of the celebrations and often are paying their own way so be sure to consider the impact of your choices.
Local marriage requirements:  Be sure to check the local laws about marriage requirements, as some countries require residency or a wait period as well as paperwork. One option is to have a legal, court ceremony at home before embarking on the fun destination wedding!
Prepare for Your First Meeting

Unlike meeting with all your vendors on a regular basis as you would if you held a wedding in your hometown, a destination wedding requires constant communication via email and phone. Alejandra Carrillo, Assistant Weddings Manager at Barcelo Maya Beach, encourages clients to "speak your mind during the planning process … It is important that you let us know everything that is on your mind and keep the communication going." As with traditional wedding planning, be clear about what you want, and don't be afraid to share every detail as this helps your planner ensure your wedding unfolds just as you like. Consider setting up a regular check-in schedule and keep track of your questions so no details are left untouched.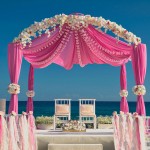 Many resorts also encourage a site visit prior to the wedding date. In addition to a site visit, wedding planners at All Inclusive Collection – Hard Rock Hotels send couples a detailed email with information about service options, such as décor and menus. Monica Larcada, Marketing Manager at All Inclusive Collection asks couples to "take the time to thoroughly review all of the information and catalog options," so that the wedding planner is able to address all questions during the initial meeting via phone.
Destination weddings are a wonderful way to bring family and friends together in a beautiful locale to celebrate one of life's most special moments – your wedding! With some advance planning, your dream destination wedding could become a reality.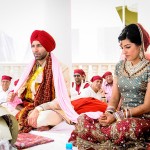 Favorite Wedding Moments
The experts share their favorite wedding moments.
Karen Bussen: I've been lucky to be a part of many incredible South Asian celebrations—including my own sister's wedding to my brother-in-law, who is of Gujarati heritage. Inspired by the dazzling colors and textures of South Asia, I created the Shaadi Royal Bliss package to embody the unique cultural and ceremonial traditions in a tropical paradise setting."
Marilyn Cairo: "The receptions are definitely the best…the ambiance, the music, the food, the spirit of the people celebrating is very infectious and showcases the true meaning of love."
Alejandra Carrillo: "I personally enjoy how the families are so involved with every single detail of the celebrations, and how not only the union of a couple is what they celebrate, but also the welcoming of each other's families, which I think is beautiful."
Monica Larcada: "We are seeing an increase in interfaith weddings. Recently we had a wedding where the bride was Catholic and the groom was Hindu. The couple had both types of ceremonies, and it was incredible to see how each family embraced the culture and religion of the other family.  We thought it was a great way to start a life together."
Featured Venues
Special thanks to the properties, all of which are well-versed in hosting successful Indian weddings, for participating in this article.
All Inclusive Collection – Hard Rock Hotels
Located in: Cancun, Mexico; Riviera Maya, Mexico; Vallarta, Mexico; and Punta Cana, Dominican Republic
www.hrhweddings.com
Barcelo Hotels & Resorts
Located in: Mexico, Dominican Republic, Costa Rica, Nicaragua, Guatemala, Cuba
www.barcelo.com/BarceloWeddings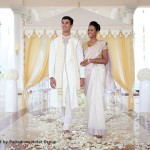 Palladium Hotels & Resorts
Located in: Riviera Maya, Mexico; Punta Cana, Dominican Republic; and Montego Bay, Jamaica
www.palladiumweddings.com
Paradisus Resorts
Located in: Punta Cana, Dominican Republic; Cancun, Mexico; and Playa del Carmen, Mexico
www.romancebyparadisus.com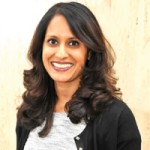 About the Author
Rina Shah is the CEO and founder of The Arpan Group, a boutique ad agency and public relations firm that specializes in capturing untouched ethnic markets. From press releases and media kits to marketing materials and by-line articles, The Arpan Group customizes solutions based on the client's needs. For more information, visit www.thearpangroup.com or call (703) 651-6670.