Michele Renee weds Osama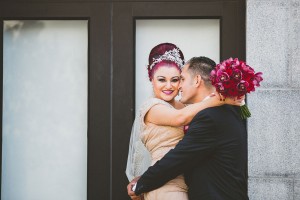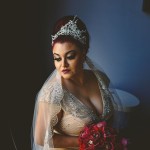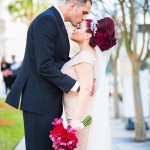 It's not often we get to feature the wedding story of one of very own vendors! We're thrilled to share Michele Renee Zerda's story. The entire Desh-Videsh team congratulates Michele Renee and Osama and wishes the couple a long, joyous life together!
Being Palestinian and only here for 1 and one-half years, Osama Owias had never heard of salsa dancing when he decided to join his friends out one night. Michele Renee Zerda is Mexican American and salsa dances regularly, sometimes even in her sleep. Even though the dance floor at the salsa club was packed, it was easy to notice the 6'11" Palestinian. Friends introduced Michele Renee to Osama, and they danced, and more importantly, laughed the entire night. Osama knew that same day he would marry Michele Renee, and he did so four months later.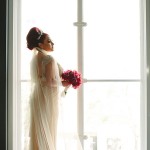 On Tuesday, February 9, 2016, Michele Renee and Osama sent out a text to a few close friends inviting them to a Valentine's Day party that Sunday at Le Meridien in downtown Tampa. Little did everyone know that the party was really a surprise wedding! On February 14, 2016, Osama and Michele Renee walked out together down the old courthouse steps and surprised their guests saying "Happy Valentine's Day everyone! If you haven't realized it by now this is really not a party, it is a WEDDING! So, let the wedding commence!" Michele Renee's bridesmaids came out holding lighted letters with the wedding's hashtag – #MRZWEDSAM.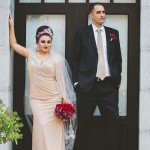 Fourty guests enjoyed a delicious dinner, cigar rolling, female impersonators, a photo booth, and most importantly, bhangra dancers!
Having been planned in only four days, the night was not perfect, but the wedding was definitely fun! Osama and Michele Renee looked out in the crowd at the end of the night and saw their friends, a rainbow of ethnicities and religions – they thought this is exactly what we wanted our wedding to be about – Love.
Vendors
BELLY DANCER: Brigitte Ciccarello
BHANGRA DANCERS: USF Bull Bhangra
CAKE: Corey's Cakes and Catering
CHAIRS: Signature Event Rentals
Elite Events
CIGAR ROLLER: La Vega Cubana
DECORATOR: Creations by Mylez Edward
DOVES: Sarasota Dove Release
DRESS: D'Royal Bride
(San Juan Puerto Rico)
FEMALE IMPERSONATOR: Nicole Lane
FLOWERS: Iza's Flowers
HAIR AND MAKEUP:
Michele Renee The Studio
(MRZ and Weems)
LINENS: Custom Linens
OFFICINAT: John Joey Zerda
PHOTOGRAPHER:
Amita S. Photography and Lifelong Studios
PHOTO BOOTH: Boone's Professional Events
VENUE: Le Meridian
WEDDING PLANNER: Weddings by Jae
Michele Renee weds Osama