Manna Dey's Contributions to Bollywood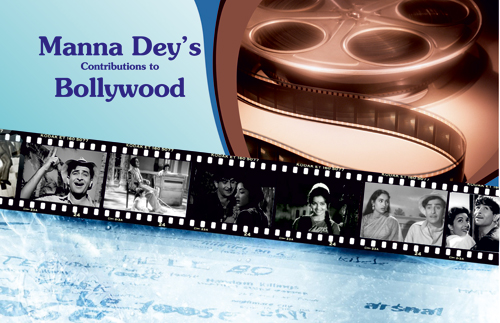 Doyen of Indian Singers
Most would not recognize the name Probodh Chandra Dey, but nearly everyone is familiar with Manna Dey. Probodh Chandra Dey is the birth name of playback singer Manna Dey who enthralled generations of song enthusiasts from 1942 through 2013 and became a sort of living legend during his lifetime. In a singing career spanning nearly seven decades, Manna Dey straddled the Bollywood music industry like a colossus that perhaps no other playback singer will be able to rival.
He recorded his first song as a playback singer (in Hindi) for the film Tamanna in 1945 and from that point on, he never looked back. Recording over 4,000 songs during his career in almost all regional languages (though primarily in Hindi and Bengali) his career peaked in 1953 and continued on until 1976. The great legend passed away on October 24, 2013 at the age of 94. He continues to live on in the hearts of innumerable fans as well as through the accolades he received for songs that will forever remain timeless.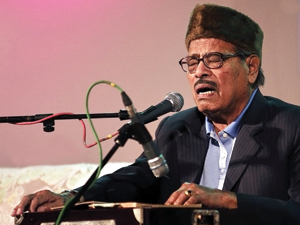 Dey's Youth
Manna Dey, born in Kolkata on May 1, 1919, completed his secondary schooling at Scottish Church Collegiate School and went on to graduate from Vidyasagar College. A love and talent for singing ran through his veins given that he hailed from a family of musicians and singers. He received his first music lessons from his uncle K.C. Dey, an acclaimed singer with the title of 'Sangeetacharya.' Ustad Dabir Khan also played an instrumental role in helping Manna Dey hone his singing skills.
In the pre-independence period, the singer initially worked as an associate music director for another legendary singer, Sachin Dev Burman. Thereafter, he went to compose lyrics as a self-established music director for several Hindi films. He lent his voice for songs in films such as Kadambari, Vikramaditya, Insaaf, Mashaal, Pardeshi, and Boot Polish. Many duets he recorded with contemporaries Geeta Roy, Kishore Kumar, Mohammad Rafi, Lata Mangeshkar and Asha Bhonsle have been immortalized. Manna Dey's versatility as a singer came to the forefront when he began singing ghazals and songs that blended elements of pop music and Indian classical music, apart from singing regular film songs. His resourcefulness as a singer resulted in multiple singing offers by film directors.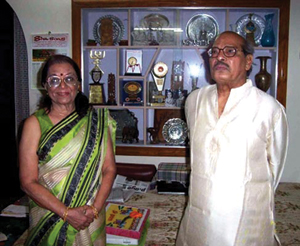 Coming of Age in Bollywood
Manna Dey's popularity as a singer kept soaring beginning in the early 1950s when he recorded numbers in various regional Indian dialects. He shot to national fame when two of his songs for the film Do Bigha Zameen became runaway hits. His association with music directors Shankar Jaikishen, Naushad, O.P.Nayyar, Kalyanji Anandji, Laxmikant Pyarelal, Salil Chowdhury, and Rahul Dev Barman helped chisel his career both as a singer and music director. He recorded over 750 songs during a sixteen-year period (1953-1969) that is regarded as his golden era.
He will forever be remembered for numbers including but not limited to "Laga Chunari Mein Daag," "Kaun Aya Mere Man Ke Man Ke Dware," "Jhanak Jhanak Tore Baje Re Payelia," "Ae Mere Johra Zabi Kya Tujhe Malum Nahin," and "Kasme Vaade Pyar ke." In fact many of his renditions lip-synched by struggling actors, such as Pran and Balraj Sahni, helped catapult their careers.
Manna Dey's duets with other leading singers of his era like Kishore Kumar, Mohd. Rafi, Lata Mangeshkar, Asha Bhonsle, and Mahendra Kapoor continue to be crooned by individuals of all age groups. Manna Dey was equally at home singing along with the new crop of singers who flourished in the 1980s and 1990s like Anuradha Paudwal, Alka Yagnik, Kavita Krishnamurthy, Sonu Nigam, Antara Chaudhury, and Preeti Sagar, and many more.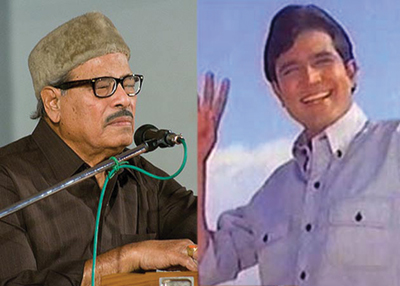 His contribution to the Bengali Film Industry is no less commendable. Songs like "Coffee Houser Shei Adda Ta Aaj Aar Nei," "Jodi Kaagaje Lekho Naam," "Jodi Keu Amake Pagal Bole," and "Aami Jamini Tumi Sashi Hey" still continue to evoke nostalgic feelings in the hearts of many. However, Manna Dey had to struggle hard to attain success as a singer. There were numerous occasions when he felt like leaving everything behind and start practicing as a lawyer.
Eventually, Lady Luck smiled on him. He realized early on that he would have to struggle some to retain his edge in the highly competitive world of film music industry and that is what mellowed him. He accepted his success with a grace and equanimity that present day singers find difficult to cultivate.