Marvi and Ibrahim
They came from different backgrounds and cultures. Yet, their mutual love and eternal bond made each the perfect companion for one another. Marvi Qureshi and Ibrahim Gul were introduced to each other in their medical school in Orlando and felt chemistry right away. Both families were delighted with their bond and wanted them to tie the knot.
Ibrahim proposed to Marvi following the traditional Islamic culture known as Mangni. The wedding took place in a Mosque according to the religious customs in the pre-Covid time of December 2019. After this, they exchanged rings at Waldorf Astoria. The Covid pandemic and the related restrictions delayed the celebrations. Hence, the wedding and reception took place more than a year later, on June 19, 2021.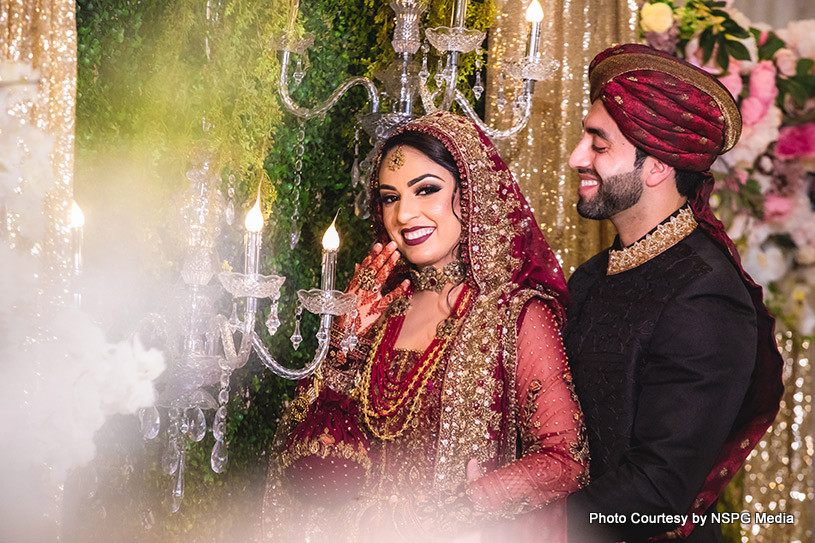 The duo enjoyed elaborate pre-wedding ceremonies organized by their close friends. Marvi had the privilege of celebrating at four different bridal showers hosted by her four bridesmaids. They also had four Dholkis celebrated at their friends' places. There was the Mayoun event, too, where they had a flower separation sitting on the same couch while Marvi was putting on the bridal Mehndi.
The wedding ceremony at the Hyatt Regency-Orlando proved to be a grand event attended by 500 guests. Ibrahim arrived on a BMW i8 along with his family. Marvi appeared on a moon for her entrance driven by her brothers Mansoor and Kamran with songs and smoke permeating the room. "Floating" through the aisle and dance floor on the moon, Marvi dismounted and walked down to her groom. They cut a beautifully decorated five-tier cake and enjoyed songs and dance performances by family and friends of both. The couple left the venue with sparklers in hand as they entered the baraat car.
The reception, or Valima, venue was at Waldorf Astoria-Orlando. It took place during the day with beautiful décor that featured floating lanterns in the Waldorf Astoria's gardens near the fountains in the back. The couple performed two dances highlighted by a special moment in which Ibrahim lifted Marvi, who looked gorgeous in her Mehndi-colored outfit and heavy bridal jewelry. It was Father's Day and so the darling daughter enjoyed a father-daughter dance to the song "Dilbaro." The Kashmiri tea stall at the wedding and reception was a grand success. It was indeed the melting pot of two different cultures united by love.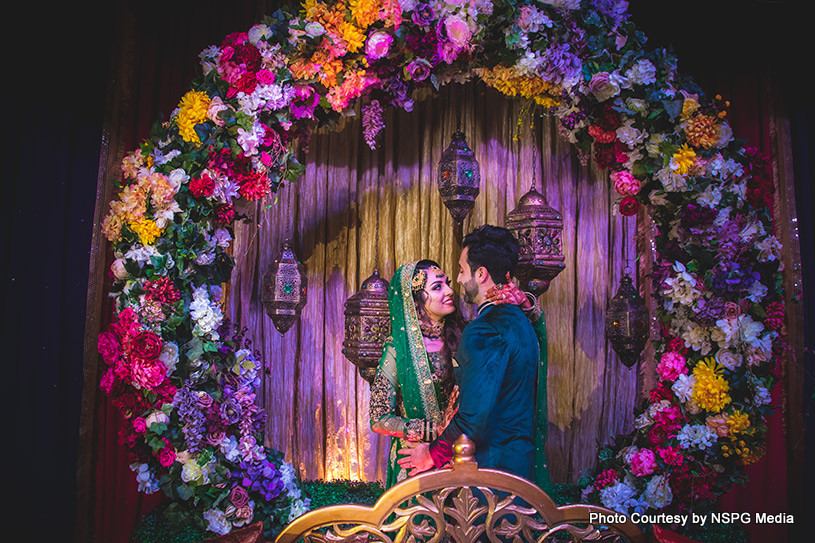 ---
BANQUET HALLS Hyatt Regency Orlando 407-825-1327 | Waldorf Astoria Orlando 407-597-5500 |  BEAUTICIANS Ruqs Salon 321-682-9273 | CATERING Chaat House 407-240-4922 | DECORATOR Dreams To Reality 407-592-9261 | DISC JOCKEY Echobell Events 321-666-9907 |  PHOTOGRAPHER/VIDEOGRAPHY NSPG Media 407-301-8648
---