Medical Tourism: An Indian Perspective
The number of medical tourists traveling to Asian countries is increasing by about 20% to 30%. The four major countries participating in this field are India, Singapore, Thailand, and Malaysia. Nearly 65 years after independence, India is emerging as one of the fastest growing economies. Unlike other sectors wherein India is considered a large market, in healthcare, India has positioned itself as a preferred provider.
Recently, India has emerged as a preferred destination for patients from across the globe seeking the Midas touch from Indian healthcare facilities. The low cost and cutting-edge treatment joined with a vivacious culture and prosperous heritage has provided phenomenal growth for the Medical Tourism industry in India.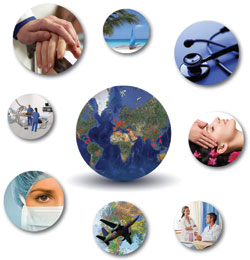 Why India?
I, as an active surgeon, have witnessed several reasons for the modern trend of medical refugees (as described by the New England Journal) searching for the Holy Grail to India and other countries outside their motherland. India is a destination for both first and third world populations seeking medical treatment. The reason for medical migration in either scenario is sharply different.
Developed Nations
In first-world countries like the United States or United Kingdom, there is no dearth of expertise or state-of-art facilities. Due to the mounting cost of medical treatment and long waiting lists of to undergo surgery, people are opting for countries like India, where they can avail quality treatment in state of the art facilities at low cost.
If we make a direct comparison, the cost of a heart surgery in the US would range from $70,000-100,000, while the same surgery in India costs around $7,000-9,000. For a spinal fusion procedure, the cost in the US is $62,000. The same in the finest hospital in India would cost around $6,500-7,000!
Third World Nations
Under-developed countries such as nations in Africa or the Middle East, have an altogether different perspective towards medical tourism as related to India. These nations lack in advanced diagnostic facilities, and surgical treatment is much more primitive. Moreover, most patient from these countries are financially strapped, hence countries like India are the only alternative for them, as these nations are equipped with cutting-edge treatment at an affordable cost.
Non-resident Indians
India, which probably leads in migration of its population to developed nations such the US, UK, and Canada, has a large population residing outside its border. Given a choice and considering the above stated factors, a large NRI diaspora also wants to come back for treatment in its native country. Not only do they have the advantage of a similar class of treatment at a competitive cost, but they are also able to avail of emotional support of extended family already residing in the country.
Advantages for India
With globalization and improved infrastructure in India, medical experts in the country have matched strides with their western counterparts. Over the past few years, Indian surgeons have started taking a lead role not only clinically, but also in the field of research and development.
Many Indian hospitals are opting for American accreditation so as to build trust with foreign patients. The Indian government has also established accreditation for hospitals to standardize the healthcare sector.
There are clear advantages for India to be a preferred destination for medical procedures:
Several super-specialty hospitals, some specially catering to the needs of foreign patients, including food habits, luxury stay and personal attendants.
Costs are significantly low for the same quality of treatment as in developed nations
Shorter waiting period to schedule a surgery
Highly trained and efficient medical staff
No language barrier for foreigners, as most personnel are fluent English speakers
Medical treatment can coordinated with leisurely tourism of India
India has an easy approachability from most countries of the world
There are options for popular alternative medical treatments
Selecting a Destination
When you seek medical treatment in another country, the ideal scenario might not always be one plus one equals two. Each patient is different, and hence, the way medicine or surgical treatment is offered will vary.
During my tenure as a spine surgeon at various eminent hospitals, I realized the most common mistakes made by the tourist patients are they send diagnostic report along with questions about the suggested type of treatment and estimated cost. This is only half the information – treatment plans and estimations based on such information, without the patient's actual symptoms, are bound to create confusion. Thus, I would urge to every potential medical tourist to seek a web-conference with your selected would-be doctor to formulate a treatment to attain the desired result.
The following questions may help you seek the right healthcare provider:
What are potential complications of the suggested surgical procedure?
Which facilities is the hospital providing, not only for stay, but also in case of complications during the treatment?
What is included in the financial package suggested for a particular treatment?
What other options are available to treat the disease you are suffering from?
If your surgery involves metallic implants, seek information about its make and quality.
How much buffer time should one plan for in case of potential complications?
Do they speak your language?
A combination of expertise, cutting edge facilities and traditional Indian warmth, makes the experience of painful treatment, a smooth and rewarding one.
About the Author
Dr. Niraj B. Vasavada
MBBS, MS (Ortho) FABMISS (Spine)
Fellowship Trained Spine Surgeon
Specialist in Minimally Invasive
Key Hole Spine Surgery
Consultant Minimally Invasive and
Endoscopic Spine Surgeon
Shalby Hospitals, Ahmedabad