Meka Leach is the Youngest Certified Bhakti Yoga Instructor in the U.S.
Meka Leach became the youngest certified Bhakti yoga teacher in the world at age 10. She creates her own flow sequences, mantras, and mudras. All of her classes have a powerful message for her students.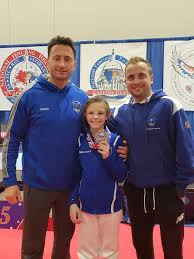 Leach says, "Bhakti is a spiritual yoga–to love yourself". It is a more spiritual form of yoga, focusing more on breath and mantra. "It's not about being perfect. It's about the breath and how you feel," she says.
When she started practicing Yoga at the age of four, it was just a way to support another passion of hers, fencing. Her coaches noticed that she was getting stronger and muscular while practicing fencing. So, they suggested that she take yoga to improve her flexibility.
At the age of 10, she recently finished a 200-hour teacher training at SoderWorld Wellness Center & Academy, Illinois. In October 2019, she became the youngest Bhakti yoga teacher in the country.
Leach hopes to become an inspiration for kids of her age to be more expressive with their feelings. She says, "I'm on a mission to change as many generations as possible. To learn to go back to our lost deep roots. To start making a change to take care of the beautiful Mother Earth."
Meka Leach
Bhakti
Yoga, Practice
Illinois
Fencing
Certified
Teacher
Spiritual