Memorable Films From the 1980s until now – Part II
Our Hindi film industry is indeed a flowing river.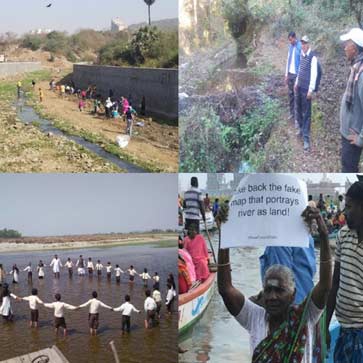 Through the decades, hundreds and thousands of aspiring actors, actresses, producers, and directors throng to the studios in the hope of making it big. While most of them hardly make it to the forefront, there are some who manage to withstand the initial struggle and finally get to the big league. Bollywood has given us actors and actresses of the highest order and quality, and there is no doubt that their cumulative work has made the industry a respectable one in the world of cinema. The industry, though more than two hundred films are churned out every year, only a select few movies inscribe an indelible mark on the minds of the cine-goers and remain a point of talking, not only during that year but for many more years to come.
In our previous article, Part I, we explored memorable films the Hindi film industry has produced since the era of the speaking films until the end of the 1970s. The 50 year period marked a significant process of transformation of Indian cinema from slow-paced melodramatic black and white films to fast, hip-hop musicals and action packed movies. The baton of Bollywood gradually passed over the years from the likes of Dilip Kumar, Dev Anand, Raj Kapoor, Shammi Kapoor, Rajendra Kumar, and Raj Kumar to Amitabh Bachchan, Dharmendra and Rajesh Khanna. The latter being the ones looked upon as the future of the Hindi film industry when the 1980s began.
Many critics feel there was some degeneration in the quality of movies produced during the 1980s compared to that of the 60s and 70s; however, at the same time, some forms of quality films did continue to come up during this time. The decade also saw the emergence of a new breed of movies known as 'parallel cinema' or 'art film,' which catered more to class rather than the mass. Outstanding actors like Nasirruddin Shah, Om Puri, Shabana Azmi and Smita Patil pioneered this genre of films, which were very close to reality and highly acclaimed by critics. From 1980 to 1984, quite a few of such off-beat films hit the screens and were able to make a mark for the genre. Special mention needs to be made about Govind Nihalni's Aakrosh (1980) and Ardh-Satya (1983), Chakra (1981), and Ketan Desai's Mirch Masala (1985), which all starred the most in-demand pairing of 'art' film actors – Naseeruddin Shah and Smita Patil. Among these, Ardh-Satya went on to win the Filmfare award for best movie in 1983. Similar notable parallel cinema films that won accolades were Mahesh Bhatt's Arth (1982) with Smita patil and Shabana Azmi, Saransh(1984) featuring Anupam Kher in a lifetime performance, Mandi (1983) with Smita Patil, and last but not the least, Sai Paranjpe's best movie winner at the Filmfare '84, Sparsh (1984) with Naseeruddin and Shabana Azmi.
Films were also made during this decade that stood between the realms of 'art film' and the typical box-office equations of commercial films. Shyam Benegal's Kalyug(1981) was a fitting example. The film made on the theme of 'Modern day Mahabharata' starring Shashi Kapoor, Rekha, and Om Puri was a smashing hit and a highly appraised venture. Naseerudin Shah starring in Jane Bhi Do Yaaron(1983) and the unforgettable Ijazaat(1987) with Rekha were also films that stuck to middle ground and were able to make an indelible mark among the critics and the mass. Another Naseer starrer, Masoom (1983), was a a soul-touching film in all respects.
The success of art films and middle of the road films does not, in any way, undermine the success of mainstream commercial movies that were churned out of Bollywood every year during this period. Qurbani (1980), with Vinod Khanna and Feroz Khan starrer, Rekha's Filmfare winning performance in Hrishikesh Mukherjee's Khoobsurat (1980), and Subhas Ghai's reincarnation superhit with Rishi Kapoor in Karz (1980) were all films that enjoyed huge popularity. Amitabh Bachchan, the star of the previous decade, too continued his dominance in the celluloid giving highly memorable performances in films like Silsila (1981) (co-starring Sanjeev Kumar, Rekha and Jaya Bachchan); Shakti (1982), a high power packed film with Bachchcan and Dilip Kumar sharing screen space for the first time, and Aakhree Rasta (1986), in which Amitabh gave a scintillating performance in a father-son double role.
Films made by other seasoned actors are also worth mentioning. Some include Manoj Kumar's magnum opus Kranti (1981) starring Manoj himself, Dilip Kumar, Shashi Kapoor and Hema Malini, Rekha's remarkable rendition of the title role in Umrao Jaan (1981) as well as sensuous performance in Utsav (1984), and an all-time cherishing performance in Rakesh Roashan's Khoon Bhari Maang (1988). Raj Kapoor directed Prem Rog (1982) with Rishi Kapoor and Padmini Kolhapure, another blockbuster Ram Teri Ganga Maili with youngest son Rajeev and debutant Mandakini, and multi-starring film Dharam Kanta (1982) with Raaj Kumar, Jeetendra and Rajesh Khanna. Veteran Dilip Kumar shone in films like Vidhata (1982) which starred Sanjeev Kumar and Shammi Kapoor, Subhas Ghai's Karma (1986) with Dilip and Anil Kapoor, and Mashal (1984) with Waheeda and Anil Kapoor. Dharmendra 's Razia Sultana and The Burning Train with Hema Malini and Rajesh Khanna's Souten and Avataar were films made in 1983 that will also remain in the minds of movie lovers for many, many years. Another film worth mentioning is Dayavaan (1988) starring Vinod Khanna, Feroz Khan and Madhuri Dixit, all of which will indeed be a certain feature in the annals of Indian cinema.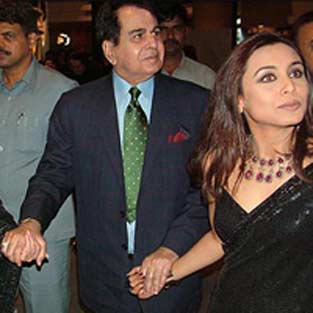 The decade of the Eighties also featured a new breed of actors who stood apart from their predecessors in terms of acting and style. Kamal Hassan has been in a class of his own as reflected in his films Ek Duje ke Liye (1981) with Rati Agnihotri, a heart rendering performance in Sadma (1983) with Sridevi, Sagar (1985) with Rishi Kapoor and Dimple Kapadia and a in a dual role as a normal person and a dwarf in Appu Raja (1989). One saw fresh faces like Jackie Shroff in highly memorable films like Subhas Ghai's Hero (1983), Ram Lakhan and Parinda (1989), both with Anil Kapoor and Madhuri Dixit. Mithun Chakraborty brought a new genre of dance oriented films backed by some very romantic performances in films like Disco Dancer (1983), Dance Dance (1986), and Pyar Jhukta Nahin (1985). Anil Kapoor was another actor of the times, and he went on to become the most-in demand star of the late-80s by delivering successive hits in partnership with Madhuri Dixit and Sridevi. Tezaab (1988) with Madhuri became a standpoint in Anil's career and was made much memorable by the dance number 'Ek do teen.' Parinda, Ram Lakhan (1989) and Beta (1992) also bear testimony to the success of this famous pair. Anil-Sridevi also paired together in Mr. India (1987), a film still remembered by the young and the old for its captivating story and dialogue. Sridevi is also remembered for her astounding performance in Yash Chopra's Chandni (1989). Sunny Deol, son of Dharmendra, who debuted in a lovable film, Betaab (1983), also made his presence felt in a more prominent way in films like Tridev (1989), which also starred Jackie Shroff, Naseeruddin and Madhuri Dixit, as well as in an action packed performance in Ghayal (1990).
The late Eighties saw the debut of two of the most promising actors who not only dominated the screen in the next decade, but still continue to enthrall movie-going audiences by virtue of their stunning performances and mass appeal. Aamir Khan emerged in his uncle Naseer Khan's 1988 film Quaamat Se Quaamat Tak while Salman Khan evolved out of Rajshri's Maine Pyar Kiya in the next year. Both of these films went on to win Best Movie awards in the Filmfare awards, made box office history, and re-wrote Indian film history. The year 1990 saw a smashing hit film, Agneepath, in which Amitabh Bachchan and Mithun Chakraborty came up with performance that would be remembered by one and all for ages to come.
Into the Nineties, the mantle was mostly taken up by the Khans – Aamir, Salman, and of course, Shahrukh. Shahrukh Khan made his presence felt in the silver screen in Rishi Kapoor's Divya Bharati starring film, Deewana (1992). From that point on, there was looking back for Shahrukh! It would not be an exaggeration to say that in spite of the presence of outstandingly talented actors in the Bollywood, it was Shahrukh who took the number one position in the industry by defying all odds. Since his on-screen arrival, Shahrukh has dominated the 90s and also the new millennium thereafter by delivering hit after hit as well as films that swayed the present generation into an unseen euphoria. His hits include: Baazigar with Kajol, Darr with Sunny Deol and Juhi in 1993, Karan Aarjun (1994) with Salman Khan and Kajol, Dil Se (1998) with Manisha, and Mohabbatein (2000) with Amitabh Bachchcan and Aishwarya Rai. One can never dare to forget Shahrukh's heart-winning performance as the romantic lead in Yash Chopra's Dilwale Dulhania Le Jayenge (1995) with Kajol, Dil to Pagal Hai (1997) with Madhuri Dixit and Karishma Kapoor, and Karan Johar's Kuch Kuch Hota Hai (1998) with Kajol and Rani Mukherjee. All three of the previous mentioned films won Shahrukh the Best Actor award and the films' Best Movie award in the Filmfare show.
Other Khans shone in the limelight as well. Aamir made the decade memorable with his roles in Mahesh Bhatt's Dil Hai ke Manta Nahin (1991) with Pooja Bhatt, Jo Jeeta Wohi Sikandar, (1992), Hum Hain Rahi Pyar Ke (1993), Rangeela (1995) where he was paired with the sensuous Urmila, the romantic Raja Hindusthani (1996) with Karishma Kapoor, Ghulam (1998) with Rani Mukherjee (made famous by the song 'Aaati kya khandala'), and 1999's patriotic film Sarfarosh with Naseeruddin Shah. Salman Khan's prominent films made during this time were Saajan (1991) with Sanjay Dutt and Madhuri Dixit, the memorable Hum Aapke Hain Kaun (1994) with Madhuri Dixit, Hum Dil De Chuke Sanam (1999) with Ajay Devgan and Aishwarya Rai, and Hum Saath Saath Hain (1999) produced by the Rajshri's.
Action-packed films as well as gentle, romantic films ruled the Nineties, and music provided the highpoint to both genres. On one hand, high voltage films involving action heroes made distinct presence like in Phool aur Kaante (1991) with debuatnt Ajay Devgan, Hum (1991) with Amitabh Bachchan and Govinda, Khiladi (1992) with Akhshay Kumar, Khal Nayak (1993) starring Sanjay Dutt and Jackie Shroff, Mohra (1994) with Akshay Kumar and Naseeruddin Shah, J.P. Dutta's multi-starring war film Border (1997), Ram Gopal Verma's film on the Mumbai underworld Satya (1998), and Sanjay Dutt's mind-blowing performance in Mahesh Manjrekar's Vaastaav (1999).
Sensitive films like Lamhe (1991) starring Anil Kapoor and Sridevi, R.K. Films Heena (1991) with Rishi Kapoor, Mani Ratnam's Roja (1992), Bombay (1995) with Arvind Swamy, Rajkumar Santoshi's Damini (1993), Vidhu Vinod Chopra's pre-independence film 1942- A Love Story with Anil Kapoor, Jackie Shroff and Manisha Koirala, Gulzaar's Maachis (1996), and Akshay Kumar- Suniel Shetty starring film Dhadkan (2000) ruled the roost and fascinated all audiences. Similar popular films around this time were Subhas Ghai's magnum opus with Dilip Kumar and Raaj Kumar Saudagar (1991), Govinda's comedy capers Aankhen (1993) and Hero No. 1 (1997) with Karishma Kapoor, and Priyadarshan's hilarious Hera Pheri (2000) with Akshay Kumar and Paresh Rawal.
Just as the late Eighties and the early Nineties saw the birth of the Khans, the new Millenium gave rise to yet another new star – Hrithik Roshan. His Kaho Na Pyar Hai broke all records and made certain that the coming years would belong to Hrithik. He vindicated the faith by giving another responsive performance as a disillusioned terrorist in Fiza (2000).
The new millennium began with a bang with the smash hit, Lagaan. This Asutosh Gowarikar directed, Aamir Khan starring film was a stunner in many respects. There are hardly any Indians left in the country who has not seen this movie. The popularity of this film led it to the Oscars where it made to the final rounds, but lost in the end. In fact, Lagaan is the reason that Indian films were not discussed on an international stage. Aamir followed up his series of amazing performances in an highly urban film Dil Chahta Hain (2001). The year 2001 truly produced some outstanding films. Karan Johar's Kabhie Khushie Kabhie Gham had a dream starcast with Hrithik Roshan, Shahrukh Khan, Amitabh Bachchan , Jaya Bachchan, Kajol, and Kareena Kapoor. There was also Shyam Benegal's off-beat film Zubeida with Rekha and Karishma Kapoor, and who can forget the biggest grossing film of the year – Sunny Deol's Gadar , which tore the box office apart with unmatched popularity.
An account of the underworld in Company(2002) directed by Ram Gopal Verma and starring Ajay Devgan and Vivek Oberoi was certainly a movie worth viewing. In the same year Saathiya with Vivek and Rani Mukherjee caught the emotional nerve of the audience through an extraordinary performance. However, it was the Best Movie of the year, Devdaas, a Shahrukh Khan remake of the Sarat Chandra Chatterjee's Bengali novel that created substantial controversy and unending debate with comparison's between the earlier version (starring Dilip Kumar) and the more extravagant and pompous newer version. Shahrukh Khan continued to dominate the Box office, not only with the success of Devdaas, but also by starring in one after the other memorable film which hit the screens in the coming years. Karan Johar's Kal Ho na Ho (2003) with Saif Khan and Preity Zinta, Asutosh Gowariker's Swadesh (2004), Farah Khan's Main Hoon Na (2004), Yash Chopra's love story Veer-Zaara (2004) with Preity Zinta and last year's Kabhi Alvida Na Kehna with the father and son Bachchans' bears clear vindication of his legacy.
Among the other Khans, Aamir Khan has continually increased his level of perfection in films like Rang de Basanti and Fanaa (2006), while Saif Ali Khan entertained all in Hum Tum( 2004) with Rani Mukherjee. Hrithik Roshan found success in his father's, Rakesh Roshan, Koi Mil Gaya (2003) and then Krissh (2006), with both films showing the tremendous talent of this new youth icon as an actor-performer. Other films that made a mark were Vishal Bharadwaj's Indian version of Macbeth, Maqbool (2003) with Naseeruddin Shah and Pankaj Kapoor, his version of Othello in Omkara (2006) with Ajay Devgan, Vivek, Saif and Kareena, Urmila's supernatural Bhoot (2003), Mani Ratnam's Yuva (2004) with Ajay Devgan, Vivek and Abhishek Bachchan, Priyadarshan's sequel Phir Hera Pheri (2006), Pradeep Sarkar's Pareeneeta (2005) with Saif and Sanjay Dutt. Certain small budget films like Subhas Ghai's Iqbal (2005) and comedy film Malamaal Weekly (2006) were also notable films in their own rights. And, it goes without mention that the list is not complete without Munnabhai. The series, directed by Rajkumar Hirani and the title role enacted by Sanjay Dutt, has kept audiences laughing with films like films Munnabhai MBBS (2004) and Lage Raho Munnabhai (2006), the latter being credited with reviving the teachings of Gandhiji once again in India.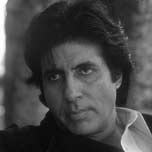 Finally, the man who first delivered in the 1970s has continued to mesmerize millions of fans even in the new millennium. For Amitabh Bachchan, his legacy is never ending. In recent years, no one can forget his mature and touching performances in films like Baghban (2003). Together with son Abhishek, Senior Bachchan has put in more power into movies such as Sarkar (2005), Bunty aur Babli (2005), and Kabhi Alvida Na Kehna (2006). Amitabh's stellar performance as the teacher in Sanjay Bhansali's Black (2005) is yet another film that delivers high lifetime performance by any standard. Buoyed by his legendary father, son Abhishek also gave good performances in films like Dhoom (2004) and its sequel Dhoom 2 (2006), and the present year's biggest hit thus far, Guru (2007) with beau Aishwarya Rai.
Although Bollywood films are numberous, many have offered memorable performances and will continue to bring us loveable ones in the future. Films that touch the heart, entertain the mind, and stir the soul are not uncommon, and Indian film lovers can rest assured that their favorite film stars and directors will definitely make many more memorable films for them in the days to come!