Mount Soma: A Vedic Community for Ancient Spiritual Wisdom in Modern Life
Mount Soma is a Vastu Vedic community in North Carolina's Blue Ridge Mountains. Developed by visionary Dr. Michael Mamas in 2011, the 448-acre Vedic community was established with the vision to help humanity evolve by integrating ancient spiritual wisdom with modern life.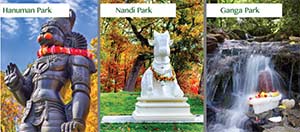 The mission of Mount Soma is to purify spiritual understanding and enliven each individual's innate wisdom. It also wishes to promote integrity, peace, and harmony throughout the world. It has been built with the idea to create a cultural, educational, economic and spiritual bridge that will unify all mankind. Mount Soma Center currently includes a meditation hall, a visitor's center, yagya shala for havans, a Student Union building for accommodations, and the Sri Somesvara Temple.
The Sri Somesvara Temple used 46 tons of hand-carved granite from India to create the shrines, entryway, and deities. It is an authentic Vedic Shiva temple that includes deities such as Shiva, Parvathi, Ganesh, Navagrahas, Karthikeya, and Nagadevatha. Its timeless and eternal feel makes it a perfect place of pilgrimage for those seeking spiritual knowledge. The temple grounds also have hand-carved black granite Navagrahas (nine planets).
Mount Soma also boasts two beautiful parks – Mahanandi Park and Sri Hanuman Park. The latter includes a 20-feet statue of Lord Hanuman, made with solid black granite.
Posted on: 03-4-2019 by: Deshvidesh
Vastu Vedic Community
North Carolina's Blue Ridge Mountains
Dr. Michael Mamas
Cultural, Educational, Economic And Spiritual Bridge
Mount Soma Center Meditation Hall
Yagya Shala For Havans
Sri Somesvara Temple
An Authentic Vedic Shiva Temple
Shiva, Parvathi, Ganesh, Navagrahas, Karthikeya, And Nagadevatha
Hand-Carved Black Granite Navagrahas
Mahanandi Park And Sri Hanuman Park
Lord Hanuman made with solid black granite