MS Dhoni Nominated for Padma Bhushan by BCCI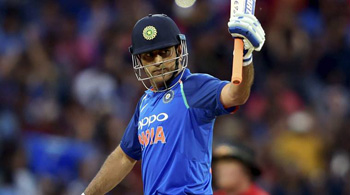 Mahendra Singh Dhoni has been nominated for the Padma Bhushan for his contribution to cricket. The 36-year-old former Indian skipper has been nominated for the country's third highest civilian award by the Indian cricket board.
BCCI acting president CK Khanna told PTI, Dhoni was nominated by the BCCI which was a unanimous decision by the members. He added his was the only name that was sent this year for the Padma awards. "He has been one of the greatest names in contemporary cricket and the most appropriate choice of the Indian cricket board," said Khanna.
The senior official said that not many players have 90 Test matches to their credit. Besides, Dhoni is the only captain with two World titles. He got a victory for India in the World T20 in 2007 and World Cup in 2011.
Some of Dhoni's feats include nearly 10,000 runs. He has scored 9737 runs in 302 ODIs besides 4876 runs in 90 Test matches. He has garnered 1212 runs by playing in 78 T20 internationals.
This apart, he has 16 international hundreds and 100 international half-centuries to his credit. He has held 584 catches in Test matches, ODIs and T20 Internationals), as a wicketkeeper.
Dhoni received the Rajiv Gandhi Khel Ratna Award in 2007 and the Padma Shri in 2009. He will become the 11th Indian cricketer to receive the award.
Dhoni joins the league of Sachin Tendulkar, Rahul Dravid, Kapil Dev, Sunil Gavaskar, Chandu Borde, Prof DB Deodhar, Col CK Nayudu, and Lala Amarnath.
Some of the other cricketers who received the Padma awards include Raja Bhalindra Singh of Patiala, who played 13 first-class matches and Vijaya Anand, the Maharaja of Vizianagram, India's captain in the 1936 tour to England.